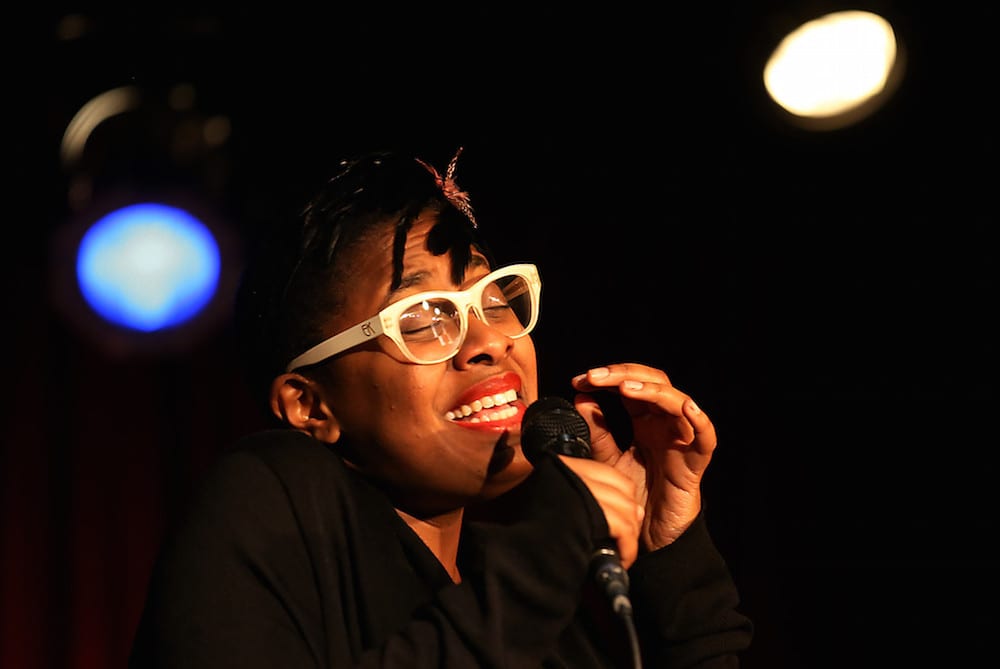 v v
categories are neighborhoods
v v
tags sort by free events, venues with food, CapitalBop shows, and more
Sun
Mon
Tue
Wed
Thu
Fri
Sat

Take 6

@ Bethesda Blues and Jazz Supper Club

Nov 4 @ 1:00 pm

The lauded jazz a capella group Take 6 performs. Two separate sets at 1 and 7 p.m.

Ebony & Ivory

@ El Golfo

Nov 4 @ 6:00 pm

The vocalists Deborah Thornton and Michelle Hoyte perform. 

UMD Chamber Jazz

@ Clarice Smith Performing Arts Center

Nov 6 @ 7:30 pm

The University of Maryland's student small-combos perform.

UMD Chamber Jazz

@ Clarice Smith Performing Arts Center

Nov 7 @ 7:30 pm

The University of Maryland's student small-combos perform.

* Lalah Hathaway

@ Bethesda Blues and Jazz Supper Club

Nov 8 @ 7:00 pm

The neo-soul icon Lalah Hathaway, daughter of the great Donny Hathaway, commands performances with a full, earthy voice.

* Lalah Hathaway

@ Bethesda Blues and Jazz Supper Club

Nov 9 @ 7:00 pm

The neo-soul icon Lalah Hathaway, daughter of the great Donny Hathaway, commands performances with a full, earthy voice.

Nicole Saphos

@ My Dead Aunt's Books

Nov 11 @ 5:00 pm

Nicole Saphos plays bass and sings her arrangements of standards, as well as originals.

Nicole Saphos

@ My Dead Aunt's Books

Nov 11 @ 5:00 pm

Nicole Saphos plays bass and sings her arrangements of standards, as well as originals.

* Count Basie Orchestra

8:00 pm

* Count Basie Orchestra

@ Bethesda Blues and Jazz Supper Club

Nov 13 @ 8:00 pm

Count Basie helped pioneer the thumping, swinging blend of jazz and blues that grew up in Kansas City in the 1920s and '30s, then he brought it out into the world. He's been gone for[...]

Walter Beasley

@ Bethesda Blues and Jazz Supper Club

Nov 16 @ 8:00 pm

Walter Beasley is a classic smooth jazz singer and saxophonist, once thought – and still considered by some – to be the heir to Grover Washington, Jr.

The Anderson Twins

3:00 pm

The Anderson Twins

@ Strathmore Mansion

Nov 25 @ 3:00 pm

The young twins Peter and Will Anderson—both prodigious improvisers on the clarinet and saxophone—play standards and original compositions with well-mannered precision, harking back to the sounds of mid-century cool jazz. Here they perform a tribute[...]

* Leigh Pilzer

@ My Dead Aunt's Books

Nov 25 @ 5:00 pm

Leigh Pilzer, who is arguably the city's best baritone saxophonist, leads a group through her own swinging tunes and arrangements.

Bobby Rush

@ Bethesda Blues and Jazz Supper Club

Nov 25 @ 7:00 pm

The iconic blues singer Bobby Rush performs.

* Antonio Sánchez & Migration

8:00 pm

* Antonio Sánchez & Migration

@ AMP by Strathmore

Nov 29 @ 8:00 pm

The drummer and composer Antonio Sánchez is perhaps best known to popular audiences for scoring the Oscar-winning film Birdman; jazz crowds will recognize his work behind the kit in the current iteration of the Pat Metheny Group.[...]
Nov
25
Sun
The Anderson Twins

@ Strathmore Mansion
Nov 25 @ 3:00 pm
The young twins Peter and Will Anderson—both prodigious improvisers on the clarinet and saxophone—play standards and original compositions with well-mannered precision, harking back to the sounds of mid-century cool jazz. Here they perform a tribute program to swing icon Benny Goodman.
* Leigh Pilzer

@ My Dead Aunt's Books
Nov 25 @ 5:00 pm
Leigh Pilzer, who is arguably the city's best baritone saxophonist, leads a group through her own swinging tunes and arrangements.
Bobby Rush

@ Bethesda Blues and Jazz Supper Club
Nov 25 @ 7:00 pm
The iconic blues singer Bobby Rush performs.
Nov
29
Thu
* Antonio Sánchez & Migration

@ AMP by Strathmore
Nov 29 @ 8:00 pm
The drummer and composer Antonio Sánchez is perhaps best known to popular audiences for scoring the Oscar-winning film Birdman; jazz crowds will recognize his work behind the kit in the current iteration of the Pat Metheny Group. He has a light touch that snaps taught and tight even whether he swings easy or delivers near-mechanical improvisations. He performs with his postbop small combo Migration.
---