As the capital of the (un)free world, Washington, D.C. has always been a home to artists whose work both inspires and challenges. Today, one of our most visionary musicians — whose art sits at the intersection of music, education and activism — is Dante' Pope.
That's why CapitalBop is happy to be partnering with this brilliant percussionist, producer and vocalist to present "Reflections," a multimedia musical event, on Sunday, Feb. 19, at Eaton House, in recognition of Black History Month.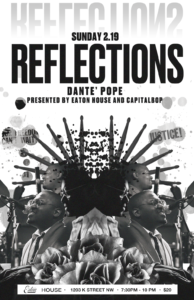 Pope's music is rooted in jazz, but it crosses into many genres. For "Reflections," he'll be joined by bassist Michael Bowie and vocalist/poet/MC Wes Felton. "Reflections" puts Pope's music in conversation with sermons and speeches given by prominent Black leaders from across generations. These monologues will be paired with visuals and live performance, creating a multi-sensory experience within the context of Black History.
Seating will be limited for this intimate and immersive event, in the Eaton House Cinema room, so make sure to grab tickets now via Eventbrite.
Dante' Pope is a multi-genre musician and educator hailing from Chicago, and based in D.C. Since moving to the District 15 years ago, he's become the vice president of the D.C. Chapter of the Recording Academy, and has contributed to a Grammy-nominated album, Black Cowboys, with Dom Flemons and Smithsonian Folkways. Through service he's fused his passions of arts, education and advocacy to work with DC Public Charter Schools, The DC Mayors Youth Employment Program and a host of arts and education non-profits within the region.
He has participated in CapitalBop events as a performer (at the DC Jazz Loft), educator (leading a youth master class presented by CB at the Smithsonian) and panelist (at NEXTfest 2022). We are proud to be bringing Dante' Pope back to the CB stage on Feb. 19, for a performance that will blend all aspects of his artistry. 
Tickets are $20, and the show starts at 7:30 p.m. Eaton House is located at 1203 K St. NW, just a few blocks from most major Metro lines. Street parking is available nearby. This performance of "Reflections" serves as Dante' Pope's first offering as a NOMAD Resident at Eaton House. So come out for the show on Feb. 19, and then stay tuned for more…
Comments
comments