The last time Christie Dashiell sang at a CapitalBop presentation was Feburary 2020, at a special Valentine's Day show featuring trumpet star Marquis Hill's Love Tape band. Her voice left a powerful impression on every listener, from the first phrase on— as it always does.
At CB shows, we often present DMV artists in double-bills with bands from out of town — but at that concert, Dashiell was already in the mix: Her voice was a feature on the Love Tape album, and she'd been a featured performer on tours with Hill for years. In fact, she'd already become a quiet fixture of the international jazz scene, performing with luminaries like Wynton Marsalis, Dianne Reeves, John Blake, Esperanza Spalding, Geri Allen, Smokey Robinson and many others.
We're stoked to present Christie Dashiell at our next show, on Sunday, May 22, at the Eaton's Wild Days rooftop bar. This performance is, thanks to our organizational partners at Eaton DC, 100 percent free — so bring your friends out, have a drink and kick back! But there will be reserved seating for those who RSVP, so make sure to sign up at this link. (Heads up to our younger audience members: Wild Days is a 21+ venue.)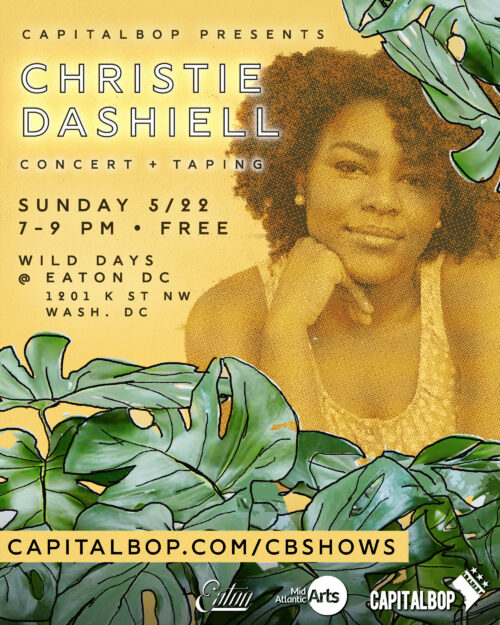 As a bandleader, Dashiell has developed a personal take on the jazz tradition, rooted in D.C.'s straight-ahead jazz lineage but also touched by the influence of modern-day hip-hop and '80s R&B. A flexible and sturdy vocalist, Dashiell can lean into the poetry of a simple melody one moment and improvise as well as any horn player the next. And she always brings an all-star band, often featuring the likes of Allyn Johnson, Romeir Mendez and her brother, powerhouse drummer C.V. Dashiell. (Don't take our word for it: Check out the video below.)
Join us Sunday evening to experience the next generation of jazz vocal brilliance. We'll see you on the rooftop!
Masking at this show will be strongly encouraged, but in keeping with Eaton's current Covid-19 guidelines, it is not required.
This engagement of Christie Dashiell is made possible through the Jazz Touring Network program of Mid Atlantic Arts Foundation with support from the National Endowment for the Arts and the DC Commission on the Arts and Humanities.
Comments
comments