The DC Jazz Festival is aiming for a return to in-person programming this fall, including some events at the Wharf in Southwest, organizers announced this week.
The festival's leadership said it was planning to host the festival Sep. 1-5, with both virtual and, hopefully, in-person activities slated to take place. Organizers promised more than 20 "concerts, interviews and other exclusive content" showcasing both international talent and D.C.-area-based artists.
This would represent a far smaller festival than in past years, when over 100 DC JazzFest-affiliated shows typically took place in venues around D.C. Still, it may also be one of the city's first major attempts at a live music festival, as coronavirus vaccinations become widely available.
The 2020 DC JazzFest took place in virtual form as a result of the coronavirus lockdown. In late June, only a couple weeks after the 2020 festival had originally been slated to occur, the organizers held the DC Jazz Festival From Home series, with artists presenting streams from their own homes and studios. That programming featured performances and interviews from some of the DMV scene's top talent — bassist Tarus Mateen, vibraphonist Warren Wolf, saxophonist Sarah Marie Hughes and others — as well as national figures like Dee Dee Bridgewater and Orrin Evans.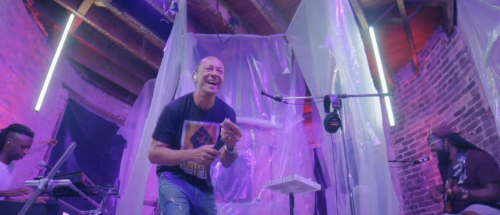 The festival then presented a higher-budget virtual festival in September, featuring five consecutive nights of streamed programming that focused solely on D.C.-area artists, and included performances broadcast from venues and locations around the city.
Sunny Sumter, the festival's executive director, said that for its 2021 edition the festival would abide by a strict safety policy, while seeking to bring activity into local businesses around D.C. "With vaccine doses increasingly available, we are hopeful about celebrating all things jazz in D.C. over Labor Day weekend," Sumter said in a statement to CapitalBop, provided by a spokesperson. Sumter said that the pandemic's expected course over the coming months made September a more logical choice than June, which is the DC JazzFest's usual month.
"D.C. leadership has championed a more cautious approach to reopening the city," Sumter added. "The DC Jazz Festival is working closely with local authorities as we approach the planning of the 2021 DC JazzFest. A hybrid model of in-person festival experiences and live streaming virtually to audiences will allow us to follow public safety protocols."
Sumter said that aside from the Wharf, it was too early to predict what venues the festival would use.
—
Correction: A previous version of this article incorrectly stated that the DC JazzFest's organizers were aiming to present concerts at venues across D.C. in September. While some outdoor programming is being planned, particularly at the Wharf, live shows are not expected to be presented throughout the city.
Comments
comments