I remember in 2004 when I came to audition for the Duke Ellington School of the Arts. Growing up, there hadn't been any real arts programs at my primary schools, outside of a few typical elective offerings. Duke Ellington, as I envisioned it, sounded like a fantasy world. I imagined that young kids would be singing and dancing in the halls like in the TV show Fame, dressing up in cool outfits and being almost supernaturally talented. At Ellington, I imagined a world where a child like myself, naturally gifted but a little awkward, could escape to be myself. And in many ways, I was right.
Like many current and former students, I felt like the school changed my life, and gave me a chance at a future.
Recently, however, decisions by the District school board have cast doubt on Duke Ellington's future. The response from the community has only confirmed what I always knew: This place is special, it is needed, and it must be protected.
Currently, the school operates with a unique academic structure, in which students attend "traditional" school programming in the morning, and spend the afternoons in focused, intensive arts classes. The arts classes run well into the later afternoon, giving students almost an entire half-day to develop their craft, an opportunity hardly ever provided at other public schools. Under the current arrangement, the DC Public School system provides funding and support for the traditional programs and a small percentage of the arts curriculum, while a non-profit entity called the Ellington Fund pays for the rest of the arts budget. The board of directors of a second non-profit, the Duke Ellington School of the Arts Project (DESAP), manages the school's operations.
Last year, DCPS Chancellor Lewis Ferebee announced plans to take over governance of the school, revoking DESAP's oversight and bringing all decision-making powers under DCPS control.
But after that announcement, parents, students and alumni of the school erupted into protest. They — actually, we — argued that DCPS was not qualified to oversee a school with such a unique double curriculum as Ellington's. When I asked one current music teacher there about the DCPS proposal, his response was simple: "I don't think it would be in the best interest of the arts to have non-artists running and regulating programs." (The teacher asked that his name not be included in this article.)
In recent months, the backlash has borne fruit. DCPS walked back its plan to take full control. But this whole saga is only the most recent reminder of the school's precarious position as an arts magnet serving a mostly Black student population and operating outside the typical constraints of academic policy.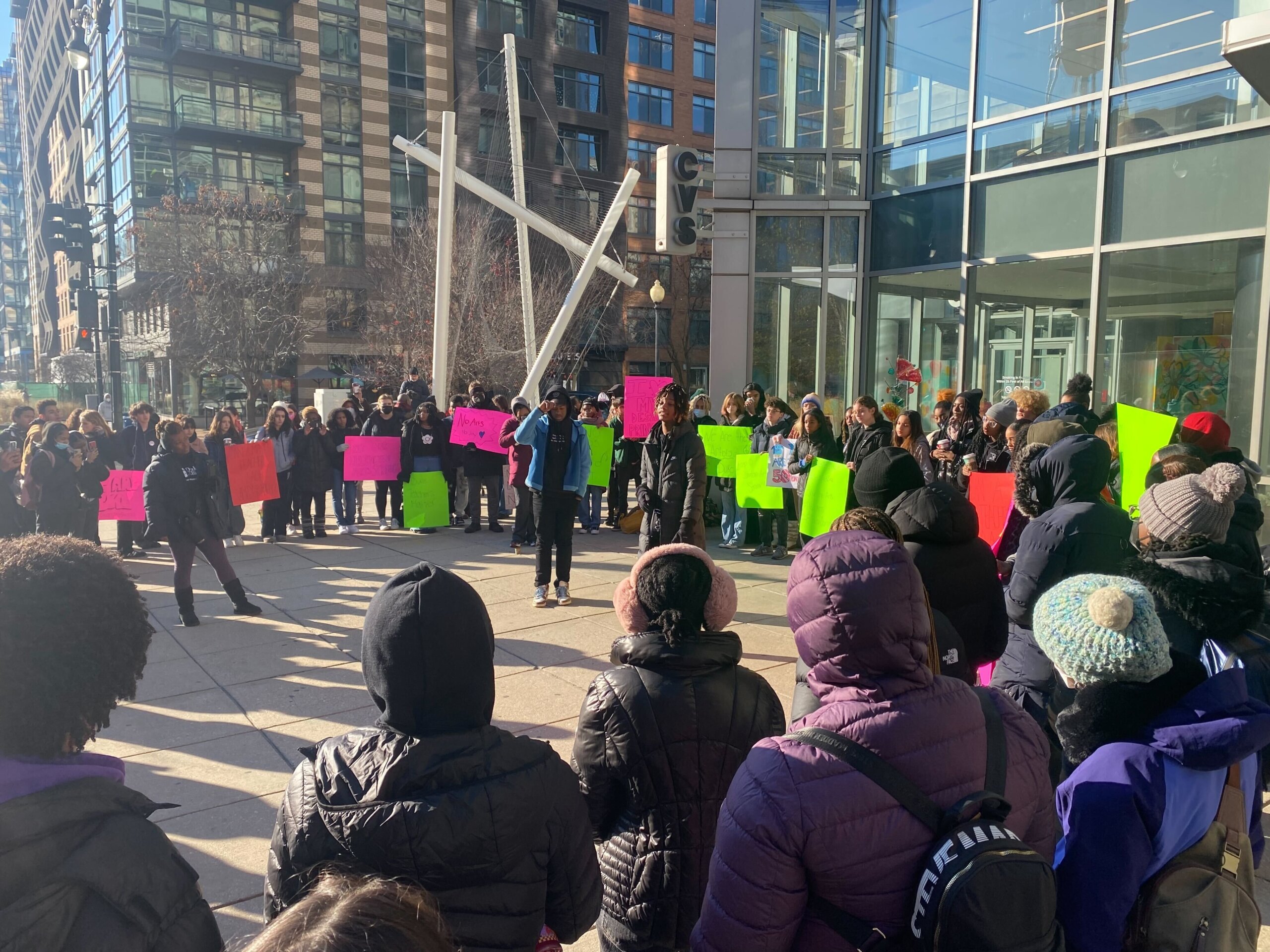 "Ellington is sort of a jewel of the system," said Ari FItzgerald, the board president of the nonprofit Ellington Fund. "We have a student population, almost half of which is low-income; they come from all over the city. It's a very large percentage of Black and brown students, many of whom would not do as well as in a regular DCPS. But they come to Ellington, and they are engaged." Fitzgerald asserted that many Ellington students actually come in reading below grade level, but leave with better academic performance — and almost all get into college. "It's a great success story."
A DCPS spokesperson did not respond to my requests for comment for this article.
In my experience, Ellington was a home of boundless expression. Students from the dance department were always preparing steps in their signature hair buns, twirling and prancing through the hallways. Singers from the vocal department were using the stairwell to practice, their operatic range echoing up and down the building. Musicians from the instrumental departments used those same stairwells to perfect their recital pieces. The theater kids were always displaying their flair for drama and natural comedic timing. Sometimes it felt like Fame, and sometimes I felt like I was a part of the X-Men. Something in me knew we were ahead of the times. There was a strong camaraderie at Ellington, and a culture that followed us into adulthood.
Because of its arts-focused curriculum, the school requires extra funding that isn't typical of the average public school. However, according to Davey Yarborugh, a former head of the school's Music Department, DCPS has consistently overlooked the school's unique needs. "The arts, especially in the area of instrumental music, are expensive," Yarborough said. "But the city has always worked, what I call, like a cookie cutter," funding only the more traditional academic programming, and leaving the school to almost completely cover the cost of its expansive arts curriculum.
Ellington's unique financial structure was never the intent of the school. "The Ellington fund was created to supplement funding provided by the District of Columbia, mainly through DCPS," Fitzgerald said of the nonprofit group he chairs. Unfortunately, DCPS funding has always been sparse, and though the Ellington Fund was "never intended to pay [arts] teachers' salaries," according to Fitzgerald, it has long done just that.
"Back around 2010, [DCPS] basically stopped paying for the arts faculty," he said. "They decided that they wanted to fund Ellington based on a comprehensive high school model…. They pay the English and the math and science faculty. But most DCPS high schools only have two arts positions, and so DCPS decided to only give us enough money to cover two arts positions."
According to Yarborough and Fitzgerald, Ellington's unique structure demands more resources than the average school requires, but DCPS doesn't see things that way. "There was once a time where schools would have fundraisers. The fundraising money would not go to the schools, it would go downtown to be evenly divided up between all of the schools," Yarborough explained. "They have the intention of being equitable and fair, but the reality is, because of the increased cost of the type of school that Ellington is, that's not equal."
A residency-fraud scandal only deepened the tensions between Ellington and DCPS, when the Washington Post reported in 2018 that the Office of the State Superintendent of Education (OSSE) had conducted an investigation and found an alleged 150 Ellington students' families had falsely claimed D.C. residency in order to attend the school without having to pay the tuition owed by students who attend from out of state. However, that investigation, and its publicity, "was really unfair," Fitzgerald said. "Their investigators were horrible."
"For example," he added, "OSSE investigators counted among the offenders students that were dropped to school in cars with out-of-state plates, students that lived with their grandparents, and even students that lived in the same Georgetown neighborhood as the school." The matter was eventually resolved, with OSSE later admitting that their reports were flawed and that, in reality, most of the families accused of living outside D.C. could, in fact, prove their residency in the District.
Still, the damage was done, with some longtime school supporters withdrawing their financial contributions, Fitzgerald said. "We had a lot of donors that contacted us and said, 'I'm not giving you any more money because my understanding is that you guys are allowing people who don't live in the District of Columbia to go to the school for free.That is not part of Ellington's mission so we're not gonna fund you.' Many of the funders came back, but many did not. So it did have a negative impact," he said.
Also damaging was a series of revelations that emerged early last year, stemming from a nearly two-decade-old sexual abuse scandal involving a former teacher at Ellington. It was shortly after this news arrived, in early 2022, that DCPS announced its plan to seek full governance powers over the school.
So what is in the future for Ellington? Fortunately for concerned alumni, community members and supporters, there is room for optimism. Recently, "the Chancellor backtracked and has now said that he no longer wants to take full operational control of Ellington," Fitzgerald said. Instead, DCPS sought to install a compliance officer in the school. But as Fitzgerald put it, "the devil is in the details." The agreement currently doesn't specify that the officer is obligated to report to Ellington; they can instead go straight to DCPS with their reports. Further, the tentative agreement does not provide additional funding for Ellington's arts programming — meaning the Ellington Fund will still have to play a prominent role in subsidizing the school's budget.
"You're basically telling us we have to go hat and hand every year," Fitzgerald said. "And if we don't get additional money from the City Council, we might have to fire teachers."
Fitzgerald's expectations seem to lie somewhere between faith and realism, with an understanding that complete independence from the District government is unlikely, but a hope that the two parties can eventually solve the school's perpetual funding issues. "We want this [compliance officer] to be put in as someone who can facilitate," he said. "Who can help us to comply with all the requirements, and at the same time help make sure that we can continue to do all things we have been doing to give … our students: the opportunities that they deserve."
Comments
comments