At age 17, Jon Batiste moved from the hospitable musical community of New Orleans, where he was part of a well-known musical family, to the up-tempo world of New York City. He began studies at Juilliard, and immediately became recognized as a virtuoso heir to his hometown's rich musical tradition. Both a virtuoso pianist and an artist with a personal vision, Batiste champions a concept that he calls "social music" — the ultimate goal is to bring people together.
While studying at Juilliard, where he went on to earn Bachelor's and Master's degrees, Batiste assembled Stay Human, a four-piece band featuring fellow students. The band's first album, My N.Y., was recorded during impromptu performances in the New York City subway system; it finds Batiste mixing original compositions with popular songs of all genres, all performed on his Harmonaboard — a handheld keyboard that Batiste blows into while playing chords and melodies with his hands.
On Stay Human's first studio release, 2013's Social Music, Batiste sings, preaches and plays both Harmonaboard and piano over an array of beats — variously inspired by New Orleans tradition, classic hip-hop and neo-soul. The band's two-horn frontline adds a bouncing energy. Stay Human has toured the world, playing not only at concert halls and clubs but also in classrooms and local communities, always with the goal of expanding the music's accessibility. Batiste has just finished a tour of the American South, where he visited a youth detention center, performing concerts and speaking to the children there about the power of social music to heal and bring people together.
On the piano, Batiste's playing style harkens back to the flowing but barbed phrasing of Thelonious Monk, and the elusive dynamic evolutions of Ahmad Jamal. It will all be on display this Saturday at the Howard Theatre, when he performs in a presentation of the Washington Performing Arts Society. In the interview below, he offers a more vivid picture of how he hopes Social Music can serve us, and how his background has led him to where he is today.
CapitalBop: Your upbringing in the famous Batiste Brothers Band gave you all the exposure you needed to start a musical career at a young age. When did you decide that your No. 1 dream was to become a professional musician?
Jon Batiste: It's interesting because [music] kind of engulfs your life and chooses you and after a certain point you just realize that you're just doing it. At least that's how it happened for me. It wasn't a specific moment, it was just looking up one day and realizing I was 17 years old, I had moved to New York, and I was studying at the Juilliard school, playing gigs around town. And it became real. I guess that's when I knew, because I always had passion for it, but when it became real and I was just doing it, and everything that I was involved in dealt with the profession. That's when I knew: Okay, I can take it somewhere.
CB: You emerged onto the scene as a bandleader rather than a sideman. What leadership skills do you think you bring to the table as a bandleader, and have you acquired any new skills from your work in that role?
JB: I like to draw from other people who I feel are great bandleaders. I have been fortunate enough with my family to have a lot of great teachers since I was very young. Being in the position early on to start my own band in New Orleans, and then moving to New York, I took a lot from playing with Roy Hargrove's band and Cassandra Wilson's band, at the same time as I was still leading my own band. So I would take [lessons] from any of the bandleaders, like Wynton [Marsalis] when I played with him, even Abbey [Lincoln]. I was with her for a while, and although she was older she provided a lot of information that I could apply. A big part of my concept of band-leading comes from Duke Ellington, which is to take the personality of each band member and tailor the music to them, and create a platform for them to shine, so that then the concept of the music ultimately shines.
"We just want the crowd to explore with us, because there's room for everybody in the ["social music"] concept. That's why I feel when people come to the show, it's almost mandatory that they are involved."
CB: How would you describe your playing experience in the Batiste Brothers Band, and what influence has that music had on your own?
JB: Free: That's the one word I would describe it as. I mean, it's almost as if we were playing for ourselves, because it was so tribal. Everybody was moving around picking up a drum or an instrument, going from this one to that one. That kind of vibe of freedom is what I feel really drew people to my family's music. Ever since I was in that atmosphere, it's been a part of what it is I'm doing with my band or what I play with other people. Just to bring a certain level of freedom and a family atmosphere: I like to call it that collective vibration. I feel the best bands always have that vibration: I listen to a band like Bob Marley and the Wailers and they sound like they're just chillin', hangin' on the stage — like Miles Davis' bands. Duke's band is of course like that, but also Count Basie's band sounds like one big family. They're a collective. That energy is something I was able to experience firsthand with my family.
CB: You made a huge name for yourself in 2007 with your introduction to the world stage in Amsterdam. Not only did you show the world a bright new pianist, but you went into schools and neighborhoods and showed how music can be used as a tool of education and giving. Did you always plan on staking your identity on your educational concept as much as your performances?
JB: It was organic for me. I was fortunate to have those people that instilled it in me early on, from the Louis "Satchmo" Armstrong Summer Jazz Camp, to going to the New Orleans Center for the Creative Arts, and just playing around town with a lot of these different New Orleans musical icons. They were also great educators: like Henry Butler, Ellis Marsalis, Allen Batiste, Keith Jordan, Clyde Kirk — all of these people are always teaching. If it's in the camp, school, the bandstand, or just hanging out with these guys, there is always a lesson. It kind of rubbed off on me, to the point that I don't even see that there's any other way when you go into a town, or you go to a performance but to teach as well. It's kind of how I grew up. It wasn't necessarily a part of the plan. It was a part of my life continuing when I started to lead my own band.
CB: Your set lists on your live shows are anything but traditional; what is your decision process when coming up with a set list?
JB: I'm exploring, I'm always trying to get deeper into the concept of social music, which is really just getting deeper into who I am and who we are as a band. And once we get into that depth of who we are as people, and who I am in terms of as a bandleader and a conceptualist, it's going to continue to meld itself into what I feel like is going to be a more original statement and what is a more powerful artistic message, and that's what I've always strived for. The great musicians who I admire all have this very potent artistic conception that is rooted in who they are as individuals, and it also has room for each integral band member — so everybody who is in the band has a stake in the concept. So we're always really trying to go onstage and explore new territory at the same time as we take the influences from the past that have made us who we are. Because I can't ever leave New Orleans; that's never gonna leave me. I can't leave Thelonious Monk; that's never gonna leave me. There's tons of influences, so what you hear is the sound of an artist exploring the art. We just want the crowd to explore with us, because there's room for everybody in the concept. That's why I feel when people come to the show, it's almost mandatory that they are involved.
CB: So would you describe social music as, essentially, having the crowd involved in the concert?
JB: I would definitely describe it as being a part of an experience, and the crowd contributes to it. The energy they give us is what we kind of siphon and give back to them, and vice versa. So there's always a kind of circular flow of energy that's going back and around, back and around…. I think when we bring different styles of music together in a creative way, the people who like different styles will come together. And they may have never thought they had anything in common, but the music being that universal language can show everybody how much we are the same. Bring people in the room — everyone from babies to people who are 80, people who like that older music back to King Oliver, then people who like Kanye West and Drake. They're all at our concert, and that's what social music is about.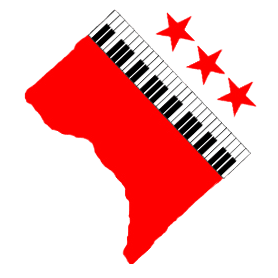 —
Jon Batiste and Stay Human play at the Howard Theatre on Saturday, in a presentation of the Washington Performing Arts Society. Tickets cost $30, and can be purchased here. More information is available here.


Comments
comments