Updated: Jen Shyu will host a FREE workshop/potluck at Rhizome this Sunday, April 15, from 2 to 5 p.m. Her concert with Jade Tongue at our Traveling Loft is part of her SOWN / SEWN (Songs of Our World Now / Songs Everyone Writes Now) 50-State Unity Tour. As part of that program, she delivered a master class to young students at THEARC on Friday, before her performance, and on Sunday she will go to Rhizome to host a potluck lunch/intermedia improv workshop open to everyone. In her own words: "Musicians, non-musicians, non-artists, artists, and families are welcome! Just bring a favorite dish (or just bring yourselves and help us tidy up afterwards), and bring your voices and instruments if you have them! And comfortable clothes to move in. A chance to share and experiment.."
CapitalBop is thrilled to present Jen Shyu for the spring 2018 edition of our Traveling Loft series. This will be the D.C. debut of the music from her acclaimed new album Song of Silver Geese, featuring her outstanding ensemble Jade Tongue.
Song of Silver Geese is a powerful piece — at once mournful and ecstatic — evocative at levels both personal and global. With an all-star band of Dan Weiss on drums, Mat Maneri on viola and Chris Dingman on vibraphone, Shyu sings, dances and plays an impressive array of instruments: the Taiwanese moon lute, Korean gayageum, piano and violin. Song of Silver Geese starts and ends in English, Shyu's native language, but includes portions in various other languages from across East and Southeast Asia. The work serves as a reflection of the parallels between different cultures, and between life and death.
---
Schedule
6:30 p.m. DOORS
7:00 p.m. Q&A WITH JEN SHYU AND JAMAL MOORE
7:30 p.m. JAMAL MOORE SET
8:15 p.m. JEN SHYU + JADE TONGUE SET
---
Opening for Shyu is Jamal Moore (below), a saxophonist and multi-instrumentalist who has become a standout force on the D.C. and Baltimore scenes in recent years. He last played a CapitalBop show in 2016, when he performed a heart-stopping solo set opening for Vijay Iyer and Wadada Leo Smith, Moore's onetime teacher. Moore reprises the solo format here for a show that will surely be just as spectacular.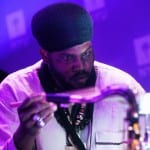 This concert will begin with a question-and-answer session featuring both Shyu and Moore. Audience members are encouraged to come early and participate in the Q&A!
Shyu will also be giving a master class to grade-school students on the afternoon of Friday, April 13. That event is primarily for students at THEARC, but interested parties can request further information here.
CapitalBop's Traveling Loft series is funded in part by the DC Commission on the Arts and Humanities, an agency supported in part by the National Endowment for the Arts.
This project is supported in part by an award from the National Endowment for the Arts. To find out more about how National Endowment for the Arts grants impact individuals and communities, visit arts.gov.
This engagement of Jen Shyu and Jade Tongue is made possible through the Special Presenters Initiative program of Mid Atlantic Arts Foundation with support from the National Endowment for the Arts and the DC Commission on the Arts and Humanities.
Comments
comments