We're excited to announce that CapitalBop will present Joel Ross' Good Vibes, one of the most acclaimed and cutting-edge groups in jazz today, in a special "CB Presents" concert at NYU Washington DC, on Saturday, Jan. 7.
This show will be Good Vibes' first major concert presentation in the DMV area. Ross' set will be preceded by an opening performance by Baltimore-based trumpet phenom Brandon Woody and UPENDO.
Good Vibes is composed of bandleader Joel Ross on the vibraphone, Jeremy Corren on piano, Or Bareket on bass and Jeremy Dutton on drums. Every member of the quartet is considered a major rising star on his instrument.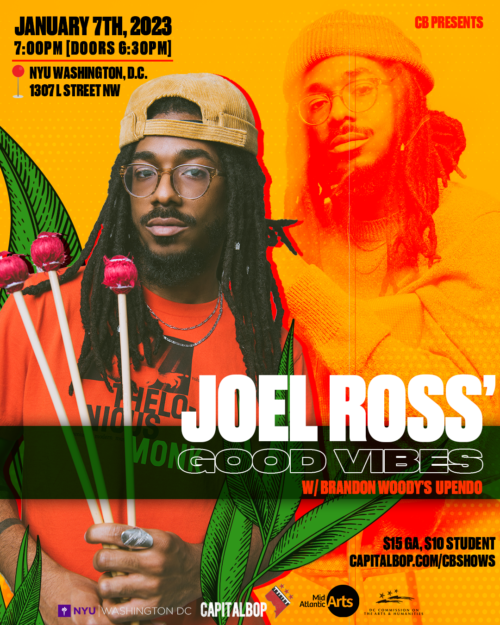 In recent years, Joel Ross has defined an expressive sound that is true to his generation. In 2019, the vibraphonist-composer issued his highly anticipated Blue Note debut, KingMaker, to eruptive critical acclaim. The album won an Edison Award, and landed on many critics' best-of-the-year lists. NPR named it the No. 1 jazz album of the year, and lauded Ross as "a crown prince of jazz." Pitchfork called the album "a marvel." His 2020 follow-up, Who Are You?, showed off Good Vibes at its most synchronous, and earned even more acclaim. In 2022, Ross released Parables, another remarkable step in his career, featuring an eight-piece band showing off a range of influences, from modern gospel to the large-ensemble works of Ornette Coleman.
NYU Washington DC is located at 1307 L St. NW, in a convenient location just blocks from most major Metro lines. Tickets to the Jan. 7 show are just $15, or $10 for students, and can be purchased at capitalbop.com/cbshows. CapitalBop consistently aims to keep ticket prices low to ensure the widespread accessibility of this music to young audiences and other listeners often underserved by the jazz economy.
Brandon Woody's performance comes as part of a CapitalBop residency that also included a live performance and taping last May. (Video of that performance will be released soon.) A frequent presence in both D.C. and Baltimore, Woody is a trumpeter who upholds the bebop tradition while pushing it into contact with more contemporary forms. UPENDO (meaning "love" in Swahili) is his steady working band.
This concert will be immediately followed by an interactive audience Q&A with Joel Ross.
This engagement of Joel Ross' Good Vibes is made possible through the Jazz Touring Network program of Mid Atlantic Arts with support from the National Endowment for the Arts. CapitalBop's programs are supported year-round by the DC Commission on the Arts and Humanities.
Comments
comments