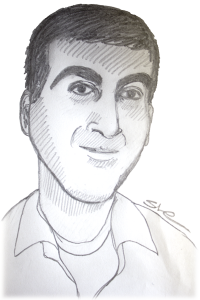 Sriram Gopal
Swing District
---
Editor's note: Today we're thrilled to introduce Sriram Gopal as CapitalBop's first columnist. Over the past five years, he's written regularly for DCist, shining a light on all sorts of local musicians and world-famous artists who pass through town. Here at CapitalBop, we're offering him a platform to explore more theoretical, in-depth terrain, which he'll do in his new, monthly column: Swing District. It will appear from now forward, on the first Thursday of every month.
---
"I don't get jazz."
"But, it doesn't sound like anything." 
"There are no words I can sing along to!"
These are trepidations that jazz lovers often hear expressed by folks who find this music intimidating. This being my first column for CapitalBop, I'd like to offer the hesitant listener some guidance on forging a connection with improvised music. After all, while jazz may appear to be opaque from the "outside," the notion that one needs to have a formal understanding of music in order to appreciate it is completely false. There is a lot of inspiration to be garnered, even for people who don't know the difference between a Lydian or Phrygian mode, or can't count out a 7/8 time signature. So if understanding the intricacies of music theory isn't necessary, why do so many listeners shy away from jazz?
Forests have been razed trying to answer this question, but here are some thoughts, summed in a few sentences. First, jazz doesn't get the exposure of commercial music, so it's not going to fall into the listener's lap. To a certain extent, the audience must go to it. Jazz also places demands on its audience, the central of which is patience. Just getting through your average tune will likely take far more time than the typical three- or four-minute pop song (although back in the 1940s, Charlie Parker could say a whole lot in three minutes – but that's for another column). And just making it through a performance isn't enough. Jazz requires active listening. Unfortunately, the attention jazz demands is totally contradictory to how creative expression is presented and consumed in 21st-century America. Finally, let's face it: Some of the blame has to go to jazzers themselves. I've been to far too many shows where the musicians hardly acknowledge the audience, let alone actively engage with them, so it's no surprise that the casual observer might believe the music to be pretentious.
So admittedly, listening to jazz poses some challenge. But overcoming the initial hesitation yields great rewards. Use fast food as an analogy. Sure, it's predictable, tastes good – at least to many – and is cheap, but it's so much more rewarding to sit at a table with a knife, fork and well-prepared food. One requires more effort than the other, but we all know which undertaking is more fulfilling. Likewise, scatological humor has its place, but clever satire always outlasts the average fart joke.
Fortunately, D.C. offers a uniquely welcoming environment to the nascent jazz consumer.
If the music itself can seem like a barrier, then the nature of the District's jazz community serves as a way in, because our city's very culture creates an inviting atmosphere in which the curious can explore without fear of reproach. No jazz musician comes here to become a star; instead, there is a simple dedication among our artists to producing honest work with integrity, and to being part of a strong, symbiotic community. Unlike any other city I've observed, those in the local arts arena act as a tribe. As with any tribe, there is a Code, and in the District's case, that Code is built equally around love for the arts and love for the city (where else do people get flag tattoos like they do here?).
The Code results in a nurturing environment that extends to every facet of the jazz scene, from the artists to club owners and beyond. Older musicians still play at jam sessions at HR-57 and give direction to younger players. Go to Bohemian Caverns on any given Monday and you'll not only see a fantastic jazz orchestra, you'll see a group of friends. At that same club on a Tuesday, you'll likely see an up-and-coming artist that the Caverns' owner Omrao Brown has deemed worthy of wider recognition. A couple blocks over, Twins Jazz will give a weeknight gig to a group of talented high school or college students. Rob Coltun, an owner of Bossa Bistro, is often seen jamming on stage with the acts he books. (In the interest of full disclosure: My band sometimes plays at Bossa.) Larger outlets like the Kennedy Center, Strathmore and the DC Jazz Festival also make it a point to feature local artists. Even those of us privileged to write about these fantastic musicians are not doing so to establish our bona fides as "critics;" we just want to help get the word out.
The Code also carries rewards for you, the audience. Most importantly, the jazz tribe is growing because it's open to all voices and tastes. There has been an explosion of talent over the past 10 or 15 years because musicians can now find a welcoming niche, regardless of  whether they choose to express themselves through the avant-garde or through more traditional, straight-ahead swing. When you go to a local jazz performance, you see a purity of intention that thwarts pretense. The performer's primary goal isn't just to play at a high level while hopefully engaging listeners – it is to use proficiency as a means of communicating. This common purpose among the area's jazz musicians leads to a camaraderie that exists both on and off the stage. That mood transmits, so even without an initial understanding of the music, there is an implicit invitation for the listener to participate in this alliance.
Just recently, I saw the dynamic local vocalist Akua Allrich lead a group in tribute to the legendary singers Miriam Makeba and Nina Simone. The band's convictions were entirely honest, and its sentiments authentic. By the end of the set, the crowd was on its feet, having connected with the palpable emotionality. There is no doubt in my mind that even a jazz neophyte would be compelled to seek out more moments like this. Expose yourself to enough of these experiences, and the veil surrounding the music will start to disappear; in its place, you'll find a path toward deeper appreciation of this great art form – and maybe even a new sense of passion or curiosity that extends to life's other endeavors. 
—
Sriram Gopal is CapitalBop's monthly columnist. He can be reached at [email protected]
Comments
comments