The Kennedy Center this week is celebrating the 75th anniversary of Blue Note Records, the most iconic and influential brand in jazz. Throughout the week, the Center is hosting free concerts at its Millennium Stage featuring current Blue Note artists as well as local musicians. This weekend, the series culminates in a handful of major, ticketed events featuring stars like Robert Glasper, Terence Blanchard and Wayne Shorter.
In fact there are so many shows and events as part of this celebration, they could not all fit under one roof: The Kennedy Center is collaborating with the Goethe-Institut, the Library of Congress and the German Historical Institute, which are presenting lectures on Blue Note's history, film screenings and a photo exhibit, in addition to concerts. (All the concerts are previewed on CapitalBop's calendar. For a full list of ancillary programming, visit the Kennedy Center's Blue Note at 75 web page.)
Blue Note was started in 1939 by the German expatriates Alfred Lion and Francis Wolff, and the American Max Margulis, first producing boogie woogie and "hot" jazz records. The three entrepreneurs developed a reputation for being unusually hospitable and accommodating  toward their musicians during recording sessions, and giving them ample rehearsal time. They recorded gems with such pioneers as Tadd Dameron, Fats Navarro, Bud Powell, J.J. Johnson and Miles Davis. One of Blue Note's most important contributions came in the late 1950s, when the label fostered the development of hard-bop, with help from the innovative recording engineer Rudy Van Gelder and recording artists like Horace Silver, Art Blakey and the Jazz Messengers, Clifford Brown, Lee Morgan, Jackie McLean, Hank Mobley, Kenny Dorham and, later in the '60's, Herbie Hancock, Wayne Shorter, Dexter Gordon and Joe Henderson.
To kick off this weekend's blowout series of major, ticketed concerts, the Terence Blanchard Group will be in the Terrace Theater on Friday, playing music from their latest release on Blue Note, Magnetic. (In an indication of Blanchard's influence, three of the four Blue Note artists who are featured at Millennium Stage are current or former members of his band. More on that is below.) The next night, the Robert Glasper Experiment will perform its meld of hip-hop rhythm, soul textures and jazz improvisations at the center's Crossroads Club.
Topping off the weeklong affair is "Blue Note at 75: The Concert," on Sunday night at 7 p.m., in the concert hall. It will feature a who's who of Blue Note musicians past and present, from Norah Jones to the Wayne Shorter Quartet and even hard-bop era legends like Bobby Hutcherson and McCoy Tyner. Not to mention current innovators such as Jason Moran, who doubtless was crucial to the planning of this festival: Not only has he been a Blue Note artist for the past 15 years, he is also the center's artistic advisor for jazz. (This week, the institution announced that he has been rehired for a second three-year term in that position.)
The Millennium Stage's un-ticketed shows have already featured a handful of standout artists this week, and the programming continues tonight with Lionel Loueke, a Benin-born guitar virtuoso who leads a trio. On Saturday, the electric bassist Derrick Hodge will lead a quartet; on Sunday, the drummer Brian Blade and his Fellowship Band will play music from its new Blue Note release, Landmarks.
A couple of this week's Millennium Stage performers call D.C. home: On Tuesday, the Smithsonian Jazz Masterworks Orchestra featured a select group of members, and played selections from Blue Note's catalogue; on Friday, an all-star group of musicians from around the D.C. scene will play a number of classic Blue Note tunes, with a particular emphasis on the work of Butch Warren, a D.C. native who was the label's house bassist in the early '60s. This band is led by the young saxophonist Elijah Jamal Balbed, and includes the saxophonist Lyle Link, the trumpeter Kenny Rittenhouse, the trombonist Raynel Frazier, the pianist Tim Whalen, the bassist Eliot Seppa, and the drummer Dave McDonald.
Throughout the week, an exhibition of famed Blue Note album covers is on display in the Kennedy Center's atrium, an appropriate complement to the music — this label's potent, modernist aesthetic has always been embedded in its identity, and helped to define the iconography of jazz's most celebrated years.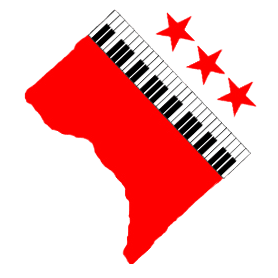 Comments
comments