The vocalist Akua Allrich has been attracting attention over the past few years for her emotionally and spiritually charged performances, and a voice imbued with the sensitivity to coax and soar in equal measure. This Wednesday, she will be at the Howard Theatre for a concert celebrating the release of her second CD, Uniquely Standard. The album was recorded live at two shows in 2012, including one that took place just down the street from the Howard, at Bohemian Caverns.
In addition to her distinctive and powerful vocal delivery, this disc highlights Allrich's wide view of the Black musical tradition; although dedicated to the idea of the "standard," it goes way beyond a strict reworking of the American Songbook. Sensitive renditions of songs like Billy Strayhorn's "Lush Life" and "Black Coffee" – a hit for both Sarah Vaughn and Peggy Lee – contrast with the African music of Miriam Makeba's "Jol' Inkomo" and the traditional American spiritual "Sinnerman." Both Makeba and Nina Simone rank highly on Allrich's list of influences, and the disc also includes her interpretation of the classic Simone hit "My Baby Just Cares for Me." There's even an original composition Allrich wrote in the standards style, "Wishful Thinking."
I caught up with Allrich for a phone conversation recently as she cooked dinner and fielded a competing set of questions from her young son, handling it all with customary energy and humor. She described her 2010 debut release, A Peace of Mine, as "a compilation of the music that I loved: reggae, soul, bossa nova and jazz at the center of it all." It was full of original compositions that stretched the boundaries of any single genre, but she decided to follow up with a disc that offered a more traditional approach, based around well-known songs. For such an eclectic performer, this type of recording can be a powerful statement.
Akua Allrich – Wishful Thinking (Uniquely Standard)

"I love standards, perhaps more than many vocalists. I didn't do it because I thought it would sell," she said. "Jazz is jazz; you aren't going to make that much money! At the same time, it's nice to have the more traditional jazz world say, 'Oh, Akua is a jazz vocalist when she wants to be.' The jazz world can be very particular sometimes about jazz keeping its traditional roots, but I can still do a standard and express myself."
Allrich's interests in cultural and self-expression come to her through her family upbringing, which she describes as "deliberately Afro-centric," and were reinforced by her music studies. These values are reflected in the diverse choice of material on both her albums, and in her musical performances and aspirations. Allrich is also enthusiastic about her work with Nich Cultural Arts, a nonprofit she co-runs that assists Black artists from Latin America and West Africa. "That's my thing: musical expression and its connections to the people here in America, putting the spotlight on Afro-Caribbean and Afro-Latino cultural expression," she said. Last year, she performed at the Atlas Performing Arts Center's Liner Notes series, a production that placed Allrich in a multicultural context merging jazz and hip-hop with multimedia elements.
Allrich is committed to getting as much circulation as possible for Uniquely Standard, but she's already training her sights on the next move – one that will blend the approaches of her first two records. "I want this album to be as successful as possible, to get as much life as possible before I go to the next project," she said. "My next album will probably be a little more of an extension of my jazz roots, probably all originals with some soul and other ingredients. I really love what some newer vocalists like Gregory Porter are doing," she said. "He's so soulful, but when he's on his jazz, it's real jazz. My generation, that's who we are. There are groups of people who are hungry for that kind of expression. You just have to play your own music, whatever's in your spirit. I love seeing the extension of this jazz thing. You have to push a little to avoid getting pigeonholed, and to spread your wings beyond just that jazz standards life."
Allrich is looking forward to huddling in her "music cave" to prepare for the next album. In addition to studying music at Howard University, where she graduated in 2000 with a bachelor of music, she has been playing the piano since she was a child. "I use piano to compose. Life's so hectic with two kids, a husband and a job, but when the ideas come to me I just sit at the piano and record. I've got a bunch of completed and half-completed songs to work through," she said.
Building further on her multi-cultural interests, Allrich hopes to be able to tour internationally after the next album's release. "I want to go out and touch people with the music. My mother's a doctor, my father's a teacher. In my mind I was supposed to be a doctor. I think music can heal and be a source of understanding. I'm serious about this. It's my passion," she said. One of her dreams is to expand her musical reach through collaboration and exchange with other artists in the United States and around the world.
Meanwhile, what can we expect at Wednesday's CD release show at the Howard Theatre? "I told my manager it would be my dream to have my album release at the Howard Theatre. What you can expect is what's on the CD – plus a boatload of fun and soul and energy and those unique standards," she said. The performance will feature many of the musicians from the Uniquely Standard CD: Warren Wolf on keyboards, Kris Funn on bass, Carroll Dashiell III on drums, and Allrich's brother Agyei Osei Akoto on percussion, plus the addition of Tim Green on saxophone.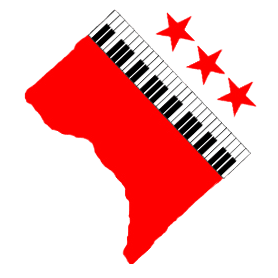 —
Akua Allrich performs at 8 p.m. on Wednesday at the Howard Theatre. More information is available here. Tickets cost $17.50 in advance, or $22.50 the day of the show, and can be purchased here.

Comments
comments