The D.C. Council on Tuesday overwhelmingly rejected an attempt by its chair to depose two members of the D.C. Commission on the Arts and Humanities, after a wave of in-person and online protests rallied around the commissioners, Natalie Hopkinson and Cora Masters Barry.
The body voted on Tuesday to reconfirm Hopkinson and Barry to a second term, embracing a motion brought by Councilmember Robert White (D-at large), and delivering a blow to the chair, Phil Mendelson, who had largely been the sole advocate for their removal from the commission.
The sole dissenting vote was cast by Mendelson. Councilmember Mary Cheh (D-Ward 3), who voiced her displeasure with White's legislative strategy to subvert the chairman's decision, voted "present."
The night before, the intersection of 14th and U Streets NW had been lit up by the sound of conga drums, heavy bass and the shouts of a go-go caller.
Don't Mute DC — an organization championing the movement to protect D.C.'s cultural heritage from the tides of gentrification — had returned to the Reeves Center, as it often does, this time to speak out on behalf of Hopkinson, its cofounder, and Barry, the ex-wife of D.C.'s late "mayor for life," Marion Barry.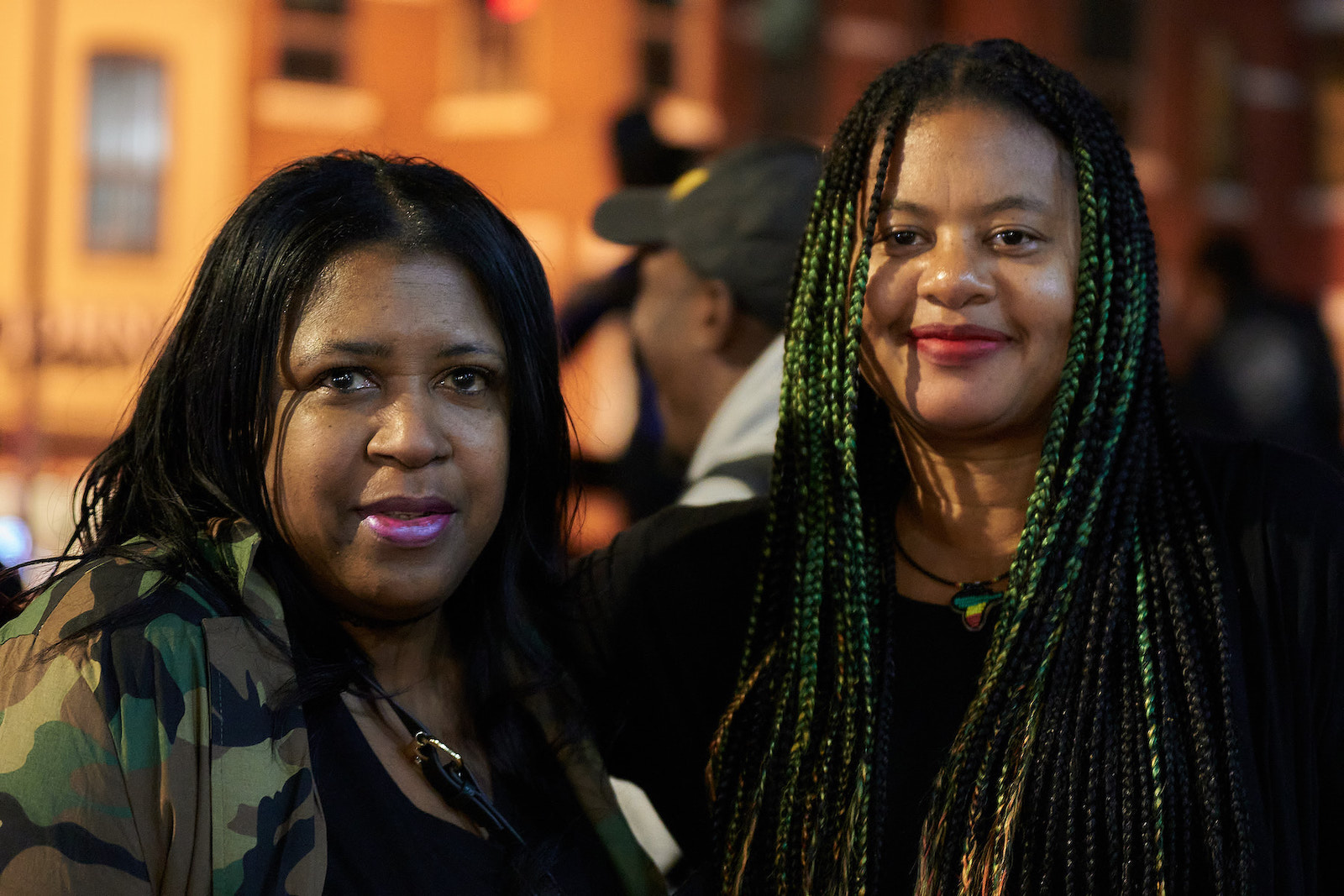 Natalie Hopkinson, right, at the protest with Cherita "Cookie" Whiting. Jamie Sandel/CapitalBop
The protest came in response to a statement Mendelson had released saying that he did not intend to allow a confirmation vote on their candidacies. Mendelson cited the two commissioners' "divisiveness" and lack of popularity amongst other commissioners (whom they themselves have criticized) as his rationale for their exclusion. He also objected to Hopkinson's depiction of the commission's funding data, and what he called a conflict of interest on Barry's part.
But activists were quick to underscore the subtext of Mendelson's announcement — which, many saI'd, effectively amounted to one man's attempt to silence two outspoken Black women who have been at the forefront of recent efforts to address racial inequities in the city's arts funding policies.
Between music sets last night, the Rev. Graylan Scott Hagler took the mic to represent the D.C. chapter of the NAACP.
"Anybody who runs for chair of the council, or runs for any position, got to respect the Black community," he said. "Yes, we're talking about racial perspective, because that's the way they treat us, without ever naming it. They go ahead and do it to us by policy, by economics," he added, "but we need to call it what it is." The crowd roared in response.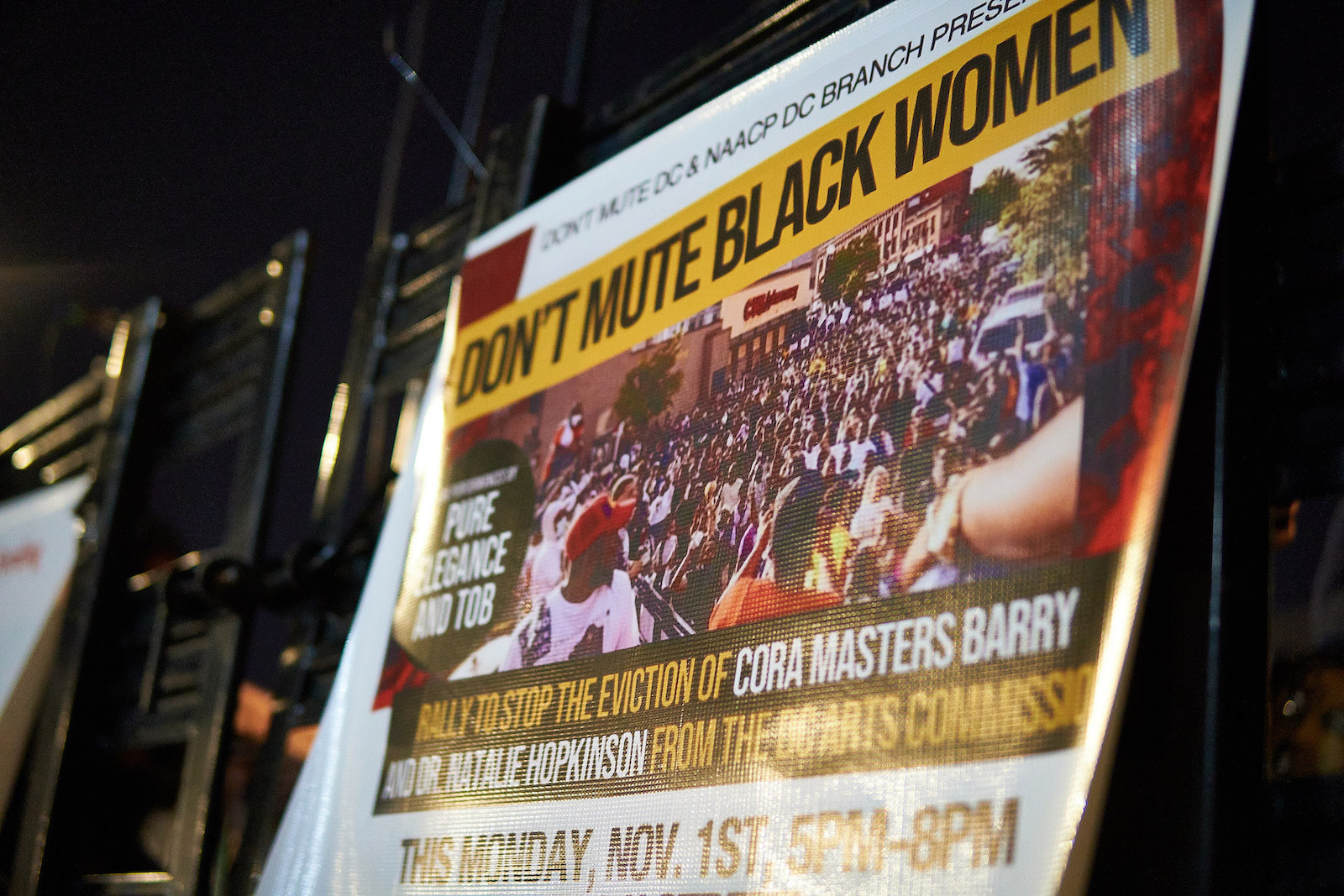 A sign displayed at the protest. Jamie Sandel/CapitalBop
Mayor Muriel Bowser nominated Hopkinson and Barry for reappointment along with two other commissioners, Kymber Lovett-Menkiti and Gretchen Wharton, whose terms were also expiring. To many observers, Mendelson's unilateral exclusion of Hopkinson and Barry was striking — and it's been met with a strong pushback from advocates in both cultural and political spheres. Those advocates include councilmember and mayoral candidate Robert White, who plans to introduce an emergency bill today to approve the nominations of both women over Mendelson's objection, and members of the DMV Music Stakeholders coalition (a group to which this writer belongs), which released a letter today in support of Hopkinson and Barry's confirmation.
Over the past year, Hopkinson and Barry have established themselves as outspoken voices on the commission. Hopkinson posted an article on Medium earlier this year that sparked broad discussion, calling the commission a "white supremacist mess" in which grant funds are disbursed inequitably among wards, and in ways that reinstill racial inequalities. Hopkinson has described this as a form of artistic and cultural "redlining."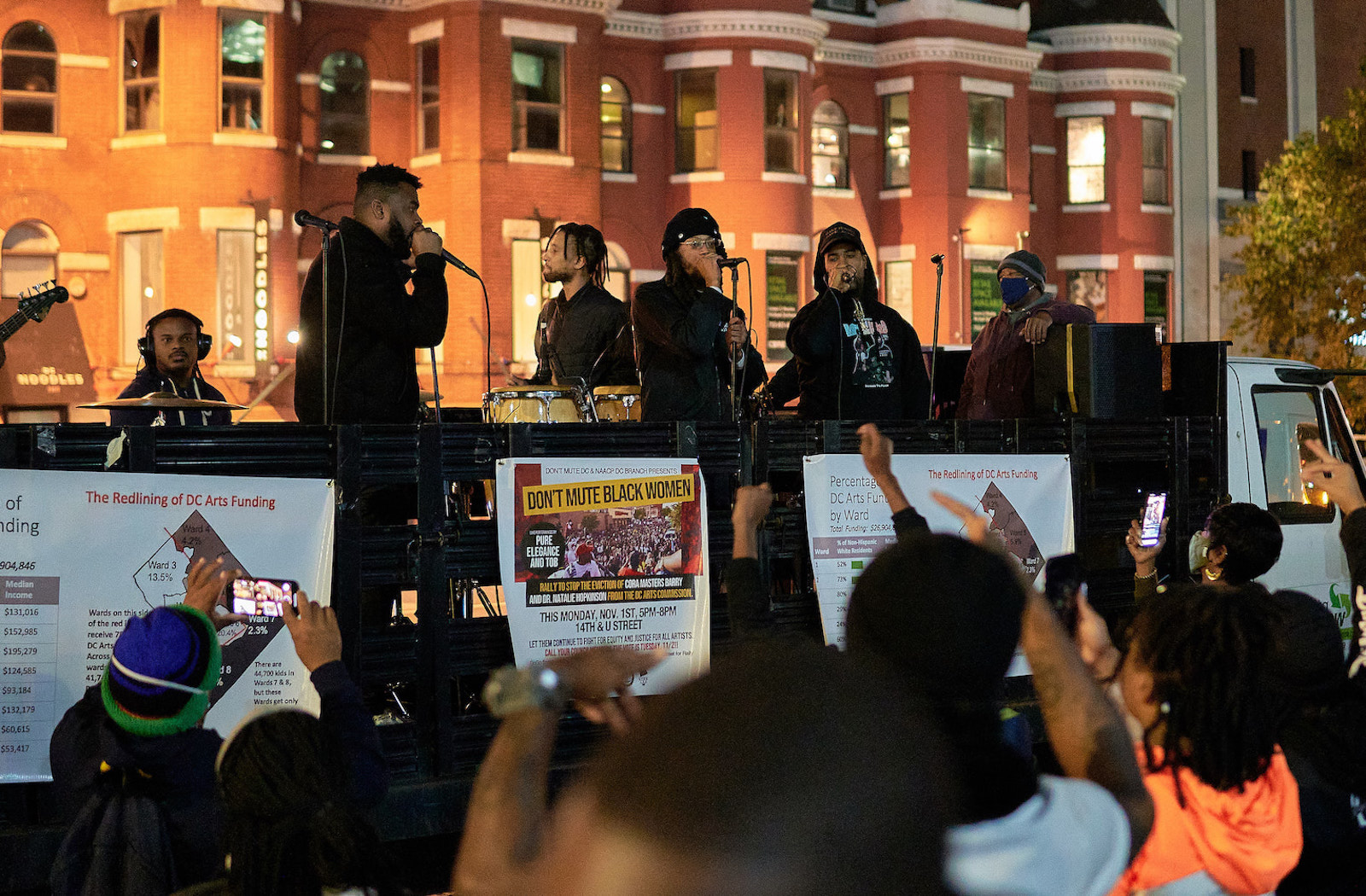 TOB Band and Show performed at the protest. Jamie Sandel/CapitalBop
Her and Barry's advocacy is part of a larger, ongoing reckoning at the DCCAH around issues of diversity, inclusion and justice, including the assembly of a task force to directly scrutinize the commission's structure and operations and to provide recommendations for adjustments, which would be implemented by the commission's new chairman, Reggie Van Lee.
Councilmembers Robert White, Trayon White (D-Ward 8), Elissa Silverman (D-at large), Kenyan McDuffie (D-Ward 5), and Vincent Gray (D-Ward 7), Christina Henderson (D-at large) and Anita Bonds (D-at large) took extra time at the proceedings on Tuesday to voice their support of Hopkinson and Barry, with sentiments generally focusing on the importance of equity in the future of the DCCAH.
Robert White noted that, "whether intentional or not," Mendelson's decision "sends the message that if you're disruptive, you're wrong."
Comments
comments