It's midnight on a weekend in D.C. Just south of Dupont Circle, off a stretch of Connecticut Avenue where bass-heavy beats blare from bars and clubs, a live band is grooving on the third floor of an unmarked building. The group is just as loud and bumping as the DJs below, and its members show off some sharp jazz chops too.
Up until March 2020, this was the scene every weekend evening at Eighteenth Street Lounge, where trumpeter Donvonte McCoy held forth with a fearsomely grooving band of top D.C. jazz cats. ESL closed permanently late last year, a casualty of the pandemic shutdown, but a new establishment has now taken over the lease. Its name, Twelve After Twelve, now adorns the space along with several dozen clocks, all set to 12:12.
Starting last weekend, and going forward indefinitely, McCoy's old spot by the third-floor bar is now being held by Samuel Prather, the pianist, vocalist, multi-instrumentalist and living jukebox whose signature band is the Groove Orchestra. At Twelve After Twelve, he'll be bringing the G.O! 4tet — a four-piece incarnation of the band.
Prather is an obvious choice to fill such a role. His typical set with the Groove Orchestra is already tailor made to get crowds dancing, boogieing and sweating, all while subtly educating them on the wisdom of Herbie Hancock, Kirk Franklin, D'Angelo, James Brown and Chuck Brown. Prather and his four-piece group – Ephraim Dorsey on tenor saxophone, Eliot Seppa on bass and Charles Wilson on drums (replaced by Dante Pope at Saturday night's show) – are able to blend all those styles, embodying a fluency with the vast Black American Music canon. Indeed, the core of the two sets were Prather's originals, built on his vast knowledge of the canon and his strong DJ-like ability to remix and crossfade styles and genres together.
"Are there any Missy Elliot and Timbaland fans in the house tonight?" Prather asked the audience about halfway through the first set. Receiving a mix of applause and blank, questioning faces in return, the 4tet launched into "Miss Timbo," a two-part tribute to those two hip-hop titans from Prather's 2019 release G.O! The tune saw Dorsey floating over the band with an airy noir sax melody, matched by a moody keyboard part from Prather and paired with the elastic, popping rhythm built by Seppa and Pope. Those accustomed to hearing sets at jazz clubs might have noted the complex snaking of melody and rhythm; those whose ears are used to the engulfing production of Timbaland could sink into that side of the music.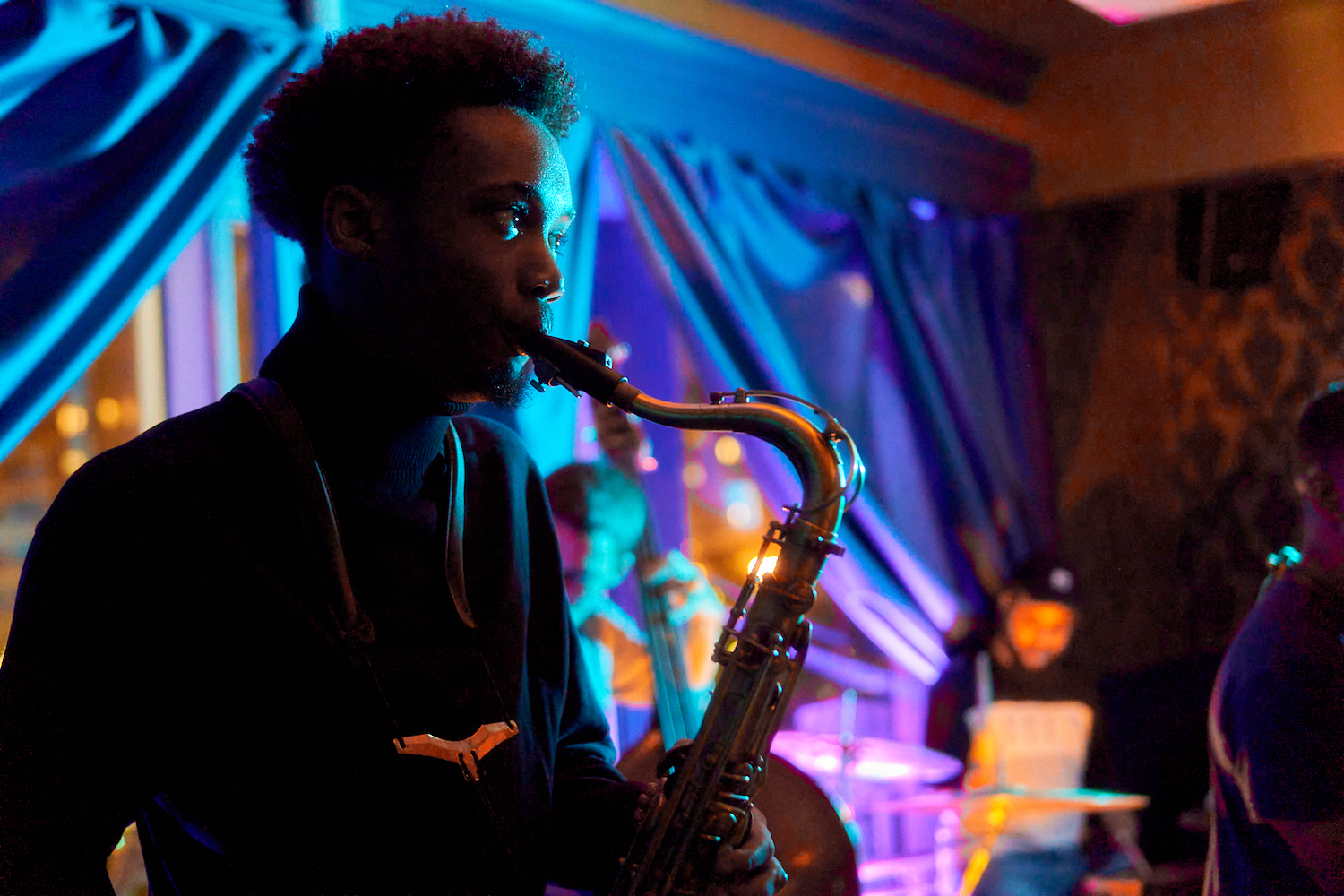 Ephraim Dorsey. Jamie Sandel/CapitalBop
Contemporary pop fans could also get a kick out of the group's cover of Walk the Moon's "Shut Up and Dance," which also exemplified Prather's master DJ-like sense of arrangement. He and the G.O! 4tet launched it as an almost straight cover of the original arrangement, with some Snarky Puppy twists to jazz it up. But during the choruses, Prather and Pope syncopated their rhythms to give it an almost reggae feeling and then the two wowed the crowd at the song's close, breaking out into a loud and fun duet between Prather's congas and Pope's drums (just one of many powerful displays on the kit by Pope that night).
It was moments like this, blending the easily accessible and danceable with the subtlety complex and clearly virtuosic, that were able to really hook the crowd of mostly 20-something, good-time-seeking listeners. Prather hit the peak of this when he capped off the first set, which ended just after midnight, with the evening's most effective tune: a simmering take on Marvin Gaye's "What's Going On."
Seppa got bodies moving with a funked up bass line that conjured James Jamerson and Stanley Clarke; Pope walloped the drums while Prather and Dorsey crooned what worked as a testimony to the overwhelming grief of the last two years. Even with half the crowd absorbed in themselves and bass thundering through the floor from below, those at the front of the room were transfixed, body and soul. After 18-year-old Dorsey's triumphant saxophone solo, the crowd roared with applause, like they had been holding in their breath and cheers throughout all of what's been going on since March 2020.
Earlier, after Prather's second song of the night, his '70s pop-R&B-indebted "On The Big Stage," a man standing behind me finished applauding then turned to his friends and said: "Alright, let's do something else." Which was met with protests from his friends: "No, let's stay for one more. They're so freaking good, it's awesome." The group of five ended up staying for two more. After the set break, when most of the crowd filtered back downstairs, a handful came back up and a handful of new faces joined the front line for Set 2, eager to hear what was going on.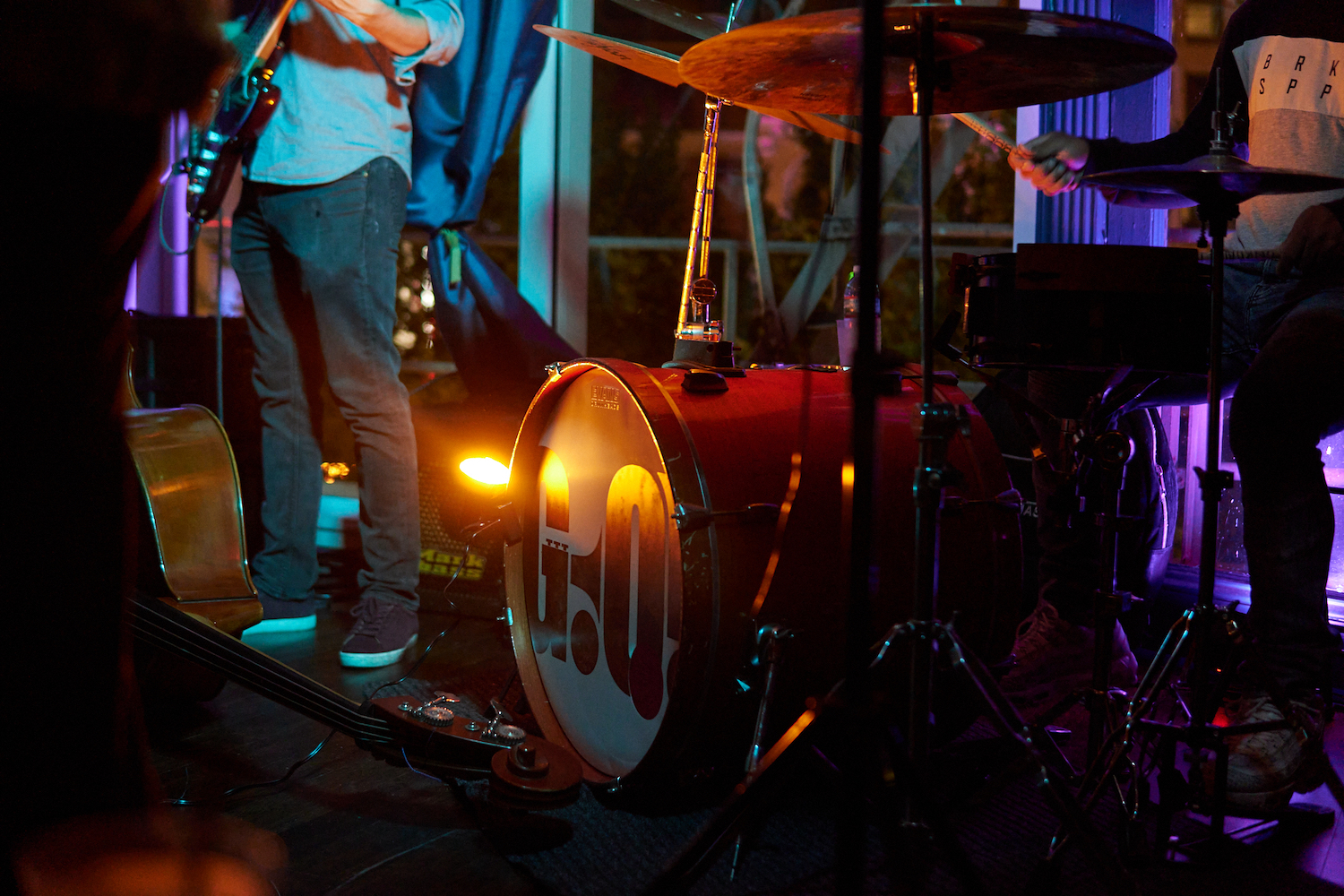 Sam Prather's G.O! 4tet now plays in the same spot where Donvonte McCoy's quintet held down a residency for over 20 years. Jamie Sandel/CapitalBop
Prather and the G.O! 4tet have no easy job: They are playing to the unconverted, the uninitiated, the very loud. Those who may have never really been exposed to jazz, let alone D.C.'s local version. However, providing that initiation is an important task for the scene these days, as more newcomers to D.C. culture fill the city's nightclubs.
Prather delivered some serious jazz evangelization, too: He offered a tribute to saxophonist Joshua Redman, and dug up a funky deep cut, "Driftin'," from Herbie Hancock's debut album. Rising saxophonist Kenny Nunn sat in during the second set, adding the spontaneity of a jam session to the mix of energies in the room that night. It will be crucial to see whether this can once again become a late-night hang for jazz cats in the city, as it was before the pandemic. (Prather told me that while the residency will not be a jam, there will be spaces for guests to sit in each night.)
So, on that first Saturday of the new residency, Prather got at least one guy to beg his friends to stay and experience what the G.O! 4tet brought to the table. He will not be the last.
Comments
comments