Sons of Kemet
Union Stage
Sunday, March 27, 2022
Time has a way of dilating at Sons of Kemet shows. A full 90-minute set — like the one the quartet played at Union Stage earlier this spring — can seem like it's only lasted a third of that time. At the same time, a single song can seem to stretch on to infinity. It embodies and proves a quote of Wayne Shorter's: "When we improvise, we're in the moment, [and] one moment is equal to eternity."
This is likely by design. The music made by Sons of Kemet – Shabaka Hutchings on saxophone and flute, Theon Cross on tuba, and Tom Skinner and Eddie Hick on drums and percussion – flows together seamlessly, never ceasing for a moment, not unlike the go-go beat that has driven Washington for the past 50 years. Both Sons of Kemet and Chuck Brown understand that you lose a certain connection with the audience when the beat stops — which is why it rarely did at a Sons of Kemet show.
Sadly that beat will cease "for the foreseeable future" at the conclusion of Sons of Kemet's current tour (scheduled to end on Aug. 21 at the Pukkelpop Festival in Hasselt, Belgium), according to an Instagram post from Theon Cross. In it, he said the band jointly decided to disband after this summer's tour dates, which will mark the group's tenth anniversary while also "making every remaining show a blast of positive vibrations." It cannot be overstated how rare Sons of Kemet's gift is for creating positive vibes, or what a tool the group's music is for healing: personal, social, generational and ancestral.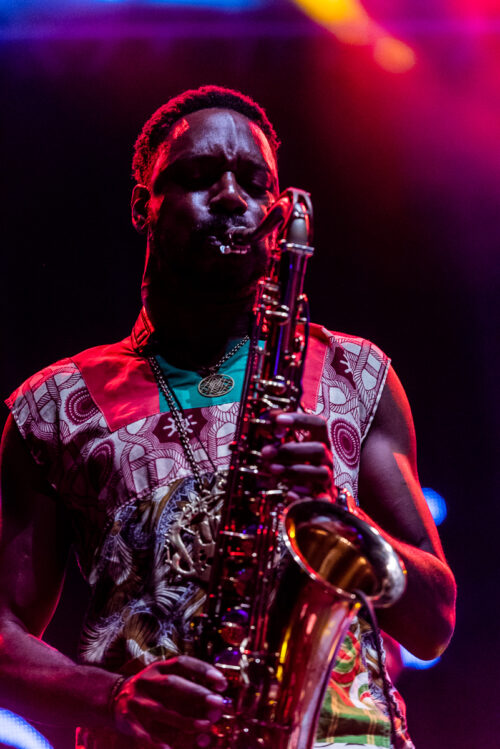 Sons of Kemet's set at Union Stage that Sunday night in March drew from the group's last three albums: Lest We Forget What We Came Here To Do, Your Queen Is a Reptile and last year's expansive opus Black To The Future. All of them focus on themes around the tolls of white supremacy, both historical and in the present tense; the marginalization of Black figures in the archive; and the tools needed to overcome our predicament today. Therein lies the key to the music behind such titles as "Pick Up Your Burning Cross," "In Memory of Samir Awad" and "My Queen is Ada Eastman" (the encore number at the show, named for Hutchings' Barbadian great-grandmother). The formula begins with Skinner and Hick's percussion, which brings the ring shout and the rhythms of Congo Square hyper-presently into the modern concert hall. Cross, who must have the lung capacity of an Olympic athlete, adds a dancehall bass beat on top of that, causing the hips to sway as the feet lose control. Hutchings sails over of it all, his saxophone bringing both a measure of a kind of spiritual flame in the school of Pharoah Sanders but also something like Archie Shepp, pushing a syncopation of its own, balancing a highly forceful melodic and strong rhythm.
Over all, a Sons of Kemet show is something close to a spiritual jazz-driven discotheque rave, held in Congo Square. The music enters into your body at several points: the feet, the hips, the heart and the ears. It does not relent, it will not relent until it fills every pore of your body and every crevice of your spirit, causing even the most uptight, physically awkward human being — this writer, say — to shuffle, shimmy, sway and sweat. At times it even felt like an EDM show. As the night went on, the crowd could anticipate moments of build and release: Where an electronic set would build up to a beat drop, you could feel the swelling tension in the band as the four musicians prepared to burst forth with a new rhythmic pattern, spurring a fresh wave of cheers and a new phase of dancing.
When Sons of Kemet played one of their first major concerts in D.C. in October 2018, at the old Songbyrd in Adams Morgan, it was these rhythms that turned the cozy, carpeted basement venue into a gloriously enthralled, swaying room full of young people with sweat dripping from the walls. The mix of songs all flowed together like one whole, as if it were one long song or suite with pauses for flute and tuba solos. Operating as a healing force, the group played both with and against the themes they invoked to envision a better future, to transform ignorance and pain into something transcendent and aware.
"Take this energy with you," Hutchings said as the group closed the main portion of its set at Songbyrd. "What we need to be able to do is recognize sources of tension and try to relieve them." After Sons of Kemet left the stage the first time, teasing an encore, the crowd screamed for their return almost as if they were all lost in a desert, and had come upon water. Clearly there is more tension to be relieved. Now, we must seek new sources of relief or, as Hutchings said to a crowd in another show, at the 2017 Winter Jazzfest in New York, quoting the poet Lindokuhle Nkosi: "We need new songs, new hymns, new myths." Now, the baton is being passed.
Comments
comments