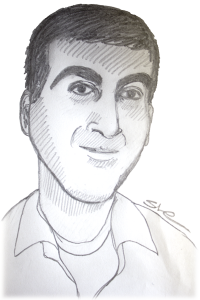 Sriram Gopal
Swing District
---
I know bona fide globetrotters. I am not one of them. But I do make it a point to make use of my passport once a year. For those who are fortunate enough to have the means, there are few more inspiring experiences than voyaging to lands unknown and interacting with people who see life from a different perspective.
Of course I make it a point to seek out live music when abroad; one way is to make the music a destination, by going to a major festival. To that end, the sixteen events that make up the International Jazz Festivals Organization are on my bucket list (I've hit up just three so far). These tend to make great experiences: a week filled with music while soaking up the host city's flavor. But that's not the undertaking I want to focus on in this space—equally memorable are those hidden gems that one stumbles upon in a strange place. It's a truism by now that jazz is everywhere. Knowing that, it's the seemingly minor experiences that stand out to me. I'd like to explore why they left such a strong impression, and then describe how those moments colored my understanding of jazz in the District.
In any given city with a serious scene, there are jam sessions (non-festival related) that always prove to be intriguing. Watch a vocalist in Paris trying to mimic Sarah Vaughan, a drummer in Prague searching for the proper swing on a shuffle beat, or an exuberant young pianist in Amsterdam showing all the technique in the world, but needing just a bit more maturity and restraint on his treatment of a Monk tune: They're all struggling to connect with the American blues tradition, its warm-hearted inventiveness, but within the context of their own experience. Seeing this struggle was endearing because it echoed a similar challenge that many artists in this country face, especially those of us that are immigrants or are otherwise at a remove from African-American culture.
Most recently, I took a much-needed vacation to Europe, a jaunt that included a weeklong road trip in Croatia. The final stop was two days in the capital city of Zagreb. Tkalciceva Street is a charming thoroughfare in the old city that's lined with outdoor cafés and restaurants, where the food is great but the people-watching is outstanding. Tucked in a hidden corner is the Melin Cafe, by far the hippest spot on Tkalciceva. Earlier that day my travel mate and I had asked around for venues that featured live music, and we were directed to Melin. We were not disappointed. The ensemble, whose name I never wrote down, was made up of locals, and the instrumentation included electric keys (doubling on keyboard bass), trumpet, drums and guitar. The sound is what one might call acid jazz, with references to '70s-era Miles Davis along with drum 'n' bass-influenced groups like Screaming Headless Torsos and Jojo Mayer's Nerve. The band's music was modern in a variety of its own ways, but it was clear that there was a heritage from which the musicians were drawing.
My most dramatic and touching musical memory comes from a work-related trip to Serbia in 2001. The country had been simmering since the death in 1980 of its longtime authoritarian leader Josip Broz Tito. The nation started to disintegrate after the collapse of the Soviet Union and the '90s became a period of bloody conflict and civil war. The conflict ended in 1999, but there were still visible scars when I arrived. The day I landed in Belgrade was the same day that Slobodan Milosevic, who was responsible for large-scale ethnic cleansing, was arrested at his home and charged with war crimes by the International Criminal Court.
A work colleague told me that there was an ensemble playing at the University of Belgrade's student center. The group was a quintet under the direction of its bassist, a faculty instructor, along with his students on piano, drums, trumpet and saxophone. The trumpeter stood out. As the band charged through classic hard bop and bebop tunes, this 18-year old Serbian kid was blazing through Dizzy Gillespie and Kenny Dorham licks alike, having clearly immersed himself in the music of that era. His notes struck a blow against the violence and atrocity amongst which he had been brought up, and they struck a universal chord.
These trips affect the way in which I view my own surroundings. There are parallels here with those inexperienced musicians studying the classics, or the electric group drawing from the early fusion years, because there is such a sense of history and lineage in D.C.'s scene too. The musicians here have studied the world-renowned masters, but Buck Hill and Butch Warren are held in equally high regard.
At the same time, these European musicians I've just described are not afraid to adapt music to their own circumstances. The individuality that comes from personal and geographic history leads to a true local identity, which is central to building a sustainable music community. The DMV certainly has its own flavor now, but the District is in the midst of rapid change, with gentrification overtaking large swaths of the city. My hope is that these new musicians and audiences will take the time to understand this identity and history and incorporate them into their own tastes. Likewise, I hope the jazz community that is already here will allow itself to evolve with the city itself.
My travels have led me to appreciate the gift of living in an international city. This is one area where I believe our jazz family can make some improvements by creating more opportunities for the cross-pollination of cultures. There have been and still are events that already do this, for example the Intersections Festival or the concerts that the DC Jazz Festival used to present with Voice of America, which brought together musicians who hailed from former Communist countries. There can and should be more of these spaces to take advantage of the fact that so much of the world is represented right here, in the Biggest Small Town in the World.
—
Sriram Gopal is CapitalBop's monthly columnist. He can be reached at [email protected]. His column appears on the first Thursday of every month.
Photo above of Melin Café courtesy julio-frangen-unifoto.com
Comments
comments