Giovanni Russonello editor-in-chief
Giovanni is a regular contributor to JazzTimes, and the host of "On the Margin," a books show on WPFW-FM. He has written articles for The New York Times, The Atlantic online, msnbc.com, NPR Music, Politico and others. He graduated from Tufts University with a bachelor's degree in history, with a focus on African-American history. He's a recreational pianist with enough self-awareness to know he really shouldn't play much outside home. You can reach Giovanni at editor@capitalbop.com.
Luke Stewart avant music editor
A multi-instrumentalist who plays saxophones, acoustic and electric bass, guitar, drums and electronics, Luke has performed in an array of genres and with a wide range of musicians. He is a member of the indie-rock band Laughing Man, one of a number of D.C.-area musical projects he's working on. He is the production manager at WPFW 89.3 FM, as well as the host of a bi-weekly, eclectic jazz show that showcases music from various sources in Luke's musical explorations. He graduated from American University in 2008 with bachelor's degrees in International Studies and audio production. You can reach Luke at luke@capitalbop.com.
Sriram Gopal monthly columnist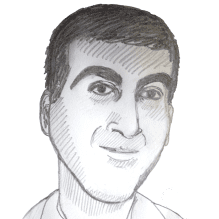 A proud son of Maryland who now calls the District home, Sriram has been active on the local music scene since the mid-1990s, both as a musician and writer. As a drummer, he has performed at Blues Alley, Bohemian Caverns, the Kennedy Center, Strathmore and many other area venues and festivals. He has covered the local jazz scene for DCist since 2007, and has since written for the Washington Examiner, Modern Drummer and Washingtonian. You can reach Sriram at sriram@capitalbop.com.
Past and present contributors
Bobby Hill, Elijah Jamal Balbed, Brad Linde, Marc Minsker, John Cook, Ken Avis, Jati Lindsay, Ed Stansbury, David Reed, Tom Porter, Jeremy Mohler
Board of directors
Sara Donnelly
Tony Haywood
John Hedden
Gloria Nauden
Giovanni Russonello
---