by Giovanni Russonello

Editorial board
If you want to get to know a local jazz scene, or a new strain of thinking in the music, look to its pianists. Eighty-eight keys make up an orchestra unto themselves, percussive and complementary and narrative. Pianists are called "professors" because they lead by example and by diplomacy, even when they're not bandleaders; other players can relate their own ideas to the keyboard, and a good pianist can relate them to each other.
top 5 albums of 2013
The Truth is No. 1. Read CapitalBop's full list.

Allyn Johnson is the best representative you'll find for the state of creative Black music in D.C. He's a true professor at the University of the District of Columbia's jazz studies program, and his cell buzzes incessantly with invitations to play in others' bands—jazz, gospel and R&B. The Truth is Johnson's self-released trio record, featuring the bassist Romeir Mendez and the drummer Carroll Dashiell III. It has a steady-beating heart and a bounding stride. Rhythm is melody is harmony is dynamics. Johnson grew up playing gospel in his uncle's church, which taught him more than the power of warm tension and resonant bass notes: It showed him how music can reach into a complex story, strip away the incidentals, make a message universal.
His glistening right-hand chords are the camera lens through which we receive
The Truth
's moving picture. They're rich, abundant, but full of breathing room—like fresh whipped cream or a well-lit gallery. On the up-tempo "Tune in A" (tied for the album's high-energy point, next to a version of
Thelonious Monk's
"I Mean You") those voicings accompany their own narrative, while Johnson's left hand – no, his whole arm – issues single-note patterns with a low center of gravity, then dazzles on a gallivanting solo section with counterintuitive jabs of harmony.
The angle of Johnson's playing that rears up and sweeps across all the others is one of ornamental muscularity. His gospel background and interest in R&B make Robert Glasper an obvious comparison, but in the way he drives and swings with serious, real-world conviction, Johnson has a lot in common with another rising pianist: New York City's Harold O'Neal. Hearing these guys take a solo, you can envision a man walking quickly toward downtown, shoulders leading belly, the lapel of a winter coat clenched in his hand. He could be hurrying because he's late or because it's cold, but it makes more sense to believe he's just eager to see whoever he's meeting.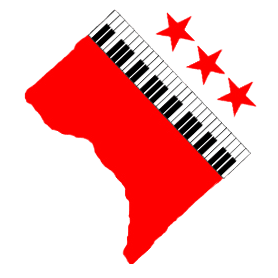 Comments
comments