by Giovanni Russonello
Editorial board
The Bohemian Caverns Jazz Orchestra, D.C.'s only resident big band, has been around for two-and-a-half years now; it's good to see they've released their first album. But a Christmas record? Usually that's comes later, as a way to cash in after you've used your first few CDs to establish a sound and an identity.
---
Selected as one of five discs on "CapitalBop's Best Albums of 2012: Honorable Mention." Click to view the full list.
---
But wait – in a lot of ways, it makes sense. The BCJO already has the reputation. It's based on their live show, a reliable caffeine pill most every Monday night of the year. If you're a District-area jazz fan, it's stands to reason you've probably already heard this band, gotten to know it, enjoyed it. Plus, this is the third year that the orchestra has folded Duke Ellington and Billy Strayhorn's "Nutcracker Suite" – plus other Christmas fare – into its December repertoire. It's a sort of specialty product for them by now, and they know this material inside out.

A Bohemian Christmas, Vol. 1 showcases the band in tight synchronicity during a one-off performance at the Strathmore Mansion. The record's centerpiece is a full performance of the "Nutcracker Suite," with four more seasonal songs on either side. These other tunes are more than book-endings; they're where we get to hear the orchestra's strongest soloists – its biggest selling point – make their cases. That's enough to make me prefer these eight tracks to the suite. As in almost all the BCJO's arrangements, the solos are short but potent: Brent Birckhead is concisely magnificent in just over 30 seconds on "It Came Upon a Midnight Clear," and there's a smoky, Chet Baker-like allure to Joe Herrera's trumpet solo on "A Child Is Born."
Through it all, the band builds upward from a mighty rhythm section, pushed by the swift but grounded swing of Larry Ferguson's drumming. His kit, like most of the band, wasn't perfectly miked – the cymbals don't get the jangle they should – but he gets his point across: Christmas music ought to swing too. And the other argument of all that jaunt and verve is that this is effectively a live band. If you haven't caught one of their sets yet, you owe yourself a trip to the Caverns.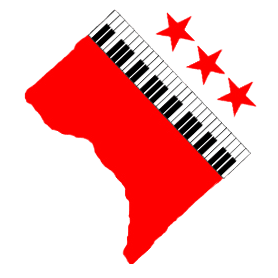 —
A Bohemian Christmas, Vol. 1 isn't yet available for sale directly online. You can find more information at bohemiancavernsjazzorchestra.com. You can also request a copy of the album at that website by using the contact form.
Comments
comments