At the D.C. Jazz Loft this Sunday, we're giving three of D.C.'s best acts the opportunity to perform in intimate situations that they particularly love, but rarely get to explore. It'll be a perfect way to end what is shaping up to be a beautiful weekend, and to experience some local virtuosos in their creative comfort zones. Come out and hang with us at Union Arts.
Akua Allrich and Kris Funn will present a rare vocals-bass duet, building on their years of collaboration in a liberating format. Allyn Johnson, one of the District's most stupendous and soulful virtuosos, will play a set of solo piano, on our new — but very old — upright piano. (When we called him for the gig, he jumped at the opportunity: "I'm there!" he said. "I love playing solo, and I never get to.") And the saxophonist Charles Rahmat Woods, who regularly performs straight-ahead jazz at venues like Firelake Grill, will bring his avant-garde duo for a set of music in the vein of Ornette Coleman and Don Cherry.
Doors at Union Arts open at 7, and the music will be going til late. The show is BYOB, as usual, and we suggest a donation of $15 for the musicians. When you get to Union Arts, enter through the back entrance (turn into the parking lot off of 4th Street NE). See you there!
AKUA ALLRICH & KRIS FUNN
Those who know the best singers in D.C. know Akua Allrich; maybe you've heard her belt with a combo at Dukem, or pulling people out of their seats at Bohemian Caverns with her funky, dance-inducing tribute to Miriam Makeba and Nina Simone. But audiences at last month's Art of Cool Festival in Durham, N.C., got a special treat: Allrich performed in a duo format with Kris Funn, bass extraordinaire and longtime Christian Scott aTunde Adjuah sideman. Allrich and Funn have worked together for years, but they decided only recently that they love the freedom of a straightforward, two-way conversation. At the loft, they'll present a collection of Allrich's warm, grooving originals and wide-ranging covers; the virtuoso young drummer Corey Fonville, who also plays with Funn in Scott's band, will accompany them on some songs.
ALLYN JOHNSON
Allyn Johnson, arguably the District's most respected pianist, spent years mastering his instrument in churches and jazz bands around D.C. He's divined a personal approach to uniting glide and percussiveness; his improvisations always feel both intense and optimistic. Here he performs in an unaccompanied solo set, showing the full range of his abilities, across all 88 keys.
CHARLES RAHMAT WOODS
Charles Rahmat Woods plays the saxophone, as well as the European flute and a kind of Native American flute. His are cutting, intense, avant-garde improvisations, in a style that descends from Ornette Coleman's famous 1960s recordings and John Coltrane's later work. Woods, who played in 2011 at one of the earliest D.C. Jazz Lofts, is back this month after recently releasing a new solo CD last year. Here he will play with the accompaniment of a drummer. (Any Interstellar Space fans out there?)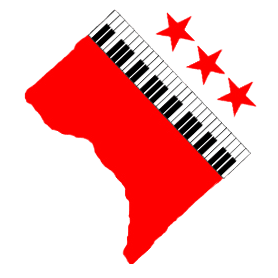 Comments
comments