Brandon Woody's trumpet playing is a lightning rod. There's a special kind of energy in his music that will let you know you're witnessing something urgent and hyper-charged. When he puts the horn to his mouth, the entire room snaps to attention.
A Baltimore native, Woody is a rising star on the international jazz scene, and an ambassador for jazz in the wider cultural conversation. He's already appeared in video features for Calvin Klein, Nike and Saucony as a symbol of the new generation's creative flair — unapologetically brilliant, and unapologetically himself.
Don't miss your chance to see him in an intimate room this Friday, when CapitalBop presents a special concert and live taping at the Art of Noize gallery, in an alley off Upshur Street in the heart of Petworth.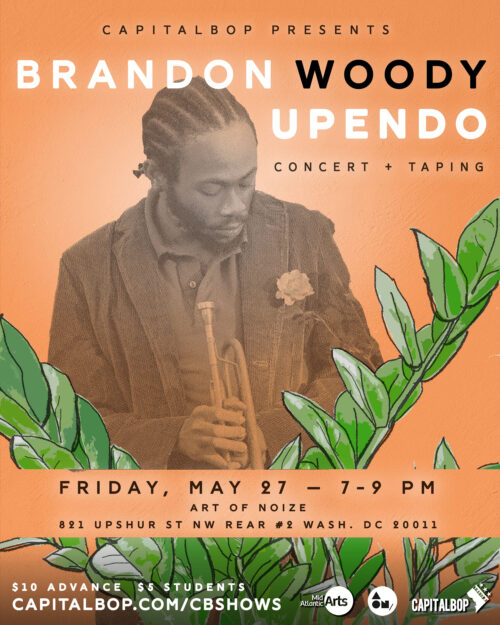 The name of Woody's band is UPENDO, which means "love" in Swahili. Like many musicians at the forefront of the jazz tradition, he's pretty uninterested in that genre label. But his original compositions for UPENDO have a free-flying, groove- and melody-driven sound, and they're heavy on improvisation. In all those ways, they put Woody i9n common with his contemporaries in the modern jazz world. Still, he can traverse virtually any sector of the Black music pantheon, whether that's fitting into a funk or soul horn section or setting down his trumpet to pick up a mic on a rap track.
They say lightning doesn't strike the same place twice, and each time Woody steps onto stage there's a new flash of creative energy. We're going to capture this one on film, as we do with all our major DMV artist features. We want you to be part of it, so hit the ticket link above and join us on Friday!
This engagement of Brandon Woody's UPENDO is made possible through the Special Presenter Initiatives program of Mid Atlantic Arts Foundation with support from the National Endowment for the Arts and the DC Commission on the Arts and Humanities.
Comments
comments