by Giovanni Russonello
Editorial board
The Mid-Atlantic Jazz Festival has a special place among annual musical happenings in the D.C. area. For three full days, it packs in a powerful range of music, almost all of which is played by musicians from the Mid-Atlantic region — be they stars or students — and all of which fits comfortably into the category of "real jazz." That's festival director (and star saxophonist) Paul Carr's terminology for straight-ahead, swinging and generally acoustic jazz. Within that realm, there's no better celebration in the area than the three-day MAJF, which features performances by celebrated touring musicians as well as a handful of high school bands, plus artist interviews and workshops.
The music stretches across three days, and goes all afternoon and all evening. A full festival pass will cost you a hefty $225, but if you use the guide below you've got a good chance at getting your money's worth. Here are CapitalBop's recommendations for the must-hit shows. You can also wade your way through the full schedule at the MAJF website.
Orrin Evans, with Tim Warfield
Friday, 7 p.m.; Ronnie Wells Main Stage
Orrin Evans, a versatile and pliant pianist, plunges deep into rhythms — an immersion in search of pearls. And he usually finds them, somewhere between his jagged shells of left-hand chords and his oscillating waves of right-hand harmony. Still in his mid-30s, Evans is fast becoming the dean of Philadelphia jazz, and he often performs internationally. Here he's joined by an outstanding accomplice: Tim Warfield, a fleet and robust tenor saxophonist. (The two will be interviewed in the Billy Taylor Room at 2 p.m. the following day; it is open to all festival-goers.)
Gregory Porter
Friday, 10 p.m.; Ronnie Wells Main Stage
Gregory Porter's voice is limpid when it needs to be, or straining and barbed at other points. He's a deep songwriter, too, and knows how to take a standard into chilling territory (for one, check out his treatment of "Skylark," on his 2010 debut Water). His second record, Be Good, was released on Valentine's Day in 2012 and quickly hailed as a major achievement in the blending of straight-ahead jazz and classic soul impulses; there's a growing contingent that thinks Porter is simply the best young singer around. (Porter will give an interview in the Billy Taylor Room earlier that evening, at 6 p.m., and will teach a vocals master class at 11:30 a.m. on Saturday in the Billy Taylor Room.)
Marshall Keys
Saturday, 1 p.m.; MAJF Club
Marshall Keys' alto saxophone can sing the blues or swing to the rhythms of bebop with a laid-back sense of cool. The native Washingtonian is a fluid, graceful player, and a savvy bandleader who typically pulls together some of the best names on the D.C. jazz scene. Keys, a Howard University graduate and longtime D.C. native, has fully absorbed the classic statements of alto legends like Sonny Stitt and Lou Donaldson, but he also builds upon the sleek textures of jazz-rock fusion that surrounded him during his youth in the 1970s and '80s.
Dr. Lonnie Smith
Saturday, 10 p.m.; Ronnie Wells Main Stage
The organ master Dr. Lonnie Smith is credentialed in both straight-ahead jazz and funk. He can also forge one of music's most incisive and rousing blends of the two. But when he stretches beyond the boundaries of both — exploring enveloping vamps, dark tonalities, and even a battery of rustling sound effects generated by his computer. Smith got his start in the 1960s with a young George Benson, before continuing onto a career as a solo artist who scored a hit in 1970 with his "Move Your Hand." (Smith will give an interview in the Billy Taylor Room at 5 p.m.)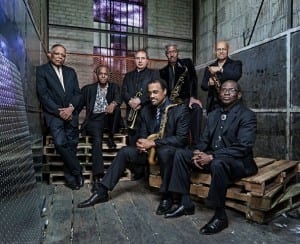 The Cookers
Sunday, 4 p.m.; Ronnie Wells Main Stage

The Cookers is an all-star septet that's comprised mostly of what you might call musicians' musicians. The pianist George Cables, tenor saxophonist Billy Harper, trumpeter Eddie Henderson, bassist Cecil McBee and drummer Billy Hart (a D.C. native): They're all veterans who twisted and toyed with the possibilities of the late hard-bop scene, and have flourished in its aftermath. Each is considered a legend by many musicians. But somehow, public prominence has escaped almost all of them. The Cookers is a group that synthesizes the tenacious swing of Art Blakey; the slippery harmonic tiers of Wayne Shorter's songwriting; and the soulful sizzle of Freddie Hubbard. The group is rounded out by the trumpeter David Weiss and the saxophonist Craig Handy, both strong players a generation younger than their counterparts. (The band will give an interview in the Billy Taylor Room at noon.)
Comments
comments