UPDATE 3/31/2020: In light of stay-at-home orders from D.C., Md. and Va., the Sidewalk Sessions are now on indefinite hiatus.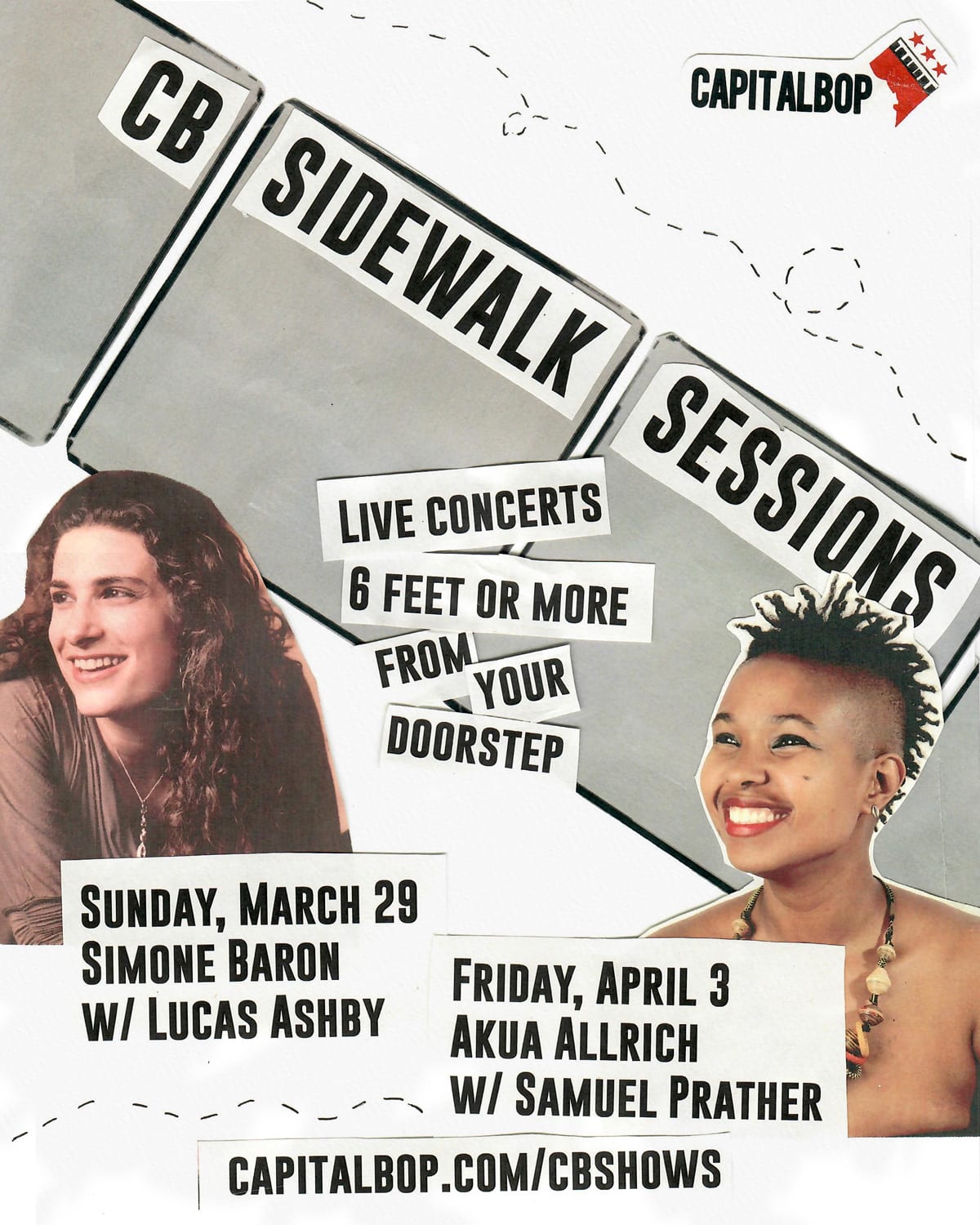 Recordings give a facsimile of a live experience, and amid the COVID-19 pandemic, live-streams are seeking to replicate it. But nothing is quite the same as sitting in front of a musician as they improvise, sharing in the making of sound.
The CapitalBop team believes that the soul of our city needs live music to survive.
That's why we're piloting the CB Sidewalk Sessions — a series of live, socially distanced mini concerts that serve to bring live music back into the streets. Maybe most importantly, they provide work opportunities for the brilliant musicians whose livelihoods have been decimated by the pandemic. We got the idea from our friends at Baltimore's Creative Alliance, who have been running their version of the series for about a week, with huge success.
We're piloting the new series this Sunday with performances by young genre-fluid pioneers Simone Baron and Lucas Ashby, and continuing the pilot next Friday with two D.C. greats: Akua Allrich and Samuel Prather.



Who can purchase a neighborhood concert? Any single person or group of neighbors who want music delivered to their door, and to support the arts.
Where do I have to be to get a concert? Within D.C. proper or its near suburbs (think 10 minutes outside the city or less).
How long will concerts last? Roughly 20 minutes.
Can I reserve more than one slot in a row? Yes, and you can ask the musician in advance to combine the length of the two. But please keep in mind that if any sort of crowd begins to form, the musician will have to ask folks to keep walking or go back to their porches, or they'll stop playing.
How much is each concert? Concerts are going for $65 a pop. You can pay individually, or organize a group of neighbors to pitch in!
Can I send a concert to someone else's neighborhood as a gift? Sure! See below.
How do I reserve a concert? Click here! You'll pick a time slot, provide your address (or the address of someone else you're reserving the concert for!), and at the assigned time the artists will show up in front of your home. From a safe distance, they'll proceed to give a 20 minute concert for you and anyone within earshot.
Please note:
Musicians will not enter apartment buildings, but are happy to perform outside of them, provided no unsafe crowds form. (Six feet apart at all times!)
Musicians can't perform if a crowd forms on the street, so if multiple people are purchasing the show together, they'll have to stand either on their own porch/stoop or at a good distance.
If concerts are rained out, they'll take place on the next clear day, pending the artist's availability.
If you want to reserve a concert for someone else, you'll need to provide their name, address and cell phone number.
SIMONE BARON & LUCAS ASHBY
We had scheduled Simone Baron as our Spotlight artist-in-residence for April before the pandemic hit. Fortunately, Baron is a deft improvisor on piano and accordion, so she'll be able to bring us her music in a new format on Sunday, using the more mobile instrument in duo with percussionist Lucas Ashby, her longtime collaborator.
In DownBeat's review of Baron's 2019 release, The Space Between Disguises, Bobby Reed describes one track as an "accordion-fueled musical stew that's as tasty as it is hard to define." I understand Reed's difficulty in capturing Baron's sound with conventional prose. The young performer-composer-arranger-bandleader is an enigma, producing "genre-queer" music (her term) that fuses elements from modern chamber music, modal jazz, and various percussion traditions into a beautiful whole.
For a glimpse into Baron's holistic musical mind, check out the clip below — or see a rare pared-down performance on your doorstep this Sunday.

AKUA ALLRICH & SAMUEL PRATHER
We don't have to say much about Akua Allrich — if you've been following our presentations, you're probably already a fan. When we're not on lockdown, you can hear Allrich's riveting, gorgeous voice ringing out across the city, often with her full band, the Tribe. She's performed with heavy-hitters across the board: Nicholas Payton, Warren Wolf, Ben Williams, and many more. But on Friday, she'll be in duet with one of her oldest collaborators, Samuel Prather, who will play a portable keyboard setup.
Stay tuned for a brand new video of Allrich from our Spotlight residency — but in the meantime, check her out performing at the Kennedy Center with a top-notch band. And don't forget to support a concert from her for next Friday, April 3!

Comments
comments