Saxophonist Elijah Jamal Balbed convened a demonstration earlier this month in support of D.C.'s LGBTQ+ musicians, responding to the ongoing trend of homophobic speech within the community.
Below are some photos from the march, which took place downtown on July 2, as well as accounts by Balbed and two other musicians, vocalist Aaron L. Myers II and drummer Julian Berkowitz. The testimonies of Myers and Berkowitz, who are queer, shed light on the discussions that prompted the demonstration, and on the continuing difficulties that queer musicians face in the broader jazz community.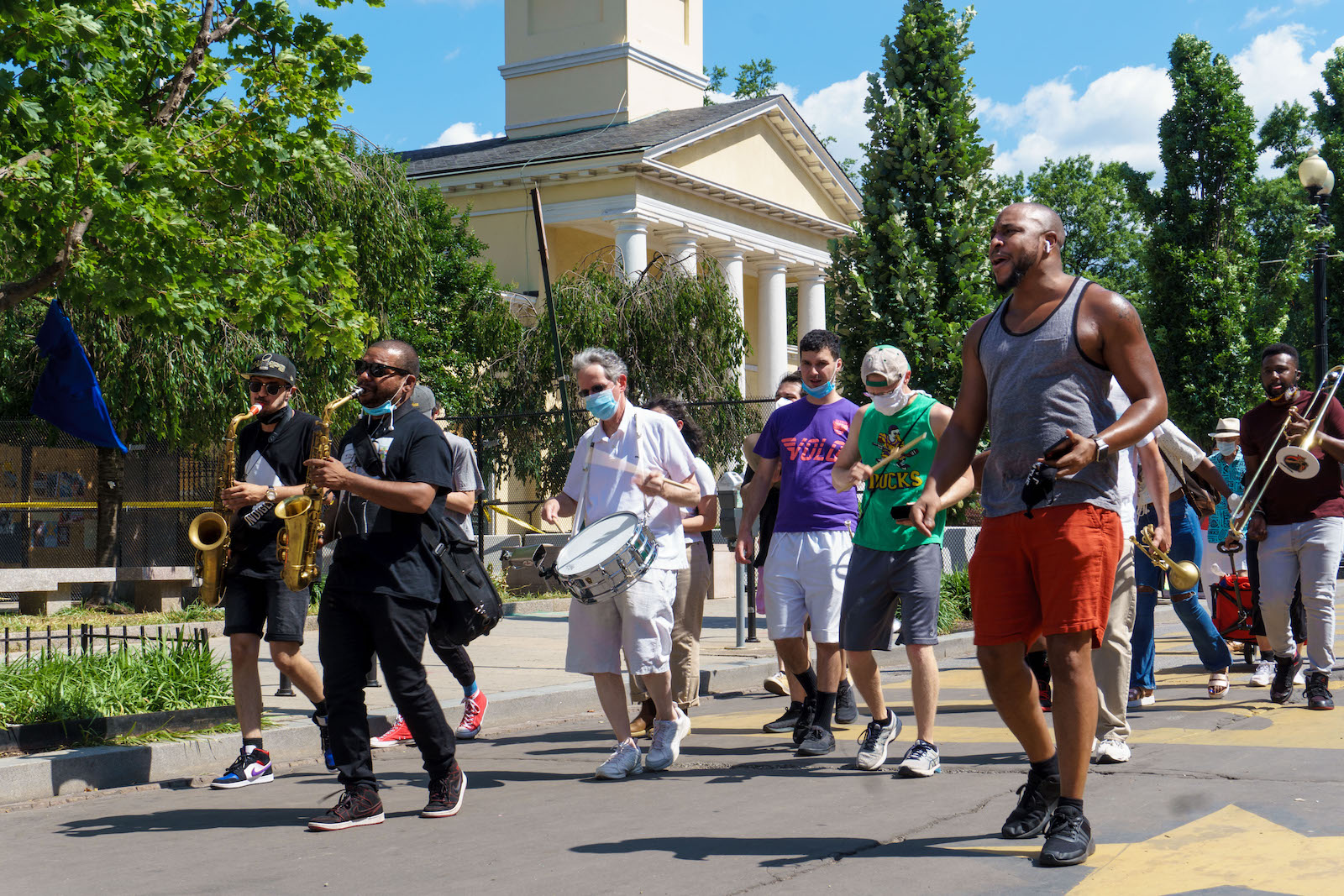 AARON L. MYERS II
"The homophobia I've experienced on the bandstand has been subtle. Snickers, looks, sly comments under one's breath, or the consistent conflict when wanting to collaborate with certain musicians. From the public (in venues) are the comments made typically when they're unaware I'm a part of the LGBTQA community.
"We can open our eyes and see there are few LGBTQA members who feel safe being out & open on the bandstand. You will almost never see a trans person featured or headlining shows in our venues. And with many musicians having close ties to the church, the feeling of being "tolerated" is overwhelming. But mostly, the silence from allies is deafening.
"I'm sure we've come a long way, and still have a ways to go, but this heavy lifting must be done in an intentional manner, with the full courage of allies aiding with the lifting. I will continue to do my part, and I pray it will help in some way."
JULIAN BERKOWITZ
"I found myself picking and choosing who to come out to when I entered the D.C. jazz scene. As someone who people generally assume to be straight, I would hear homophobic comments or jokes at sessions and gigs around town and I stayed quiet, making a mental note of who I should or should not mention my sexuality to.
"I think jazz is a progressive music in many ways; jazz musicians are always on the forefront of fighting against racism and discrimination. So why do jazz musicians ignore or in many cases contribute to homophobia? I've noticed a certain 'machismo' attitude in the jazz community, so perhaps the LGBTQ+ community threatens the masculinity of some jazz musicians?
"I know that many jazz musicians grow up in church environments that condemn homosexuality, so I can see how this could contribute to the homophobia I've noticed in the scene. However, I want to challenge people to look at the accomplishments and contributions of LGBTQ+ musicians. Billy Strayhorn, Fred Hersch, Gary Burton, Bill Stewart…. Think about the contributions of these openly LGBTQ+ musicians and composers. Consider those like Cole Porter and Cecil Taylor, who felt they needed to hide their sexuality. How about the incredible local LGBTQ+ musicians right here in our local DMV scene? LGBTQ+ musicians have contributed greatly to our art form. It is upsetting that in 2020, many LGBTQ+ musicians still feel they have to hide their sexuality in order to be accepted by the scene."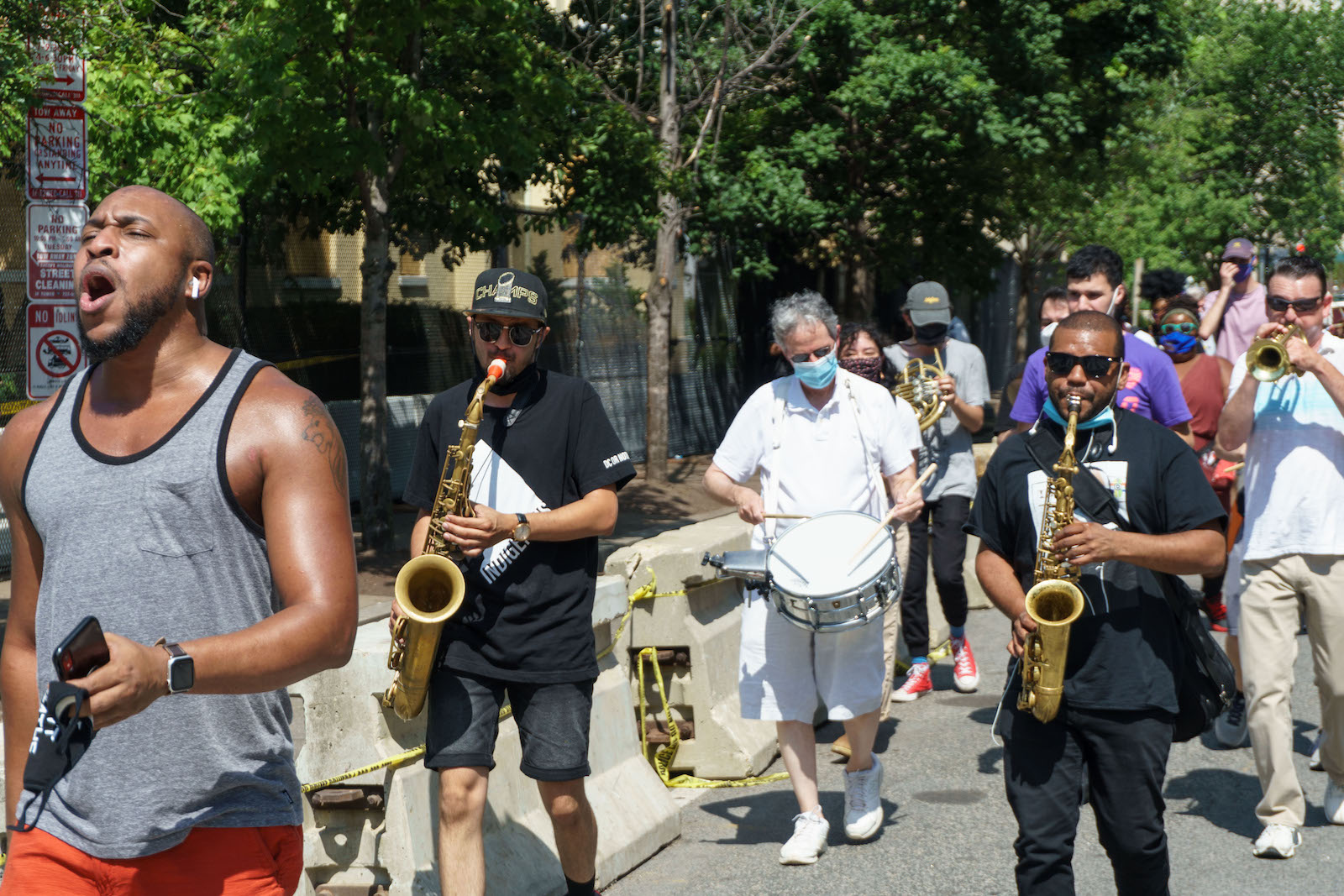 ELIJAH JAMAL BALBED
"When I witnessed homophobic remarks made by musicians on the scene (for religious reasons or otherwise), I immediately said that it was wrong. However, I said that in the comfort of my own home and didn't think much of it.
"The next day I saw more ridiculous commentary and defenses of homophobia, and felt inclined to post my thoughts…. Several conversations and comments later, a lightbulb clicked and I mentioned the idea to turn the planned second-line at BLM Plaza into a Second-Line For Pride. But also for Black Lives, Black Trans and Immigrant Peoples, Indigenous Americans, and all those who continue to be oppressed today. People seemed excited about the idea, so we did it!
"One mantra I live by is: There is no justice until there is justice for all. Which means we all have to do our part in lifting each other up during hard times."
Comments
comments