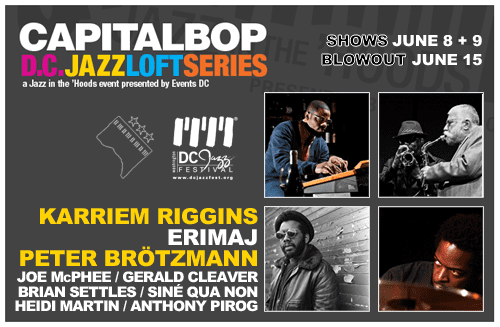 There's a sea change taking place in jazz these days. Young musicians are putting jazz back in touch with pop culture, and along the way they're reconnecting the music with its rhythmic roots. A solid beat lies at the heart of hip-hop, R&B and almost any popular music; so it makes sense that drummers are at the forefront of jazz's current innovations — making it more danceable, more relatable and more popular.
We're so excited to announce the fact that during our third annual D.C. Jazz Loft Series at the DC Jazz Festival this June, CapitalBop will present three excellent, world-renowned young drummers — all of whom blend their jazz training with other forms of musical inspiration. And we're continuing our tradition of putting the music forward in non-traditional venues that are as welcoming and music-friendly as they are unadorned and simple.

June 8 – Peter Brötzmann & Joe McPhee (with Anthony Pirog Quartet), Union Arts, 8:30 p.m. [tickets $15]

June 9 – Gerald Cleaver's Black Host (with Brian Settles & Central Union), The Fridge, 8:30 p.m. [tickets $15]

June 15 – Blowout Show: Karriem Riggins Quartet & ERIMAJ (with Heidi Martin & Siné Qua Non), D.C. Jazz Loft Pop-Up Hall, 6 p.m. [tickets $16]


Our blowout show on June 15 at the D.C. Jazz Loft Pop-Up Hall on H Street will feature the Karriem Riggins Quartet and ERIMAJ. Either one of these bands would be a stellar headliner, but we decided to go ahead and get both of them. They're both led by phenomenal drummers who double as hip-hop producers. Riggins has worked with Erykah Badu, Common and other notables; he became the protégé of the late producer J Dilla, and last year Riggins released his debut album, Alone Together, a collection of virtuosic hip-hop beats in the Dilla mold — rather than a jazz record.
Karriem Riggins on his new record and J Dilla's influence:



ERIMAJ, meanwhile, is a small group led by Jamire Williams, a drummer who has toured and recorded with Christian Scott, Kenny Garrett and Ben Williams; the band's music fuses classic soul, indie rock, jazz and hip-hop. At the Jazz Loft Pop-Up Hall, Riggins and ERIMAJ will share the bill with two stellar local bands – Siné Qua Non and Heidi Martin's Moon in Scorpio – and they'll all be playing in an abandoned retail space on H Street NE, filled to the gills with art, vintage clothing racks, food from local eateries, and drink. The party begins at 6 p.m. on Saturday, June 15, and is sure to last deep into the wee hours.
ERIMAJ's "Conflict of a Man:"


But we're getting ahead of ourselves with all this talk of the blowout, exciting as it is. The weekend before that, CapitalBop will present two other D.C. Jazz Loft shows with equally unbeatable lineups. The first concert, on Saturday, June 8, will feature two absolute legends: Peter Brötzmann and Joe McPhee, both free-jazz saxophonists, will perform at Union Arts in a rare, stimulating duo setting.
Peter Brötzmann in "German Blues," a mini-documentary:

And the next night, on Sunday, June 9, Gerald Cleaver, arguably the most in-demand and versatile drummer on jazz's avant-garde today, will bring his band, Black Host, to the Fridge art gallery. The group features some of the world's best rising jazz stars, and it plays rumbling, melodic, gorgeous original music.
Gerald Cleaver performing with Ellery Eskelin's trio:


All of these shows have affordable price tags — well below $20, as long as you buy in advance. And they'll all go down in dynamic, friendly environments: Brötzmann at Union Arts, a new studio and DIY venue off New York Avenue; Cleaver at the Fridge gallery in Eastern Market; and the blowout at a converted storefront on H Street NE. Over the coming weeks, we'll be posting more info and updates, including video previews and announcements about food, drink, art, films, and master-classes that will be held in conjunction with the festival series. Stay tuned….but first of all, be one of the first to snag tickets!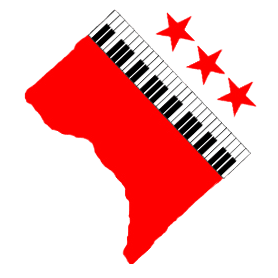 Comments
comments