The jazz harpist Brandee Younger knows the strengths of her instrument: its trembling, watery consistency, the way it easily fills vast harmonic space. And she knows the limits – namely the way that its pedal system can keep things frustratingly diatonic, and make jazz harmonies tough. Oh, and good luck lugging a harp to a jam session. (Younger's done it — not a pleasant trip.)
But Younger, who started out taking classical lessons as a child but almost immediately started transposing R Kelly songs onto the harp, has a way of making things work. In the past few years, she's moved a few steps further: Modern jazz picks up a lot from welding outside musics with its own history — particularly a sensitivity to tonal range, and ideas about how polyrhythms can team up with textures to make a rugged thatch. Younger embodies all that, and puts the harp right up there as an addition to the palette of freeform, hip-hop-infused modern jazz.
She'll appear with an expert band this weekend at her Bohemian Caverns debut, performing Friday and Saturday nights. We caught up this week to discuss how she made the transition to jazz on an uncommon instrument, the legacy of figures like Alice Coltrane and Dorothy Ashby, and the way that bucking expectations has helped her find her voice.
CapitalBop: Did you always start out wanting to do jazz? What was the path you took to the music?
Brandee Younger: There was a woman who worked with my parents, who played harp…. They would bring me over to her house. I played flute so we played some duets. The interest was there…. I was about 12 years old… They were thinking ahead to what I could do to get a scholarship to [college]….
It's interesting, my teacher was really easygoing. So I would often come to lessons taking whatever I heard on the radio that I thought I wanted to play, and she would transcribe it for me. I think that really helped me, because I worked on the music that I was assigned but I was also able to do the stuff that was fun for me. It wasn't until around 10th grade that I switched teachers, and Betty was the harpist with the Met and she prepared me for college auditions. That was when I really got my butt into gear and learned the repertoire. It was all classical. I always joke that I went from R Kelly to Handel.
The agreement was that as long as I did my classical studies, then I could do my pop stuff. I always had to complete that first, but the interest was always there. I didn't really consider putting the harp into a jazz context until my parents got me this Alice Coltrane CD. I was like, "Oh, this sounds cool." I was already interested in jazz; I played trombone in high school. But it wasn't ever something I thought of seriously on the harp.
When I got to college it was a lot of catch-up I had to play….. I worked some with Nat Reeves, the bassist. We did some lessons where he would help me not be married to the music – to improvise. By the time I had finished college, he hooked me up with Kenny Garrett…. I got over myself and started to branch out a little bit more…. I did some harp-bass duets. I wasn't eager to involve drums because I thought it would be too much….
In 2007, Alice Coltrane passed away and Ravi [Coltrane] called me to do the memorial…. The memorial was a musical memorial, so it was Rashied Ali, Jack DeJohnette, Charlie Haden, Jeff "Tain" Watts, Cecil McBee, Reggie Workman, Geri Allen, Steve Wilson… It was a huge concert of her music that really was a sort of turning point for me when I decided to start taking it seriously, in terms of trying to play jazz.
It was finally a point where I felt like I liked what I was doing. I never really enjoyed orchestra; it's a high-pressure situation where you're counting 100 measures and then playing for one bar…. I really like French music, and that's it – I just like the French stuff. But I can't just sit there and play the French stuff all day.
[At the memorial] I felt fulfillment in a way that I never had before. As much as I'd loved Alice Coltrane's music I had never taken the steps to actually play it. I had two days to learn a bunch of stuff.… I think we did three or four of her tunes…. After that memorial there were a series of tribute concerts, which were Ravi, Charlie Haden, Jack DeJohnette, Geri Allen and myself. And we did a few jazz festivals with that combination, where we did even more of her stuff. So I was able to learn large amounts of her music.
CB: What was it like for you, growing up, trying to break into jazz? You can't exactly show up at a jam session with a harp and just hop up onstage like a horn player would.
BY: I did once [go to a jam session like that ] – when I moved to Brooklyn, I had a gig with Bill Lee.… I joined his big band. We used to rehearse once a week, in Ft. Greene… We'd rehearse there on the ground floor, and one of the trumpet players in the band, Igmar Thomas, he said: "Why don't you bring your harp to this jam session?" … I was like, "No I'll feel like an idiot!" But I brought my harp early so that it wasn't embarrassing [getting it onto the stage].… I did that a couple times. It's really a hassle bringing that thing around.
The transition [to jazz] is a struggle – it's hard to get all those chord changes with the pedal.
CB: What possibilities does the harp open up in jazz that other instruments cannot?
BY: The texture. The main reason that Bill Lee used me in his big band is that he wanted a texture that wasn't as heavy as a piano…. Yet he didn't want a guitar. So it was sorta like a perfect in-between….
I don't try to make the harp sound like a guitar. I don't try to make it sound like a piano. I try to make it clear that it's a harp. So there are plenty of things that I do that are very harp-specific. Just the fact that I can arpeggiate in ways that other instruments cant, at a speed that other instrumentalists can't – unless you're John Coltrane!
CB: Tell me about Alice Coltrane's influence on you, once you started checking out her music hard.
BY: The CD of hers that my parents gave me was a compilation.… The song that I gravitated towards was "Blue Nile." I still play it on like every gig…. I was around 15 or 16 years old, and the first thing I said was, "Wow, that's cool." Because all the time, studying all this classical music, I was playing these tunes from the radio but I didn't know what to do with them to make them sound the way I wanted them to sound. Hearing the rhythmic aspect as well as the way she would use her glissandos – the only thing that people think harps can do [laughs] – it really opened up a whole new area to me. Because I didn't know anything other than what was in my textbook….
And then beginning to listen to Dorothy Ashby's music also opened a whole different door. Their playing is so very different. Dorothy Ashby played bebop on harp. She was a pianist as well, and she really chose harp has her primary instrument and was able to do basically anything she wanted to do…. She had this ability to comp like a guitar player, and she also made it clear that she was a harp player – her voicings were just beautiful.
CB: Who will you be playing with at Bohemian Caverns?
BY: We're gonna have Dezron Douglas on bass, EJ Strickland on drums and Chelsea Beratz on tenor sax…. Dez and I went to college together – we met back in 2001. EJ and I met right after college. When I started to think about what I wanted to do musically … after college I moved to the city, and in 2009 I went into the studio and recorded some tunes. I'd originally planned to use them as a demo. That was just EJ, Dezron and myself. I ended up releasing it as an EP. That wasn't supposed to be standing on its own; I had planned to follow it up a long time ago. But we released that EP and I've just been very fortunate to be keeping the band together the best as I possibly can. They're touring all over the world, but we play together as much as we can. They're my first choice.
CB: It seems like you aspire to help bring the harp into contemporary music, by way of jazz.
BY: Mike West recently wrote a blurb in the City Paper saying, "These are the rules of playing the jazz harp – Brandee Younger doesn't follow them." And I posted this blog that pretty much explains where my style comes from. Right away, I say that from 2007 to '09, working with Ravi – that was a very impressionable moment for me. It was a transitional point where I was a sponge. Playing his mom's music, I would say, "Well, how do you want this? How do you want that?" He would say, "I want elements of my mom, of Dorothy Ashby, and of Carlos Salzedo." … There's actually an interview with John Coltrane where they ask, "Who are your main influences?" and he says Ravi Shankar, Carlos Salzedo and Ornette Coleman. It's kind of incredible that in that moment it seemed like there was no thought – it was just automatic… It's so cool for someone like me to hear that. It's clear that Ravi wanted straight-ahead jazz elements and then he wanted classical elements….
His mom played the piano, organ and harp … I'm enmeshing those things in my playing. And then I'm a hip-hop baby. I was born in the '80s, so that's always been a part of me. One of the struggles that I face is, how do I make my music represent a part of me, as a person? So it's all just striving to put all those together, and hoping it comes across.
CB: You said the EP was meant to have a follow-up. Is a debut LP in the works?
BY: Alright, alright! [laughs] I finally said, "Alright, come hell or high water, I'm going to finish this before my birthday." My birthday is July 1, which means I will have recorded the darn thing by July 1.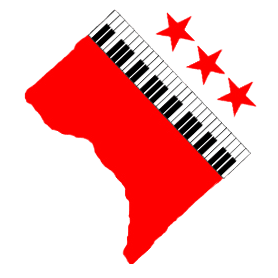 —
Brandee Younger performs at Bohemian Caverns at 8:30 and 10:30 p.m. on Friday and Saturday. Tickets cost $18 in advance, or $23 at the door, and can be purchased here. More info is available here.
Comments
comments