by Giovanni Russonello
Editorial board
Brian Settles builds an edgy sound chemistry, tinted by warble and subtle irritation and wounds for the licking. But sometimes he sounds startlingly patient. What makes his playing great is that it emphasizes what this sound connotes – he's waiting for something. What, though? For you to give him space? For you to listen harder, so he can really begin? For inner quiet?
On his sophomore album, Folk, due out Nov. 12, the D.C. native and outré-flowing saxophonist situates himself amid an intimate cohort: Corcoran Holt on bass and Jeremy Carlstedt on drums. Both are members of Central Union, the five-person unit featured on Settles' debut album, Secret Handshake, which was named CapitalBop's No. 1 recording of 2011. That record turned its musicians into thin and translucent layers, like cellophane, and employed them in such varied lineups (some tracks with Settles in duo with Carlstedt's drumming, others as full quintets, others somewhere in between) that you had to consider in a new way every instrument's reason for being there.
Settles has only made a couple of tracks from Folk available, but from what I've heard, this time around he sounds interested in a different kind of game. He sets up a defined, bass-drums-saxophone format, and then moves a sonic center around within it – through dynamic level, tonal construct, or lead instrument.
[sc_embed_player fileurl="https://www.capitalbop.com/wp-content/uploads/2013/10/1_Rivers.mp3″]
Exclusive premier: "Rivers," Brian Settles Trio
In anticipation of Folk's release Settles will headline a performance at the Atlas Performing Arts Center on Wednesday. He'll be playing in a slightly different trio from what's on the record: Carlstedt on drums and Neil Podgurski, also a member of Central Union, on piano. In the interview below Settles discusses the upcoming gig, the deep connections that make up his ensemble, and the "quiet intensity" that guides his playing.
CapitalBop: This is a "tenor trio" record. There's a lot of history there, what with the famous trios led by Ornette Coleman and John Coltrane and Sonny Rollins. But this is very much its own beast. It has moments of common cause with those antecedents, but it goes its own way. What was your approach to the trio setup?
Brian Settles: It is a combination of things. Yes, I've studied the saxophone trio records – Ornette on alto, and even Ornette on tenor with Jimmy Garrison, but most extensively the Sonny Rollins records. [A Night at the Village] Vanguard and the records with Pete La Roca and all the records that followed. As a young student, reading about Sonny and listening to the records, I gathered that he used that particular format to satisfy his needs. At that time, it was not a rite of passage, if you will, for a tenor player [to play trio]. He's a forerunner there.
I studied it not with the same intentions – I listened to it, and the reason that I started playing in that format is that quite honestly, I just don't like keyboards. I love piano, but most of the venues that we get to play at around the world don't have pianos. They're starting to now, but if you're playing in smaller spots [they often don't]. And then the piano players on the free scene tend to play either solo, or they lead bands. I've been playing with Neil Podgurski since the late '90s and I'd have him on any gig that I was playing on – as long as they had a piano. It's not like I don't dig piano.
After saying all of that, I did get used to [the trio format] and I began to like it – and I had a regular gig for a while with Tarus Mateen at Jojo, on U Street. But before that I was playing there with Corcoran or with Eric Wheeler. I had grown to really like that setup and feel comfortable, and I found that it was easy for me to execute my ideas rhythmically and harmonically.
We're going to be playing trio Wednesday, but this time with Neil and Jeremy and myself. No bass. We're just doing trio material. That's the thing: I actually wrote trio material, and things that I write in this band I write for the musicians – for the vibe.
CB: You leave a lot of space open on this record. With your higher lines I often feel like you're floating out there, pointing out the distance between you and the rhythm section. There's cohesion but also a feeling that you want to leave things inviting.
BS: It's funny. I'm going to begin listening to people's interpretations of this music. You're the first person that's heard the music so it's interesting that you say those things. It's two years later than the first date so everything has changed in all of our lives. But this record is me right now; the first time these guys saw the music was around the beginning of the year – January, February. Then we recorded in May. A lot happened there. But this is the thing, man: This is where I'm trying to kind of put my thing into it. The first record, everything I wanted to do stylistically I wanted to do in a classic setup – a classic quintet, just with different stuff musically. This time, we had the [classic] trio setup, but there's so much out there already, I'm not trying to just put forth my version of what's out there….
So we don't think in the "head, solo, out" form; we're just in there. I wrote the music and it's just composed music. I'm trying to utilize the instruments, the tones, tambours, everything we have available – and that's it.
The music's different because it's different. I tried to connect a few things, conceptually speaking – the platforms that I use for improvisation. But I keep them shorter and I wrote more material. So it's a kind of buildup and a mix of things, but it's definitely a kind of chamber ensemble vibe.
CB: When you reached that aesthetic, what opened up from within the chamber? What did you find there that you didn't expect?
BS: Dynamics, man. What opened up is, I always have in my mind that I want to be able to execute a kind of quiet-intensity concept – that's something you hear thrown around quite a bit. It was in the back of my mind but I wasn't really thinking about it going in. But then once we were in, I said, "Man we really have an opportunity to achieve that." I wanted the music, and the material, to shine. And I wanted to showcase our instruments without having to just blast – to do things that I don't always have the opportunity to do.
And we broke it up into two dates. The second date we redid some material but we mostly just did the second half of the book. The second day we went in, I'd had a bit more time to think about that [quiet-intensity mindset], so we were a little bit more composed. As an ensemble we were able to execute and maintain our composure….
I was definitely thinking more about the listener – which I don't usually do. I think about myself as a listener, because I listen to it, and that's what I know. But I also think about what it's like to be a fan, and buy music.
CB: You're still working with members of Central Union on this record, and on this gig. But you've cut it down to three people. Tell me about the guys on the record, Corcoran Holt and Jeremy Carlstedt.
BS: We go back to high school, Jeremy and I do. We've been playing creative improvised music together since the college days. I tried to go in and do a duet record [with him] – right out the gate that was my initial instinct. So that's the next one. I'll subtract a man every time I make a record from now on, I guess. [laughs]
He understands me on another level musically. We can play anywhere, anytime. We played a duet at the Embassy of Bahrain recently, for an exhibition of photographs by his grandfather. We play duet a lot.… Jeremy has his own career and he's Chico Hamilton's protégé, so there's a lot as a musician that he's achieved. And he brings a lot of information that nobody else has to our playing…. That's Chico Hamilton – he's influenced him in ways that you wouldn't even think about. It's like I have a 90-year-old drummer in my band in the body of a 30-something-year-old man….
Corcoran I met when he was at Shenandoah here…. Corcoran and I really hit it off and he fit right in – of course with the music, but also the vibe of our little crew. My teacher, the great bassist Steve Neil, who's no longer with us, he was the bass player in our ensemble. This is important, when Steve passed away Corcoran was the one that told me. And at that time I was writing music for our first record. The band was Jeremy, Neil [Podgurski] and Steve Neil. Jeremy and I had just played with Steve in Boston at the Regattabar. I was literally at my computer, punching in the bass part. It sounds romantic but I'm not BSing.…The phone rings and it's Corcoran, and Corcoran's like, "Are you sitting down? I just heard that your teacher passed away, man." It was devastating, but I'm sharing that with you to say, that's how Corcoran came into Central Union. Because in 2008 during the [presidential] inauguration Steve came to stay with us. Corcoran came over and Steve really liked Corcoran. I had introduced them in a conference call and Steve gave Corcoran a lesson over the phone. … Steve would always ask me, "How's your buddy Corcoran? I like him, I can't wait to meet him." So they met briefly then, and then he passed…. I'll share that with you and then say it's pretty obvious why Corcoran's with us, man.
I make music with family and friends, man. Everybody's capable, everybody can play. I love everybody. But my music is about a mutual understanding, beyond the music – it's more about family and friendship, and I'm very close with all of my buddies' families. It's on some old-time homies shit, it's not glamorous at all. And I'm fortunate.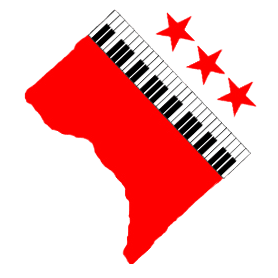 —
Brian Settles performs with Jeremy Carlstedt and Neil Podgurski at the Atlas Performing Arts Center on Wednesday. Tickets cost $28.50 in advance, or $33.50 at the door, and can be purchased here. More information is available here.
Discounted tickets are available at varying prices, depending on the time and date of purchase, at goldstar.com.

Comments
comments