Charles Lloyd conveys himself with the stooped grace of a sage, and the weightless steel of his saxophone sound can stretch across epochs. In the feathered brushstroke of a breath, he can imply the destitution and dignity of the deepest blues; in a bent note, he reaches back, past the marriage of peoples that made gospel, beyond the work songs that rose like the heat from Southern fields, into the vocal tradition of a motherland.
It's tough to look at this hulking, 75-year-old jazz eminence and imagine hurtling into the future. But a natural forward motion has always defined Lloyd – especially in the mid-1960s, when he was in his 20s, leading a quartet featuring Jack DeJohnette and Keith Jarrett. Comfortable with straight-feel rhythms before anyone had thought to coin the phrase jazz-rock fusion, the band implied a common root between John Coltrane's lashing late-period work and the slow-burning build of an R&B singer in concert. Lloyd touched the mainstream in 1966, when jazz's chances of doing so were starting to narrow, with a hit live recording of his "Forest Flower." The quartet was the first jazz group to play at the famous Fillmore Auditorium in San Francisco, and on the album it recorded there, Love-In, the reasons are clear: The band finds room for jazz inside the grooves of a funk rhythm, a Beatles tune, even the Lloyd-penned title track, which rides a sashaying mod beat.
But by the early 1970s, when ideas of synthesis were starting to catch in a big way around the New York jazz scene, Lloyd withdrew to Big Sur, exploring Transcendental Meditation and rarely performing publicly. He did tour and record with the Beach Boys, though, and eventually founded the band Celebration with Mike Love and Al Jardine, both Transcendental Meditation followers and Beach Boys members. In the 1980s, he eased his way back into the jazz world and started to release a string of viscous, enchanting albums on the ECM label, documents that set their weight down on the senses like choreography in slow motion.
With 2008's Rabo de Nube, on ECM, he introduced the quartet that he has maintained until today, with the pianist Jason Moran, the bassist Reuben Rogers and the drummer Eric Harland. On that album and the two that followed it, the rhythm section, all musicians in their 30s, stirs turbid waters of lapping harmony while Lloyd coaxes them like a monument to equipoise, with an air-like tenor sound and little peaks of phrasing. This year, he and Moran released an album of duets, Hagar's Song; its bristling calm – quiescent and looming – makes silence feel strident by relative terms.
Moran is also the Kennedy Center's jazz advisor, and he was wise to book Lloyd for a celebration of his birthday. On Friday – exactly a week after Lloyd turned 75 – the saxophonist will appear with his quartet, plus special guests. The show is in the center's concert hall, rather than the Terrace Theater, where most jazz concerts are staged; it's a fitting and overdue honor for a jazz eminence. In anticipation of the show, Lloyd responded to a few questions via email about his past work, his relationship with Moran, and the future of the music that he has influenced so much.
CapitalBop: You have performed and recorded in a number of duo settings, often with percussionists – Zakir Hussain and Billy Higgins, to name a couple. What do you like about the possibilities that arise when exploring the water-like, horizontal potential of the saxophone in dialogue with a more percussive partner? In what ways does Jason's pianism allow him to fill, or at least in some ways fit, the role of a percussionist?
Charles Lloyd: I have had remarkable duo settings with Zakir, Master Higgins, as well as Jack DeJohnette and Eric Harland – and I have had equally remarkable duo settings with pianists: Michel Petrucciani, Bobo Stenson, Geri Allen and now Jason. More than anything, playing with just one other person, is like being stripped down to a loin cloth. A lot is revealed about who you are. Some of it might be shocking, while another glimpse of sound could be, as you say, "water-like" and ideal.
In my partnership with Jason, I feel perfectly at ease; he weaves me a beautiful fabric for my loin cloth and some of the textures bounce like sticks on the taut surface of a drum head. Other lines flow like Japanese calligraphy.
CB: Your new album has a number of classic jazz tunes – two from the Duke Ellington/Billy Strayhorn book, a Gershwin song, one by the great Earl Hines. How has your appreciation of jazz's history and the legacy of your forebears deepened or expanded as your career has progressed?
CL:  The elders have always been there for me. From my very young years in Memphis, I was able to consider people like Phineas Newborn and Willie Mitchell as mentors, and later Duke Ellington took me under his wing and guided me.
As a composer, in my youth, I focused on my own compositions, but now I find myself at an age looking in all directions. Playing these songs is like revisiting with old friends. These songs are a part of me.
CB: You wrote the "Hagar Suite," on the new album, around the story of your great-great-grandmother, who was forced into slavery as a child. What research did you do to unearth the details of her life? How did your go about giving musical voice to her experiences? What was the experience like for you, on a personal level?
CL: My wife Dorothy was making a documentary about my grandfather, Ben Ingram, who was born and lived all his life in Byhalia, Miss. It was her research that led to the discovery of the records of sale of my great, great grandmother, Hagar Simpson. It tore me apart to learn that at the age of 10 she was taken from her home in the south of Mississippi and brought to Hardeman County, Tenn., and sold for $300. Slavery is a terrible condition at any age, but to tear any child from their parents at such a tender age broke my heart. And it is not just Hagar's story – it is the story of so many innocent children who were born into slavery, whether in the 1800s in the United States or in some far corner of the world today. It is unbearable to think of. The suite unfolded itself as a prayer and lullaby for Hagar and for all God's children whose lives have been compromised by the condition of their birthplace.
CB: One of the songs in the suite is called "Bolivar Blues." To me, the tune is powerful, rhythmic, rebellious. Is it a reference to Thelonious Monk, or the Latin American liberator Simon Bolivar? Neither? Both?
CL: To tell you the truth, when I named that part of the suite, I had totally forgotten about Monk's "Bolivar Blues." Bolivar, Tennessee is the seat of Hardeman County. That is where Hagar was taken and sold. All of the slave records of sale are carefully preserved in vaults in the courthouse. For me the thought of Bolivar is nothing but blue.
CB: When you were in your 20s, you were already making music that pushed past many of the prevalent idiomatic standards of the jazz scene – leading the way for people like Miles Davis who later became known for their work in so-called jazz-rock fusion. Looking around today, are there any musicians who are pushing boundaries and concepts in ways that you find especially energizing or encouraging? Can you name a few, and/or discuss what developments you've noticed?
CL: There is one I know well, sitting next to me on the piano: Jason Moran. He pushes the envelope in so many directions. His canvas is multidirectional and varied. He has a natural instinct for bringing the threads of tradition into a context that is totally unexpected and contemporary. Robert Glasper is doing it in a different way, as is Eric Harland, who was sent to me by Master Higgins from the other shore. Interesting connection there: Houston. And from over there in Fort Worth came Ornette [Coleman], who always pushed the boundaries. He is in a category that defies space and time.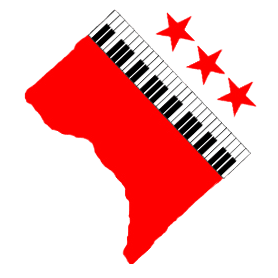 –
Charles Lloyd performs with his quartet and special guests at the Kennedy Center at 8 p.m. on Friday. Ticket prices range from $20 to $65. More information is available here, and tickets can be purchased here.
Comments
comments