The vocalist Christie Dashiell, 25, has completed much for a musician her age. You might recognize her face from the third season of NBC's The Sing-Off, when she was the de facto leader of Afro Blue, a Howard University a capella group that nearly reached the final round. Since then, Dashiell has completed her Masters in jazz vocals at the Manhattan School of Music, and recorded on nationally released albums, including Jonathan Blake's Motherless Child and the Jolley Brothers' Memoirs Between Brothers.
When she sings, Dashiell's strong but delicate voice shines and soothes. She has been unafraid to put her own distinctive strokes on contemporary pop songs like Ashlee Simpson's "Pieces of Me" and Seal's "Kiss From a Rose" — and has done so with great success. She's headlined at most major area venues, from Twins Jazz to Bohemian Caverns to the Kennedy Center's KC Jazz Club.
Dashiell is about to wrap up a 10-month stint as artist in residence at Strathmore, where she was commissioned to produce an original work as part of the residency. She will premiere it this Wednesday during her second and final performance at the Strathmore Mansion, and will be joined onstage by her two brothers, the bassist Christian Dashiell and the drummer Carroll Dashiell III, with whom she's been playing music since their childhood in Greenville, N.C.
Last week, I caught up with Dashiell to discuss her preparation for the upcoming performance at Strathmore, plus her influences, writing process and life since The Sing-Off.
CapitalBop: You performed once at the Strathmore this month already. What are you going to do differently from your first performance?
Christie Dashiell: This time I'm premiering the commission piece. All the artists in residence have to do a commissioned work, so I'm going to premiere that. Most of the stuff that I'm doing, I didn't do during the first show.
CB: What was your writing process for this new work that you'll premiere?
CD: I had an idea for a song a while ago. It started off with this little melody, a motif. And I just sort of developed it. I was like, "Oh, perfect, I have this in my back pocket." So I developed it, wrote some lyrics to it. Once I gave it to my band, they transformed it into what it is. Because before it was just some notes on a piece of paper that I had in my head. They kind of made the magic happen.
CB: Who would you say are your greatest influences musically?
CD: An overall influence is Sarah Vaughan. I just love her singing so much. I love the fact that she's a true musician. And right now, as far as writing, just whatever I hear. On a personal level, I'm inspired by Esperanza [Spalding], because I think that she's such a great musician. I feel like she has such command of her instrument, and her voice and her writing style. That's my ultimate goal: to be a great musician. The stigma with females, and singers especially, is actually that you're not a musician, but I really am inspired by Esperanza, because the music that she writes is pretty telling of her talent.
CB: What about in terms of your life?
CD: My life? Oh, wow. Of course I think my parents are my biggest inspiration. Personally, man, I haven't really thought about that. This sounds really religious, but I think that Jesus is a great model for life. Recently, I've been trying to just challenge myself to be a better person, and I think he's a model of the perfect person, you know? So, I strive to be that every day.
CB: You mentioned your brothers are performing with you on the 29th. I know you come from a musical family. Can you tell me a little about that experience?
CD: My dad is a bassist, so when we grew up, we watched him perform and travel. And my mom is a classically trained vocalist. I don't think that [my brothers or I] consciously made the decision to choose music. It sort of just fell into our laps. We would go into our practice studio and practice all day, and when [my parents] would come back home we would tell them, "Aw, Mom, Dad listen to what we just made!" and we didn't really know at the time what we were doing. But we were developing our craft and practicing our instruments. What we thought back then was fun ended up turning into our careers. That was a cool experience, to grow up around so much music.
CB: What kind of music were you making?
CD: I don't know. Just, like, anything. We would make, like, doo-wop songs. We would make jazz songs. We would make rap songs. You know, when you're kids, your imagination is so huge. We just made whatever came to our minds.
CB: You earned your Masters Degree at the Manhattan School of Music, and then you decided to move back to Washington. Was that your plan the whole time?
CD: I sort of didn't know. I don't think I had a plan while I was in grad school. I was just kind of, "what happens, happens." My fiancée and I, we got engaged during my second year of grad school, so that sort of helped me make the decision to come back, because he's here.
I really love New York, too. I don't think there's any place quite like New York for jazz. But D.C. really is a great place for jazz too. I'm glad to be here.
CB: How would you describe your typical writing process?
CD: It depends on what I'm writing, whether I'm arranging or composing original music. Last year, I was in a phase where I was writing poetry. Or free-writing — whether it's just poetry or just nonsense words — and then trying to set it to song. That challenged me, because I'm not very good with lyrics. Now, I've fallen back into a habit of just letting the music happen first, like the harmony or the melody and kind of composing from there. Or, taking a motive or a motif and developing it. I think that's a great way to write, motivic writing. It just depends, I guess.
CB: Do you think you'll be releasing a collection of your own work sometime soon?
CD: Oh yeah, for sure. That's definitely a short-term goal of mine. To release my own project. It's an honor to be on a lot of this area's musicians' projects because there are so many great local projects. But a goal of mine is to release my own my own material, so hopefully mine will be coming within the next year.
CB: Do you still keep in touch with your band mates from The Sing-Off?
CD: Oh, yeah. The group is still in touch. We're all really close friends. We actually have a couple performances coming up. I was just answering emails before coming here about two of our performances coming up. The Howard connection is still there too, even though the group is not really affiliated with Howard, we're still very connected to Howard of course.
CB: Are there people who recognize you from The Sing-Off?
CD: Sometimes I get that. I used to get it a lot in New York. I didn't know that many people watched in New York, but I used to get stopped in the subway a lot. A lot in D.C. too. Obviously when I go to North Carolina, my hometown, they recognize me a lot. It's pretty cool. You're sitting down eating and then somebody says "Oh, were you on The Sing-Off?" And I say, "Yeah!" It's kind of cool.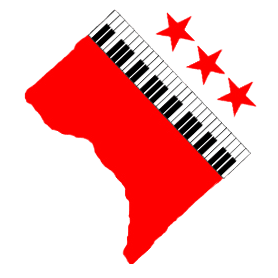 —
Christie Dashiell performs at 7:30 p.m. on Wednesday at Strathmore Mansion. Tickets cost $17 and can be purchased here. More information is available here.
Comments
comments