by Giovanni Russonello
Editorial board
It's hard to find a jazz singer who has captured more people's attention and curiosity in the past five years than Gretchen Parlato. In a smoky voice that somehow twines soft and sibilant exhalations with a crackling percussiveness, she drapes ennui and desire over bossa nova, jazz standards, her own originals, and compositions by contemporaries.
It's that last category that Parlato likes most to talk about: She's part of an energized, free-spirited generation in jazz, one that's as proud of its interwoven community as it is of its collective autonomy. These women and men don't wait to bend the jazz tradition so that it fits over a new kind of groove or a rare instrumental setup.
Parlato was born in Los Angeles, the daughter of bassist and Frank Zappa collaborator Dave Parlato. She went to arts high school, then earned a degree in enthnomusicology and jazz studies at UCLA before becoming the first vocalist to be accepted, in 2001, to the Thelonious Monk Institute of Jazz Performance. Three years later, she won first place at the Thelonious Monk International Jazz Competition, and has been a force on the national jazz scene ever since. Her last album, The Lost and Found, received widespread critical acclaim, and climbed to No. 1 on the iTunes jazz charts. She is planning the release of her fourth effort, her first live album.
Parlato will appear at the Sixth & I Historic Synagogue this Saturday with an expert quartet, featuring the pianist Taylor Eigsti, the bassist, guitarist and vocalist Allen Hampton and the drummer Justin Brown. The concert is a presentation of the Washington Performing Arts Society. In the interview below, she discusses her time at the Monk Institute, what she learns from her band mates, the songwriting process, and what it's like to earn the approbation of Herbie Hancock and Wayne Shorter.
CapitalBop: Your new record is going to be a live disc. Why did you decide to release a live album? What do you like about what you and your band can achieve in a live setting, and what's different about that energy or synergy than in the studio?
Gretchen Parlato: The first thought that comes to mind is that in a studio, I feel like I'm always trying to capture the live energy that we have. It's like a photographer trying to capture a live moment in our existence – and you just try to capture it and savor it and perfect it and preserve it in a studio recording. But what happens in the moment is what's real. In a live environment, acoustically what's happening – the interaction between the musicians and the audience, the energy – is very different. I've always tried to make it feel as comfortable and as exciting [on record] as it is when we're playing live. This seemed like a perfect time to capture what we've been experiencing all these years [onstage], because I've been playing with these musicians for a few years now. It's a very unique and special interaction that happens….
We went to Rockwoods and played two nights…. We've selected some songs from both nights…. It's different bands – one group is with Taylor Eigsti, Burniss Earl Travis and Kendrick Scott. Then the other group is Taylor again, Alan Hampton and Mark Guiliana. The two groups are very different from each other, but there should be some cohesive sound.
CB: How does your songwriting, which I find to be extremely rhythmically sensitive, react to and hinge upon the dynamic of your band?
GP: When I write something it's very simple – it's very basic. I'm able to write the basic skeleton of the song, and fill in harmony and rhythm and gather all these elements. But it really comes to life when I play it with these musicians – and they always put their own twist and personality and energy into how they play it. I think I'm always imagining the people I play with making it sound better…. There's a Duke Ellington quote about how he writes for his musicians…. When I write I'm like, "Oh, I can totally hear how Taylor's going to play this, or what Kendrick's going to do." … It makes it okay for me to think of something very simple and basic and know that it can stand on its own on that level, hopefully, but also that it can grow and there's so much room for it to transform into something bigger.
CB: When you were accepted to the Thelonious Monk Institute, you were the first vocalist to attend. What was it like to be in the halls of one of jazz's greatest academic institutions, alongside all these virtuoso instrumentalists?
GP: It did have an effect. I was terrified, honestly, in the beginning. But also with the Monk Institute, it's such a wonderful opportunity and it's very specific: They're auditioning and gathering these bands of musicians who are already at a pretty high professional level…. They put you in this band and then you essentially are starting over. There's always this tug of war with yourself and with everyone else, where you're like, "I was chosen here; I belong here," and you have this big ego, and then you get it slapped down because you realize there's so much more to learn…. The terrifying part is balanced with being really confident about even being there.
It was the first time they'd had a singer, and everyone is different, but in my opinion, … vocalists and instrumentalists, we're all musicians. But we've found different paths. Basically we're all trying to speak the same language and have the same musical vocabulary. But it's different being a singer, versus being an instrumentalist. [Studying at the Monk Institute] is such a wonderful thing, and it makes you feel a little crazy – we have breakdowns during that and we have breakthroughs.… It's a very transformative process. You might hit rock bottom and feel like you have to build up from there. It's kind of a life lesson condensed into these two years…. It was like an essential rite of passage.
CB: Did you develop special, lasting bonds with the musicians with whom you went through it?
GP: The guys, they're like my brothers. It's like family, even if it took some months to kind of figure each other out and communicate well: Everyone's strengths and weaknesses are magnified, and everyone's trying to sound like a cohesive band but there's no leader to follow.… It's like family where you might have little debates and arguments about certain little things, but in the end above all and underneath it all it's pure love and respect.… It's another reason why I recommend it – just having that bond with the people you work with for two years. That's very special.
CB: Did learning that dynamic put you on a path to be able to hold a band together over long stretches of time?
GP: Totally…. Coming out of it was very inspiring. I had my sound. I had something that was unique, I suppose. But I didn't really have a band yet. I didn't have a repertoire yet. I was still singing standards and Brazilian music. It was after the Monk Institute that I got into writing songs. Lionel Loueke and I met at the Monk Institute, and we started writing and working together …. Afterwards, we both moved to New York and started playing more together. It started this spin-off of a group. And finding other people when I was in New York helped me to gather a band.
CB: You learned from Wayne Shorter and Herbie Hancock there – what was that like? You continue to work with them. What's your relationship like?
GP: In a word, it's humbling. I'm so grateful for that. It's amazing for them to even know who I am, and know me by my first name, and know my music and be supportive of it. Their support and encouragement and inspiration was enormous for my development. When they publicly made statements of support for my music that shifted everything for me. As soon as Wayne and Herbie gave it their thumbs-up, people might have taken another listen who might never have heard it before. Whether people like it is their decision, but … it helped kind of validate what I was doing. None of us should need that from other people, but it does help….
CB: Also, I know you have a particular fondness for Wayne's music – as does almost every jazz musician who came after him. Can you speak to any specific elements of his music that you connect with in particular?
GP: I'll try to put it into words, because it's difficult. There's just something about the way that he writes. It's similar to how I hear Brazilian music: It's something that's deceptively simple. It's something that most every ear can listen to and they can grab onto something – it's something that thehy can relate to about the music. It's simply and very directly relatable. But the deceptive part is that it's so heavy. There's so much going on technically. This relates to the way that I feel and hear music – I've recently put it into a language that I share when I teach. There's three elements: The first is the technical level – everything that's kind of mathematical and scientific about the music. The second level is the deeper one – underneath, a lower level, everything emotional, everything that we feel, the story behind the music: How do people feel when they hear it and how do you feel when you play it? Then the third level is the highest level. It's the spiritual level. It's things that you can't put into words. You get goosebumps when you hear it. It's an overwhelming feeling.
Wayne has all that. He's one of those artists that's weaving between all those levels all the time. And one is not greater than the other. That's the greatest inspiration for any artist of any genre – whether it's visual art or performance art – that we can tap into all those layers and one is not ever any more important than any other.
CB: What will we be hearing from you this weekend at the Synagogue?
GP: It's a great band. It's Taylor Eigsti on piano and Allen Hampton on bass — he'll also be playing guitar and singing — and Justin Brown on drums.…
What's a little different about this gig is that Allen's role would usually be to play bass and maybe play one song on guitar, but this year we're featuring Allen as a singer and a songwriter more…. His role has kind of shifted from being in the back to coming up front and sharing the mic with me. It's special to share these songs with everyone, the new stuff. But we'll still do some of the old stuff that people want to hear. We'll mix it up.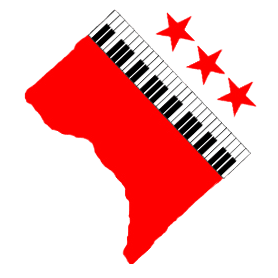 —
Gretchen Parlato performs at the Sixth & I Historic Synagogue at 8 p.m. on Saturday. Tickets cost $30 and can be purchased here. More info is available here.

Comments
comments