by Giovanni Russonello
Editorial board
Jason Moran, the Kennedy Center's new jazz adviser, is something of an inconspicuous insurgent in the jazz kingdom. He's not particularly outspoken, and his attire alternates between jeans-and-fedora fare and a business suit, the standard for a working jazz musician. But he's got big, highly individual ideas about how to push jazz beyond its own boundaries – notably, into the world of visual and conceptual art. (If you haven't heard his album Artist in Residence, which collects his collaborations with artists across mediums, it's worth picking up.)
So we all knew that with his Kennedy Center appointment, Moran would infuse a fresh experimentalism into the institution. But not everyone expected him to take up an agenda this populist. In his own music, he seems naturally inclined to blow jazz into some cerebral stratosphere, but as a curator his goal is outreach. (It's not just a pragmatic thing; inspiration and innovation can only be found through osmosis.) For his first season as adviser – which began last weekend with two stellar shows at the KC Jazz Club – he's planned a handful of programs that blend jazz with other ideas. There's an election-night jam session on Nov. 6; an evening of jazz and comedy on Nov. 11; and three dance-oriented shows at the "Supersized Jazz Club," a venue that Moran invented by reimagining the center's atrium as a sort of dancehall.
The first of the Supersized Jazz Club shows takes place this Saturday, when the jam-jazz trio Medeski, Martin & Wood performs. Tickets to that show are still available. Last week, Moran took some time to talk about his goals at the Kennedy Center, and where some of these curatorial concepts are coming from.
CB: Talk about how you decided to bring a jazz-as-dance-music concept to the Kennedy Center. This is an idea that's become more and more popular in jazz recently, but it seems portentous when an institution like the Kennedy Center embraces it.
JM: The first impetus is, I needed a place to do the Fats Waller Dance Party, and they didn't have one. [laughs] … From witnessing music around the world I've noticed that you don't have to sit down for all concerts. Some bands it'd be better to stand up with a drink.… Also, there'd be less ostracism [of those who want to dance] from the other audience members. Someone in the audience wants to move and starts tapping their foot and suddenly they're the asshole. [laughs] … If we aim as musicians to greet our audience in a way that's inviting, we want to invite them to move…. I've seen these bands – Medeski, Martin & Wood and Soulive – play, and people are standing up and moving. That's important…. Fats Waller himself is one of the great DJ's, in terms of knowing how to play a song and make a party really jump. That's what it's about, and at least in that area, it's something my generation [of musicians] has totally missed. 90 percent of my peers have probably never played with that….
What I'm actually proposing for next year is that we do something with musicians who can play beat your feet … I'm thinking about having the Duke Ellington High School kids come play some music where you can beat your feet…. At the Kennedy Center they're also looking to blend forms and blur the outside with the inside. They're very aware of the perceived "white box" mentality.
CapitalBop: For all your interest in the evolving directions of contemporary jazz, you didn't only focus this season on rising talents. You are actually shining a spotlight on a number of legends, who are mostly in their 60s and 70s and who haven't yet been fully received into jazz's canon.
Jason Moran: There's one story that I'll share. When Jazz at Lincoln Center opened up there was a photo shoot that they did for the New York Times. They got me and Joshua Redman and a bunch of the other major cats at the time in the Allen Room. It was a fashion spread, but it was based on Jazz at Lincoln Center's new building. I was in the room with Jimmy Heath and in comes Joshua Redman, and as soon as Jimmy Heath sees him walk in the door, he says: "Hey man, come over here. How come y'all don't hire no old people?" And I was like, "Ouch, that's a tough position to be put in." We think of those older musicians as busy and popular, but that's not always it….
We have to look at a wide view of the canon of jazz music, so I wanted to continue to make sure that I didn't forget that part of it, and include those people.… I've always felt extremely indebted to those musicians because they understand so much about what it is we're trying to do. [Rather than recording] with Sam Rivers, I could have called Branford [Marsalis] or Joshua or any of my other favorite saxophonists, but there was something I'd have missed if I'd never worked with Sam Rivers. I wanted to make sure my generation wasn't going to favorites just because they were favorites.
CB: Talk about your decision to blend jazz with comedy for the event on Nov. 11. It seems like you got into this idea specifically because it's not as new as most people might think.
JM: David Alan Grier is hosting it. His relationship with jazz is extensive, as a listener and follower of the music. One night I was at Porgy and Bess [starring Grier] and I noticed that Ron Carter was there; I knew that David Alan Grier was a big Ron Carter fan, so I took Ron backstage to meet him, and David was like "Oh man! You gotta let me know when legends are coming through!" We also have Marina Franlkin, who's great, and Faizon Love. He's from all those movies that Jon Favreau does….
I approach it from the bits of knowledge I have from music history. Going back to even blackface characters, people like Bert Williams, and music in the vaudeville era – there was always this portion of jive associated with music. Before there was conceptual art there was Bert Williams, addressing the idea of possibility. He was kind of a constant go-to for a certain generation of performers. But now I'm shuttling way far ahead.
When I'd talk to people like Jimmy Heath and ask him, where was comedy when he was coming up, he'd say there was three acts every night in a club: comedy, shake dancers, and then the music. It was kind of like this cycle of the music. And then even later – in the '60s and '70s, there was Richard Pryor working with Miles Davis. At the Village Vanguard here in New York there was Lenny Bruce working with jazz acts… There's this relationship with comedy and jazz kind of being in the same venues. And when I would talk to other comedians about it they'd say it was nice to play for jazz audiences because they weren't always looking for a punch line… They could take a joke further and allow it to linger longer…
CB: Another innovation is that you're organizing an election-night jam session. That could be very fun, or very awkward, depending on how the vote goes – and who's in the room.
JM: Well, it's only from 6 to 9, so the election will not be called by the time we're finished…. It's the Bandwagon and we're featuring some people from D.C. – Marshall Keys and Donvonte McCoy.… And there's a duo: a banjo and guitar. We're focusing on music that we feel is American – even from Bruce Springsteen, "Born in the U.S.A.," to campaign songs, "Tippecanoe and Tyler Too." … There's a huge reservoir of campaign songs that go back a long way.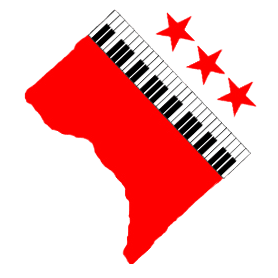 —
Medeski, Martin & Wood performs the first-ever concert at the Kennedy Center's Supersized Jazz Club this Saturday. Tickets are $25, and can be purchased here. More information is available here.
Comments
comments