by Giovanni Russonello
Editorial board
As summer concert season sets in, there's one local band whose music seems perfect for a relaxed afternoon, escaping your worries under the sun. Its music engages a sort of sundry nostalgia, pulling together the sounds of 1960s Brazilian beaches with old films set on the Riviera and certain American folk. The band is Veronneau, a quartet of four longtime area residents who decided three years ago to make a go of it as a band, and have found a startling level of success.
Veronneau, which performs at Blues Alley this evening, is led by the sharp, strong-voiced singer Lynn Veronneau. The band has toured internationally, and won three Washington Area Music Association WAMMIE Awards earlier this year: for Jazz Group, Jazz Vocalist and Jazz Recording. It all resulted from Veronneau's 2012 sophomore record, Jazz Samba Project, a tribute to the album that helped bring bossa nova to the United States in 1962: Jazz Samba, by Charlie Byrd and Stan Getz.
The group is comprised of Lynn Veronneau, the guitarists David Rosenblatt and Ken Avis (who's also a frequent contributor to CapitalBop) and the drummer Pete Walby. But at Blues Alley they'll be joined by a couple of talented special guests, who will make this show a particular treat: Ben Redwine on clarinet and Dave Klein on violin. Lynn Veronneau chatted with me over the phone earlier this week about her childhood in Canada, how the band works, and what they're planning in the future.
CapitalBop: What music did you hear when you grew up? How did you get into singing?
Lynn Veronneau: There was a lot of big band music around when I was growing up. My dad absolutely loved Duke Ellington, Cab Calloway – all of that stuff was playing in the background. My dad was a great dancer, he'd dance along to it. But it's funny, he didn't know any of the words. He'd just kind of mumble along. I think it's because we spoke French back home….
I don't remember exactly when I started singing. I just remember being fascinated by music. We had a very old radio that had lamps inside, it was a very large piece of furniture. I remember thinking that there was a little city in there with little people, and those people were making music. My mom said I would just pull up a chair and conduct it. [laughs]
CB: Did you sing in school, or in bands?
LV: We just didn't have school bands and stuff like that. There was no glee club or anything of that nature. I didn't get a musical education at an early age; it just wasn't accessible to us. It was in my mid-20s, when I had enough money to pay for myself, when I started to get a musical education. It was a mixture of things – first it was voice lessons, and then some theory.
CB: What music has always inspired you?
LV: I've always liked voices. I had that big band jazz sound in my head, and a lot of traditional music also. A lot of French chanson of the '60s and '70s. As I got older, I also got into a lot of [Canadian] political music. I guess you could compare it to Bob Dylan back here, but it really was about social rights for French-speaking  people. Bands like Beau Dommage. It was kind of a golden age for French Canadian music; the political movement was very strong, and the music that came out of it was very strong – just some great singers.
CB: How did this band come together?
LV: Veronneau is a long dream in the making. You know, I've been working with Ken for a very long time. Ken and I met about 18 years ago. We started working together very shortly after meeting, and had duets for a couple of years. But then Ken moved here, to the U.S., and we lost contact for a few years. When we got in touch again, it was for a recording. I had in mind a recording of blues pieces and some pop tunes I'd been working on for a while. We got together and made that recording happen. And then a year later or two I decided to move to D.C., [after] we became a couple.
We were active in music, but it was really on the backburner, because we raised a family. At some stage, when the youngest became old enough, I started picking on Ken all the time – we're not getting any younger. We gotta do this….
I managed a cultural center, an outreach program for the World Bank, and it kinda fulfilled a lot of my cultural desires, but in the end I think I realized, "Okay, it's still not enough. Still gotta do this."
Then we stumbled on David completely by chance and that was the catalyst: "We can actually make this happen." With his Brazilian music background he brought just the flavors that we were looking for. It caught fire.… After a few rehearsals we already had a show together, and we started gigging just a few months after getting together. More arrangements came, David started pulling out stuff he had written in the past, then we got Pete on board, who was willing to dust off his brushes and join the band. That was about three years ago. And then I guess there was just no stopping us.
It's fun. It's great. We enjoy doing it, and if people enjoy listening to it, what more can we ask for?
CB: What's the band concept?
LV: The guiding principle is closer to the way we feel than a concept. It really is about the music that is meaningful to us individually, and then it is brought to the table by each and every one of us and it works or it doesn't. There's some stuff that everybody likes, and then we arrange it and it becomes a piece that we do. And then some pieces just don't grab my imagination, or someone else's, and we move on…. It really is just about bringing what it is we can do to the table. And then the arrangement just has to bring it to life.
CB: What's next?
LV: In reality, there's always one or two albums in the making. It's always in the back of our mind, and I know there will be a new album next year…. There's always a few concepts that are floating around. A French album is one…. We're going to be presenting a new song at Blues Alley.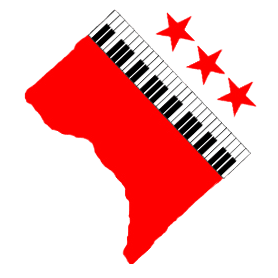 —
Veronneau performs tonight at Blues Alley. Tickets cost $25, and can be purchased here. More information is available here.

Comments
comments