by John Cook
CapitalBop contributor
As a vibraphone quartet, Mr. HO's Orchestrotica performs an original blend of world music, sourced from the flavors of East Asia, the Middle East, the Balkans and Latin America. It also claims inspiration from the exotica of composers ranging all the way from Tchaikovsky and Shostakovich to George Gershwin, Martin Denny, John Adams and Cal Tjader. Brian O'Neill,  the quartet's leader, is a percussionist, vibraphonist and composer; he's joined by a bass flutist and woodwind player, a percussionist, and an acoustic bassist.
An occasional edition of the group is the 22-piece big band that performs transcriptions of music by Esquivel!, the man who was king of "space-age bachelor-pad music" around the the turn of the 1960s. The initial edition of each of these ensembles was documented in the first two installments of their Exotica for Modern Living CD series.
The Orchestrotica's quartet form performs this Sunday at Bohemian Caverns. I interviewed O'Neill in advance of that show.
CapitalBop:  First I'll ask about the group's name, which seems to involve some layers.
Brian O'Neill: The name is a portmanteau of orchestra and exotic. I hope the Orchestrotica can represent any number of various ensembles I can put together, but for now it is just two. Whether the small group or the Esquivel! big band, there's some of those two elements in any and all of our formations.
Mr. HO is an acronym based on a nickname an old Hawaiian manager gave me. H stands for haole (how-lee), which means white person or foreigner in Hawaii, and can be neutral or derogatory based on how it is said, and the O stands for my last name.
One thing about the name: Whether you hear orchestra or erotic, the orchestrotica is all about questions and a bit of mystery. That's kind of what exotica was after too, so it all works together.
CB: Can you elaborate a bit on the development of the band/s and their music. 
BO: Orchestrotica represents two groups that started in 2008 with a 22-piece big band that plays Esquivel!, but I really wanted to focus on writing and playing original music, with the big band being kind of a special-event-type project when good opportunities come up for that. So I now focus my time writing for and developing our smaller ensemble.
I like to call the music global jazz and exotic chamber music. It tends not to be as focused on harmony and extended improvisation as a traditional jazz group would be. The arrangements or compositions tend to be "ink-heavy," so in that sense it is similar to contemporary chamber music, but we insert improv passages too. Both the improv and the notated music reflects a lot of world influences, mostly from my experiences playing in a lot of other ensembles where I am mostly a hand percussionist or classical percussionist.
I like to pull elements of a lot of stuff I've been exposed to into this group and into my writing and arrangements. I'm also influenced by classical work so I enjoy taking large orchestral works and rearranging them for the quartet or taking portions of melodies or reinterpreting pieces and adding new material, improvising over sections or putting them in a different rhythmic context and redistributing the melodies, still respecting the original compositions, but making them our own as well – in a fun way.
That's more the more chamber side of the group while the original music I write for the group takes in a lot of world music elements with more chord changes and improvisational things happening that reflect the jazz and compositional side of the group. I'm excited about our new record coming out in November, which will show both these facets of the quartet.
CB: Your recording process is very organic.
BO: We recorded at Futura Productions in Roslyndale, Mass., which was a former Masonic Temple I originally found to record our big band CD, since it was a very large room that could actually accommodate us doing the recording live. I also liked the fact that it was similar to the settings used for the records from the '50's, with a very big live sound. Setting everyone up in a room without baffles and studio separation and without depending on "fixing" everything later pushes the performance to a higher level and gives the recording that character that reminds you people are actually playing the music together live. I did do 30 percussion overdubs with about 15 instruments since there are a lot of compositional ideas I wanted to overlay that I couldn't do all at the same time, but I don't want to rely on production to create the sound that we want to deliver. John Weston, the engineer on our previous two projects, is also doing the new CD for us.  We've started a Pledge Music pre-order campaign to help launch the new project.
CB:  How does your music relate to traditional "exotica"?
BO: We do have a crew of people who are interested in vintage music, exotica and lounge, but those are really a jumping-off point for a concept of taking listeners to exotic places through our music. I like what Les Baxter or Martin Denny or these guys did compositionally and conceptually with the idea of escapism and taking somebody to a fictional place in the music. The ingredients of that sound for them were primarily jazz, flavors of the South Pacific and Afro-Cuban music, but at that time they were perhaps more limited in the sources they could be aware of than we are now. They didn't have YouTube, where they could pull up a video of someone from anywhere playing any kind of music there is to draw ideas from.
I like their concept of creating far-away places and mystical things in music without trying to replicate exactly the same influences or rhythms. Having a wider range of experiences and cultures to pull from, I think about how I can throw things I like together in some sort of "exotic" way that is musically rewarding and that people will like to listen to.
CB:  That diversity and blend seems like it would require a special set of players.
BO:  I have a regular group that I work with. Geni Skendo from Albania originally studied classical flute for a while, and after coming to the U.S. started playing shakuhachi, then went to the New England Conservatory and studied in their contemporary improvisation program. He's into free jazz and free improvisation, plays heavily by ear and is a very spontaneous type person. In the opposite direction, Jason Davis is a trained jazz player and plays in orchestras. So I intentionally pulled people that have different backgrounds and approaches into this to try to get a blend of many elements. Jason plays a lot of Brazilian music. We actually met in a chorro group and he plays salsa and Latin music, so he's pulling from that tradition as well. Our new percussionist Shane Shanahan plays in Yo-Yo Ma's Silk Road Ensemble and on Broadway and originally trained classically as a percussionist as I was, but now he does a lot of touring playing Arabic and hand percussion instruments, which forms the foundation of our sound. I didn't want a drum set in this group as that quickly moves the sound into a conventional context. And whenever we can we pull Tev Stevig in, who knows Turkish music and the music of the Balkans. On the new CD he'll be playing oud and tambur – and he plays claw-hammer guitar and is learning the steel guitar book in the Esquivel! big band. So he's like a world percussionist except on plucked strings. He'll get into trying to read my charts on some of these instruments that they weren't written for. I play regularly in Balkan, klezmer and classical settings, as well as in this group.
CB:  How does it work when you come together to record or play?  
BO: The group has changed a bit since our initial CDs and has developed a more modern sound, and is getting more into reinterpreting these chamber works into a new context. We even did a 15-minute free improvisation at the recording session as a little relief for all of us after a pretty stressful day of recording heavy notation music with most of the players not coming from backgrounds where they read heavily. That's something totally new for us and I really liked the result of that, so we're kind of trying to decide what to do with it.
It's a process.  We're not copying a model.  It's definitely an experiment and sometimes pieces change or don't work, but the group has gotten used to my approach.  I'll walk through the door with something and they've learned how to interpret that and what to stick with and what to push back on and say, "We should really try this instead." I date all of my charts and do revisions and sometimes we'll go three or four times before I have all the charts figured out and notated to where it makes sense for us. Sometimes I'm asking very Western kinds of questions about unconventional instruments so we have to sit down and look at them and listen to them so I can kind of learn and see what they do, then I may rewrite parts to be something more idiomatic for the instrument or other times I'll know this doesn't fit that instrument well but that's really what I want it to sound like so I ask can you do your best to play this part that really shouldn't be playable on that instrument anyway. I don't want to change the idea just because we can't perform it the first time.
In the jazz context with a "hard" chart the tune is not usually difficult because the written parts are too hard. It's usually just because the changes are difficult, so players may just dismiss a song quickly if it's not easily sight-readable. My music is not meant to be sight-readable. It will take some practice time to get the notation part down. So we only change a part if it's still bad after we prepare it but don't change it immediately just because it's hard.  That's a growing process and part of the reason I don't treat the group as a project band. I've tried to find people that can improvise but can also spend time to read all the notated music to realize the concept. I'm really happy to have found musicians who are into that.
We do tour as a group that can perform the songs live, and we're looking forward to playing a bunch of music we've recorded to be released on the new record. Of course we're very excited to bring this to a new city and are glad Bohemian Caverns is willing to try out projects like this. Washington will be the final stop on our summer tour.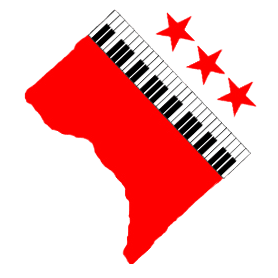 —
Mr. HO's Orchestrotica performs on Sunday at Bohemian Caverns. More info is available here. Tickets cost $15 in advance, or $20 at the door, and can be purchased here.
Comments
comments