Editor's note: This interview was originally published in 2013, when René Marie was first touring in support of her Eartha Kitt tribute album. We're re-posting it now, as she will be back at Bethesda Blues & Jazz this Thursday. More information on that gig is available here.
The vocalist and Virginia native René Marie didn't get her professional career started until she was 42, but her pure voice and undiluted perspective asserted themselves quickly. In the past 15 years, she's become an international presence in the jazz world, starting some very necessary conversations along the way.
Marie's second album for Maxjazz, 2001's Vertigo, earned her a "coronet" from the prestigious Penguin Guide to Jazz, a top honor that most great artists never receive, and since then she has been unfurling her talents on albums and tours that seem to blur the divide between high intellect and lowbrow, sincere and often challenging artwork and a traditionally crowd-pleasuring demeanor. On Vertigo, the divide disappeared with a slow, assured and stirring medley of "Dixie" (a song with origins in blackface minstrelsy) and "Strange Fruit" (an anti-lynching anthem popularized by Billie Holiday).
Soon after she wrote — and continues to perform — a one-woman show titled Slut Energy Theory – U'Dean. In 2008, she sang a version of "The Star-Spangled Banner" to the tune of the Black national anthem, "Lift Every Voice and Sing," raising critical questions about promises of inclusion, and igniting an inevitable firestorm of debate.
At that moment, perhaps Marie thought back to one of her idols, the jazz singer and actress Eartha Kitt, who was one of the first Black women to play a prominent role on television, and who became ostracized in the United States after making a heartfelt public statement against the Vietnam War during a meeting with Lady Bird Johnson at the White House.
This month, Marie released her ninth full-length album: I Wanna Be Evil: With Love to Eartha Kitt. In the liner notes, Marie mentions that she had never planned to record a tribute album, but she felt a special kinship with Kitt — especially after investigating her story. Marie performs music from the new disc this Wednesday when she arrives at Bethesda Blues & Jazz. She recently spoke to me from her home in Virginia about her late-blooming but powerful career, her views on an artist's role in society, and the surprises of starting difficult conversations.
CapitalBop: You didn't start your professional career until age 42. It was a gig at Blues Alley here in DC that landed you a recording contract. Tell me about your life until that point, and what inspired you to get involved in music. You were a Jehovah's Witness until that point, correct?
René Marie: I had sent a CD to one of the smaller Washington newspapers, to Blues Alley, and to WPFW. And of course they don't let you know that they've gotten it, but … the writer for the paper had seen it on top of a pile of CDs that were going to be thrown away. He told me the story later, and said that he listened to it and then called Richard McDonald of Maxjazz and said, "Hey, you might want to hear this singer, she's at Blues Alley tonight." It just so happened that McDonald was in D.C. that day from St Louis. It just shows you cast your bread on the water and you never know how it's gonna come back.
Up until a year prior to Blues Alley, the previous 20-some years I had stopped singing because it was told to me that when I became a Witness I needed to stop singing. And I did. My husband at the time and I had met in a band as teenagers, and when we became Witnesses we both stopped singing in public.
CB: You've kept directly in touch with the tradition of social consciousness that characterizes much of the Black musical tradition. It hasn't been a simple thing — you had to deal with a lot of protest when you sang the Star-Spangled Banner to the tune of the Black national anthem.
RM: I don't tune out people who don't look at it the way I do. I think it's important to consider that ­and I try not to think my view is right and their view is wrong. The world and universe are big enough for all types of people…. But it's not hard for me [to handle]; it was hard when I was a Witness, to know that I was carrying around a viewpoint that I couldn't speak without being a heretic.
No, it's not hard, but I think I have a lot of viewpoints that would be very controversial if I really got into it…. I think the song "Weekend" [on I Wanna Be Evil] might get people thinking that this tune celebrates rape culture. I've gotten emails saying that, and it couldn't be further from the truth…. When people hear certain things, their interpretation does more to inform them than what the artist meant in the first place – how it's perceived or received based on what they have experienced. I wrote it because I have this question mark, and put it out there.
"I think it's very important for artists to know where the line is drawn, and cross that line."
CB: Does that make you think about the subjectivity of the listener, and its importance to the fate of any art?
RM: I was surprised at the reaction to me singing "The Spar-Spangled Banner" to the melody of "Lift Every Voice." The reaction was completely out of proportion. In retrospect, that was in '08, when Obama was running for president and everyone was on edge.… I got a lot of emails saying, "This is exactly what we were afraid of that Black people were gonna do – you're gonna take over and press your agenda." So I was surprised by that. But then this beautiful thing happened: I got 1600 emails from people in the U.S. and other countries that wanted to talk about racism…. In Japan, the U.S., Europe, Black, Hispanic, white, and they all wanted to talk about it.
I was very surprised by that. But I think it's very important for artists – regardless of their medium – to know where the line is drawn, and cross that line. Otherwise, I think we're just the equivalent of trained animals in the circus, jumping through hoops and waiting for the little morsel or tidbit after we finish doing our trick.
CB: Your work flows across boundaries; you're an actress and the author of a one-woman show, in addition to being a singer. And when you're onstage, you really present yourself as a full-suite performer, in a way that few contemporary singers really do anymore. Have you always considered yourself an entertainer or  an artist or a performer, broadly defined?
RM: It's funny, I don't think in any of those terms. This outside stuff, this business part of music, has nothing to do with what I'm doing when I'm standing on the stage. It's the same principle that I involve myself in, which is, "Am I singing what's really true inside of me? Or am I trying to put on and be something I'm not?" That's very important to me when I'm singing, and when I'm not singing as well. Part of searching for that musical truth is making sure I get out what's inside of me, instead of trying to contain or keep it under wraps. That's part of the problem with many singers: We're told, "You don't want to do that," or "Move your body that way, because that's not very attractive." The thing I've done is try to make sure I don't kowtow to that kind of pressure – and it is strong. It comes from critics, from club owners, from managers – how women are supposed to be…. When it comes to singers today I think a lot of them are scared or intimidated.
For me, having come into singing in my 40s, and I say this in the nicest way possible – I really don't give a damn the way I stand or what I wear. It's not what I'm about – it's just about me singing.
CB: Talk about how you chose to do a tribute to Eartha Kitt.
RM: So I'm 58, and when I was a little girl living under Jim Crow laws, Batman came on TV and Eartha Kitt played the role of Catwoman. The only other Black women that were on TV at that time … were very well behaved, not sexual, completely sterile. Then here comes Catwoman. Go to YouTube, and look up "Eartha Kitt Catwoman," and watch the way she moves her body and her eyes. It was hypnotizing. I remember looking around and thinking, "This cannot be allowed." I can't even describe to you what that did to me, the possibilities it opened up to me. I'd never seen a Black woman act that way – and around white people, around white men? Hell no.
Then I realized that I really liked her music, and when I talked to the label and we looked into her music, I said, "I think I should just do the music of Eartha Kitt." And the label said, "Yes!" …
I saw her perform about 10 or 15 years ago, and my jaw dropped. She was singing at the Hotel Carlyle. She commanded the entire room. It was not any overt sexuality, it was very subtle.
CB: How has the reception been so far to the music?
RM: There's one thing that I have experienced that I didn't expect – because I just got back from four weeks in Europe, doing music from the CD. All of that music is very tongue-in-cheek, very fun, sexy sultry. It's the only time ever that I have had on my set list only happy tunes. I write serious tunes: homelessness, this that and the other. This time, the gig is nothing but happy songs that make you feel good. It's just been great. It's been making me second-guess, thinking maybe you shouldn't be filling your set list with all this sad shit. [laughs]
This gig in Bethesda will be our first gig in the U.S. since the release of the CD, so it's like the premier, and I'm really excited about it.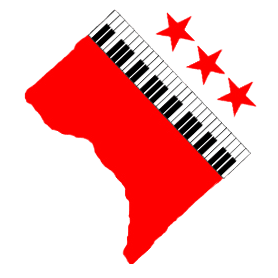 —
René Marie performs at 8 p.m. on Wednesday at Bethesda Blues & Jazz Supper Club. Tickets cost $25, plus a $10 food and drink minimum, and they can be purchased here. More information is available here.
Comments
comments