More than just a jazz trumpeter, Russell Gunn uses sounds to expound on a life in the musical trenches. His compositions on Love Requiem and the Grammy-nominated Ethnomusicology Vol. 1, both released in 1999, showed his ability to stretch the art form to his own expressive needs. In his work ever since, he has pushed the envelope with his ideas of how a jazz album can sound.
After a stint on the scene in St. Louis, Gunn came to New York as a member of the Oliver Lake Quintet, during jazz's neoclassical period of the mid-1990s. He stood out with a focused trumpet sound rooted in bebop and the blues, but bolstered by a prescient vision that made room for the influence of hip-hop, funk and jazz's avant-garde. It didn't take long for him to make his debut at Lincoln Center as a part of Wynton Marsalis' Blood on the Fields opera. This would be a promising course of action for any young musician, but what he did with this platform is the most interesting.
Gunn says that his first musical inspiration came from LL Cool J, and it makes sense: Golden age hip-hop is arguably just as strong and fertile an influence as is his knowledge of Lee Morgan's catalogue. To introduce his latest solo album, Ethnomusicology Vol 6, he uses a humorous skit involving a record label executive and his evil minion, discussing the trouble that Gunn plans to wreak on the jazz establishment. He is certainly an iconoclast: Sometimes Gunn will layer a familiar set of jazz standard chord changes over a hip-hop drum machine and turntable scratches, and add his own melody. Or he'll use his horn as the dominant texture while a variety of synthesizers swell underneath, and throw a sample from a movie on top of it all.
This weekend, Gunn presents his most recent project, a collaboration with the soul singer Dionne Farris that resulted in the 2013 album Dionne Get Your Gunn, during a two-night run at Bohemian Caverns. We caught up with Gunn to discuss his career, the state of jazz and what he likes about co-leading a band with a talented vocalist from outside the jazz world.
CB: What's the goal of your Ethnomusicology series? How has it evolved?
RG: It's funny because I actually did have a goal when I did Ethnomusicology Vol. 1. I really wanted to try to encompass all of these pan-African rhythms, and utilize that, while still at the same time playing over those rhythms using the jazz language, bebop language I guess, and harmony that's been given to us by our ancestors like Bird [Charlie Parker] and Trane and Duke Ellington and all of those cats.
CB:
How did the journey change over the course of the series?
RG: I would be lying to say that it didn't change. The original Ethnomusicology Vol. 1—I hardly ever listen to that stuff anymore, but when I do I think about the feeling I had when I was doing it back then, and everything was all in and I was really trying to make mini-movies with the compositions. I didn't want to just start the song, solo over the song, and end the song. It had movements and tempo changes and all that kind of stuff. Honestly, after Vol. 1 I went through a horrible dropping from Atlantic Records. And I think what I did was, I streamlined it a little more, to encompass that hip-hop feel and do jazz over it, rather than trying to encompass all these influences. When I did Vol. 1 I was a member of Branford [Marsalis]'s band, Buckshot LeFonque, and I was traveling all over the world. I got to experience all these different cultures and languages…. All that kind of stuff wound up in Ethnomusicology Vol. 1, but after that it got kind of streamlined into more of an East Coast southern hip-hop feel… Vol. 6 was definitely on some Atlanta shit…
CB: As a trumpeter, who are some of your idols? What would you say you're about generally, as a musician?
RG: Well of course my all-time favorite is Lee Morgan. He and Clifford Brown were probably my biggest influences on trumpet as far as style…. Lee Morgan was an original; I was attracted to his soulfulness, though I hate to use this word because it's so overused. It was conventional yet unconventional. It was definitely an original point of view. And Clifford Brown, of course—just his mastery was, for me, unparalleled. And then later, when I started checking out Booker Little I found out that Clifford Brown's artistry was paralleled, probably overtaken…. I went to the same high school as Miles Davis, so I always made it a point not to go in that direction, but probably the biggest influence he has on me is his bandleading.… One thing you learn is, you always hire killers. You always want the best people to try to bring the music to light. That's always my No. 1 rule….
As far as other cats go, [Charles] Mingus of course for his compositions, Benny Golson for his composing and arranging. Composition-wise, my favorite is Tchaikovsky. Nothing can even come close to what he's done. To me he's like a jazz musician. You can't hear a Tchaikovsky melody without singing it. It's all so soulful…. A bass player gave me a recording of his last work, No. 6. I've just been over the moon about his compositions.
CB: How did the collaboration with Dionne Farris come about? What do you think is special about the bond you two have as musicians?
RG: I worked with Dionne on another event that I had to put together with a bunch of musicians. It was for the national Black Arts Festival and it was a tribute to Curtis Mayfield. It was unbelievable how killin' she was. Then later she called me up and it was her idea: She wanted to put together a big band and do a recording of her singing standards, which I thought was cool because I respect her as a singer and I knew she could pull it off. But that kind of shit is hard to pull off if you don't have the financial backing … so that was on hold and I had a little engagement at a club in Atlanta.… I thought, "This might be a really good time to bring Dionne in and we could collaborate." We could do that stuff [the standards] in a smaller group setting.
She was with it, so when we were thinking about the songs that we wanted to do I went on YouTube and I listened to some songs that she'd released on her own label.… I was just like, "Are you fuckin' kidding me? That's what we need to be doing – these songs right here!" I told her, "I don't wanna do any standards. I wanna do your songs. What I'll do is, I'll arrange them and kind of fit them into this quote-unquote "jazz" context." She was with it so we went in and arranged a bunch of tunes and the record is what it is.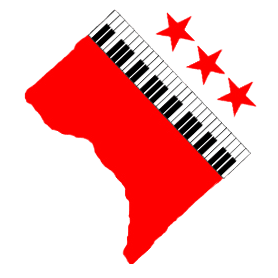 —
Russell Gunn and Dionne Farris play at Bohemian Caverns this Friday and Saturday at 8:30 and 10:30 p.m. Tickets cost $25 online, $30 at the door, and can be purchased here. More information is available here.
—
Introductory text by Allen Jones. Interview by Giovanni Russonello

Comments
comments