by Giovanni Russonello
Editorial board
The Baltimorean bass clarinetist Todd Marcus, who will perform this Friday and Saturday at Twins Jazz with his quartet, named his newly released sophomore record Inheritance. On the album, which finds Marcus at the helm of two different quartets, you can feel him letting a lot of forces run through him. It's a grappling with history and identity, creativity and the promise of transcendence. The album's conceit – something that so many jazz records these days seem to have, but so few live up to as well as Inheritance does – goes something like this: Marcus has always been curious about the way that his father's Egyptian identity helped shape him, both as a person and as a musician. So this record is his direct consultation on that question. It plays with minor, Middle Eastern modes that have a glinting darkness to them, and it gives him room to test the possibilities of long-form jazz improvising in that context.
But the album's inheritances reach well beyond that.
As a composer, Marcus doesn't just look abroad. His music seems closely linked to the mid-1960s, the most fertile era of post-bop composing and recording. Back then, the country's hardest-swinging jazz players were making albums for Blue Note Records with a bold experimentalism fed by larger, non-musical concerns: discrimination, poverty, police brutality, pandemic drug addiction. (In addition to playing music, Marcus runs an organization addressing the lack of community services in Baltimore. He knows the connection between hardship and need and creative expression.) Also, on three tracks, Marcus brings in the renowned clarinetist Don Byron as a special guest. Byron is the man who originally inspired Marcus to play his uncommon instrument in a modern-jazz context, so his presence speaks to a direct kind of inheritance.
"Herod (Part II)," by the Todd Marcus Quartet, featuring Don Byron

And finally, Marcus is interested in the musical legacy of his adopted hometown. The two quartets on Inheritance include some of the strongest rising musicians from Baltimore and its surrounding areas. In that way, it's a sort of state-of-the-lineage for a city that's given us greats like Billie Holiday, Cab Calloway and Gary Bartz.
CapitalBop was fortunate enough to have Marcus perform with his nine-piece orchestra at our D.C. Jazz Loft Series at the DC Jazz Festival this past June. He recorded an excellent and lushly arranged 2006 album with the nonet; listening to Inheritance, it's remarkable how strongly the arrangements hold up by comparison, even with just a quartet. Not to mention that the album shines a much brighter spotlight on Marcus's improvising – hard-nosed and rhythmic and almost always revelatory. He and I spoke earlier this week about the new record, his development as a clarinetist, and his upcoming gig at Twins.
CapitalBop: How did the two different quartets that you used on Inheritance work out? Each musician, of course, brings his own background to the project. Did your work with one inform your work with the other?
Todd Marcus: It started more from the drummer's side, because I'd already been working with Warren Wolf and Eric Kennedy a lot. And actually, the quartet with Eric Kennedy, [bassist] Eric Wheeler and [pianist] Xavier Davis had been playing together for a few years. From the beginning, we had a nice rapport, things were happening on the bandstand. So I knew for certain that I wanted to capture that. But Eric and Warren are very different drummers. Eric is a very well versed drummer, and he's got a tremendous range. He's got a lot of more introspective, probing aspects. My work calls for a lot of mallet work, different textures, and Eric is magical at that…. Warren's got a different thing, which to me is that more modern, crisp swing feel. That's something that I like a lot as well.
And because he and Eric have such different qualities, to me, that's where I said: Well, I want to have them both involved, and use two different quartets.… The [quartet with Wolf, Wheeler and the pianist George Colligan] has a bit more of that modern swing bounce to it – some different energy.
CB: How did you approach this quartets project differently than your last record? I'm sure there are a lot of ways you could answer that, but what stands out – was there anything that surprised you about how different they were?
TM: There's a huge difference, in that the first CD was my nine piece, and this one is focused on quartet – although Don Byron is featured on a couple tracks, so those are with a quintet. I love to play with both ensembles, nonet and quartet. The quartet is a bit more focused on me and my soloing time, versus my nine piece group, which is more focused on arrangements and spreading time around the ensemble….
It's very meaningful to me, for those tunes that needed a second horn to have it be [Byron], because that's the guy that I look to in terms of a clarinet and bass clarinet being used in a modern context. There were a lot of great saxophone players [that could have been used], but to me it meant a lot to have that different voice be a clarinet.
Also, of course, I think that I'm just a lot stronger as a soloist [than on the last album,] and my composing has continued to grow. There's a lot of original work on here, and a lot of it reflects the emerging of Middle Eastern influences. It's a first documentation of a lot of that stuff.
CB: How did you go about exploring and immersing yourself in Middle Eastern music?
TM: A lot of listening. My dad had given me a few recordings that I spent a tremendous amount of time with – there was one in particular. The guy's name was Abdel Halim Hafez. He's a vocalist. A lot of that classical stuff with vocals and strings … epic compositions and arrangements that go on for a long time – hypnotizing in a lot of ways. And it's interesting for me to listen to and personalize, because that's my heritage. It was just listening and internalizing a lot of stuff. When it came to working it in with my compositions and the jazz stuff that I do, that was a tricky thing. Because Middle Eastern music and jazz are constructed very differently: Middle Eastern music is often constructed on unison playing without harmony, often one note going on with no end that different lines go on top of.
What I found is that when you try to merge that with jazz harmony, it almost doesn't work, and it loses that palette. So for me it was about, "How can I merge a music that's based on harmony with a music that's based on single-note drones, and still have them complement each other?" …
Then from a solo standpoint, I had a big breakthrough. This might sound goofy, but a few years ago I was coming back from New York in the car, listening to stuff and thinking about it a lot. I had turned off the music and was thinking about a lot of ideas, and while the car was driving, the speed I was at created a kind of hum, the tires moving over the pavement, and it had a pitch to it – a drone note. And I was humming along to it for the next few hours, trying to figure out how the scales that I know might fit in.
CB: What role did Coltrane's music play in your exploration of those influences? He spent a stretch of time in the 1950s and '60s exploring music based on drones and Eastern scales.
TM: Coltrane did not play any role at all in the direct process… But Coltrane is one of the people that, especially early on, was a huge inspiration for me and that I loved so much…. "India" and that whole Live at the Village Vanguard session – it's a recording that I spent huge amounts of time with.
CB: How did you get started on the clarinet, and the bass clarinet?
I started on the clarinet in fourth grade. Before that, I played piano; my mom had started me on piano lessons… For whatever reason, I expressed interest in jazz, but I remember in high school the band director said, "No, you've got to play saxophone for that." Maybe it was because I did really well as a classical performer … but I was turned away from jazz. I did actually have an English professor at my high school who was a New Orleans-style piano player. So I started exploring stuff with him, and he started giving me some of the New Orleans-style stuff to listen to. It wasn't until I got to college at Loyola [in Baltimore], studying political science, that I got a chance to play jazz. I played in the big band….
I met a friend there that turned me on to more jazz, gave me an Eric Dolphy record called Outward Bound. It was my first chance to hear bass clarinet being used in jazz. For me at that time, mind you, I was just starting out [with jazz], and everything I did sounded like bad Dixieland. I think it's hard to sonically sever that association that the clarinet conjures up for older styles of jazz.… Until you can really play, it's hard to establish a modern voice on the clarinet. Now I go back and use the clarinet and I think I do a good job of it, and that's why Don Byron is so important to me. But at that time, hearing Eric Dolphy, I said, "I gotta get a hold of a bass clarinet." I got my bass clarinet in 1997, and I've been exploring on that thing since.
CB: How do you feel about the present state of the Baltimore jazz scene? What assets does it have that stand out, and what do you think it needs?
TM: You've got a lot of talented musicians in the area still. Because there's not as many venues as there are in, say, D.C., there are not as many opportunities for musicians to work – so folks have to go out of town. But you do have some really good, talented people here. And as far as the presence of music going on, now there's more than there has been at other times. It's kind of hanging in there right now. Which is nice because sometimes I'm aware of, "Wow, there didn't used to be multiple things going on, on one night here in Baltimore." … It does force an area to start reinventing itself, creating its own scene, and some really exciting things can come out of that.
[As far as venues,] you've got
An Die Musik
still hanging in there,
Caton Castle
still hanging around.
Jazzway 6004
presents a few concerts a year; that's a very beautiful thing… Then you've got these other things. The Peabody [Institute's] series at the
Hopkins club
…. Then you've got the
Chamber Jazz Society
; they just did a concert Sunday night, with
Matt Wilson
. They do about five or six concerts a year. And then you've got the little spots here and there that aren't necessarily jazz clubs, per se, but that round it out and give you more things going on.
CB: Tell me about the nonprofit organization that you help to run?
The organization is called Newborn Holistic Ministries, and it's in Baltimore, Md. I was volunteering in the neighborhood back starting in '95. As I said, I came to Baltimore to go to school. I was volunteering with a group called Sandtown Habitat for Humanity…. I was coming every Saturday, volunteering at the houses here. One particular Saturday, they didn't have any work for me. And this other guy rolled up in a pickup truck and said, "I'll put you to work." It was a nearby resident who had just founded Newborn Holistic Ministries…. At the end of the day I said, "I'm going to be here every week."…
We went on to renovate that building and establish it as Martha's Place, our first program, which was a program for women overcoming drug addiction. The second program we started was called Jubilee Arts, which presents arts classes as an alternative to drugs and violence in the community. In addition, we've transformed about 8500 square feet of vacant lots – about eight or nine lots – that we've turned into green space…. Our collective work at Newborn Holistic Ministries has been to try to raise poverty issues in the community … with a preventative and responsive approach, and rebuild our community in the process…. I wanted to make sure that I didn't come off as somebody that was just exploring these relationships for my own benefit and for my music, and I didn't want to be written off by musicians as just a part timer who does music on the side…. I think I've done a good job of overcoming that.
CB: Who will be joining you on the gig at Twins this weekend?
This one will have Xavier Davis, Eric Kennedy and Eric Wheeler, although Eric Wheeler will not be playing Saturday. He has to do something with Cyrus Chestnut, so Kris Funn will be subbing for him on Saturday.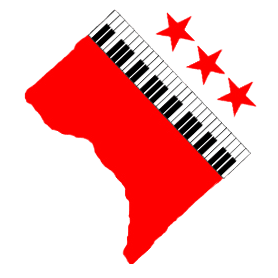 —
Todd Marcus appears with his quartet at Twins Jazz this Friday and Saturday nights. More information on that show is available here. Admission costs $20, and there is a $10 minimum. Tickets can be bought here.
Comments
comments