by John Cook
CapitalBop contributor
For the pianist Cyrus Chestnut, music is a lifelong gift, developed through the combination of environment, study, practice, experience and a joy of expression that he generously shares. Born to a musical family, he was already seeking to emulate his piano-playing father by the age of two. "I always liked the music," Chestnut said in a recent interview. "And I just wanted to climb up to the piano and do what he did." That enthusiasm earned him lessons at the family's Baltimore home, followed by professional lessons at the age of five, playing in church at seven, enrolling in Peabody Preparatory at nine, and ultimately his graduation from the Berklee College of Music. Today, Chestnut is seen as one of the most masterful practitioners of classic jazz piano technique. And he relishes both the opportunity to display his talents, and to transmit them to future generations — as he will be doing tonight at the Hamilton, when he appears with the Berklee Sextet.
Early in Chestnut's personal journey, a distinct musical foundation and personal vision were formed. When he was nine, "at a five-and-dime store I saw this record with a picture of a man playing the piano whose name was Thelonious Monk," he said. "I had no idea who he was but I just liked it and so I started to listen to more music as such…. The more I listened the more I got into it." His love for listening and ability to absorb came naturally; even from his earliest days in church, he "was learning the principles of playing music. At that age I didn't realize it but I was learning a lot about ear training and accompaniment and such that became part of my ongoing development," he said.
His academic pursuits and classical background reinforced a strict practice regimen (which he carries with him to this day) and enabled him to deeply study the masters of jazz, gospel and classical music that informed his progression. While acknowledging the importance that an education in the technical aspects had for him, Chestnut also cites the importance of experiences. Coming up in Baltimore, he immediately cited the importance of the Monday night jam sessions at Sportsmen's Lounge, as well as the many opportunities to listen and play along the Baltimore-Washington corridor. "Mickey Fields, Andy Ennis, John Lamkin, Steve Novosel, Buck Hill — being able to hear them and then later on being able to work with them was special. Every time you play you learn something," he said. "Especially being around Steve Novosel, you leave any situation learning something." Post-graduation, the trombonist Phil Wilson invited him on a formative State Department tour of Central and South America; it launched Chestnut's career, and from then on he accompanied nationally and internationally touring artists.
With experience and recognition come greater opportunities to give back. This year, students at Chestnut's Berklee alma mater auditioned to take a "Cyrus Chestnut course" intended to develop a geographically diverse working sextet whose semester culminated with a trio of performances in New York and D.C. "I enjoy being able to share and pass the knowledge along every chance I get. That's one of the reasons I really enjoy working with the sextet from Berklee," Chestnut said. "Being able to sit down and share experiences goes back to people taking the time to do mentorship with my own self. It takes me back there and I feel very honored to be able to share my experiences just as so many others did with me."
Tonight at the Hamilton, Chestnut will join them at the piano to play his repertoire for a special DC Jazz Festival show. Last night, the Berklee Sextet had its own showcase at the Kennedy Center's Millennium Stage; Kevin Harris, their professor for the course, led from the piano. That performance found the group in fine form on an entirely different set of material, anchored by its remarkably effective and inventive rhythm section. The entire ensemble stayed on top of the very challenging rhythms in Harris' arrangement of George Shearing's "Conception" and wrapped up a fine set with a particularly inspiring take on Harris' original, "Stephen Biko," followed by a dynamic and dramatic interpretation of Charlie Parker's "Bloomdido."
Chestnut is emphatic that "the supreme goal of performance for me is to send people away feeling better than when they arrived." That joy is evident, as he does his best "to win an audience over with skill – not gimmicks and tricks." For Cyrus Chestnut, music is a gift to be shared; each time he plays is an opportunity "for worship and expression" that he remains very thankful to have, and to share with the musicians on stage and the audience in attendance.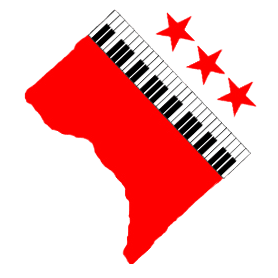 —
Cyrus Chestnut performs tonight at the Hamilton with his trio; the Berklee Sextet will open the night. More information is available here, and tickets can be purchased for $25 or $35 here.
Comments
comments