by Giovanni Russonello and Luke Stewart
Editorial board
At this Sunday's upcoming D.C. Jazz Loft, CapitalBop is spreading the music's new gospel into another neighborhood. Join us at Chez Billy, a low-lit restaurant and club in the heart of Petworth, for a show that will range from straight-ahead jazz to hip-hop fusion to spaced-out jazz-rock. Every act includes some of the city's best musicians — but each one sounds distinct.

Chez Billy is located at 3815 Georgia Ave. NW, just a few steps away from the Petworth stop on the Metro's Green Line. We suggest a $15 donation to the musicians. There's a full bar, and you'll be able to order food from Chez Billy's excellent menu. We hope to see you there!
YUSEF'S JAZZ + JOINT FORCES
Jazz is becoming widely infused with hip-hop, as a new generation of music makers come of age. Naturally, then, the new vocalese practitioner in jazz would be the MC. It's still a musical process of vocalization, but from the perspective of a person born long after the heyday of jazz. In the D.C. area, Yusef Jordan is a rising star who has showcased his talents alongside the Cricket Fusion band, Herb Spice and Cinnamon Stix and a host of other local musicians. Jazz and the Joint Forces is the name of his new release, a rich collaborative effort between Yusef and his instrumental cohorts. It still sounds distinctly like a hip-hop album, but the feel of the instrumentals is notable in that they are played by real musicians, rather than samples. MC Yusef will bring his band of top D.C.-area jazz musicians to the loft, presenting a fully developed hip-hop/jazz experience. (words by Luke Stewart)
THE OSCILLATORS
At the place where woozy trip-hop beats meet funk-influenced bass lines, where a hard-edged alternative rock feel comes together with rigorous jazz improvising, you'll find a band called the Oscillators. They've been playing frequently in the D.C. area since 2006, and accruing a strong following ever since. Within a year of their founding, the group had won the Jazz Band Brawl, earning a headlining spot at the Takoma Park Jazz Festival. At the D.C. Jazz Loft this Sunday, the ensemble will present their large repertoire of original materials. The Oscillators include John Lee — one of the District's best guitarists — as well as Charles Ostle on drums, Glen Oliff on bass, Matt Rippetoe on saxophone and Dan Reynolds on keyboard. (words by Giovanni Russonello)
HERB SCOTT
One of the city's most promising young saxophonists is Herb Scott, who has some of the same influences as the other acts on this bill, but also boasts his own personal sound. You'll hear the ghosts of Cannonball Adderley and Jackie McLean in his hard-swinging solos, but you'll also notice the fluidity of 1970s R&B and '90s hip-hop. Scott, whose playing defies his relative youth, recently released his debut album, Introducing Herb Scott on Alto Saxophone. At this Sunday's loft, he'll appear at the helm of a straight-ahead combo. (GR)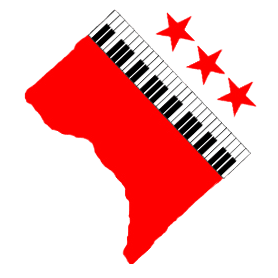 —
Photo of Aaron Seeber on flyer taken by Giovanni Russonello/CapitalBop.
Comments
comments