The Kennedy Center's newly announced 2014-15 jazz season offers a broad but digestible lineup that mixes performers young and old, avant-garde and traditional, in a range of settings. It also steps into new terrain, with two multimedia presentations that blend jazz with film.
It is the pianist and MacArthur Fellow Jason Moran's third season as artistic advisor for jazz, and the lineup reflects his newly refined approach: It's both inclusive and ambitious, and captures much of the essence of the national jazz scene's present diversity, without taking many steps beyond the music's mainstream.
"I'd like to do as much as possible to highlight the varieties of this magical form of music that is constantly in flux," Moran told CapitalBop in an email, after the announcement was made on Tuesday. "There is a lot to look forward to."
The season gets most of its avant-garde programming in early: Kicking off the season is the free-form, groove-based electronica duo Mehliana, featuring Brad Mehldau on vintage analog synthesizers and Mark Guiliana on drums and effects. The band will perform a dance set on Oct. 4 at the Crossroads Club, a makeshift dance-floor venue that Moran dreamt up in 2012.  The avant-garde pianist Muhal Richard Abrams follows that one week later with a performance in the Terrace Theater. Abrams, a former teacher and longtime mentor of Moran's, will appear as part of the Jason's Select Series.
For this series, Moran has picked a handful of performers who are particularly meaningful to his artistic perspective — a notably broad one. This year's Jason's Select Series also includes a performance from the alto saxophonist Lou Donaldson. When Abrams was helping to lay the tracking for the future of free jazz in the 1960s, the hard-bopping Donaldson was a figurehead of the jazz scene's more commercially successful flipside.
In the second half of the season, the focus falls on standard-bearing vocalists. Dianne Reeves, Cassandra Wilson and Kurt Elling will perform, as will the star operatic baritone Eric Owens. He will be performing the songbook of Billy Eckstine and Johnny Hartman, singing well-known standards in a context we may not know as well.
Some of the most distinguished instrumentalists in straight-ahead jazz will also perform at the Terrace Theater, from Donaldson to the tenor saxophone giant Branford Marsalis to the SFJAZZ Collective. Moran himself will play there too, in his presentation* of In My Mind: Monk at Town Hall, a combination of live performance, video, photography and recorded audio that celebrates (if not recreates) Thelonious Monk's famed concert at New York's Town Hall. This is one of two historically-minded multimedia performances on the docket. The other is The Great Flood, a documentary about the 1927 storm that submerged much of New Orleans; the guitarist Bill Frisell composed its score, which he will perform live with a band at the Kennedy Center.
One of the more far-flung highlights of this season will come when Maceo Parker, the saxophonist and former right-hand man to James Brown, performs his down-home style of funk at the Crossroads Club.
The KC Jazz Club performances this season almost exclusively feature young talent that wouldn't usually headline at a ticketed Kennedy Center event.  These include the drummer Nate Smith and his band Kin Folk as well as Melissa Aldana, a young tenor saxophonist who won the Thelonious Monk International Jazz Competition last year and will bring her Crash Trio to the center.
For Moran, it's all part of a vision that continues to expand. He and his cohorts at the Kennedy Center "plan to showcase great artists as best as we can, and use this great venue in continually creative ways. I'm hoping to initiate a new commissioning program, and if things work out, another series of concerts as well," he said. "But first things first: make sure we take we care of the music, the musicians, and the audiences. If we do that 'right,' then everything else will take care of itself."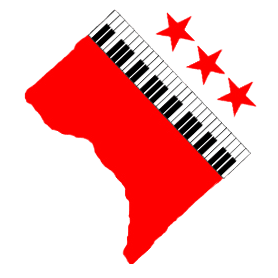 —
Correction: The original version of this article erroneously stated that the upcoming performance of In My Mind would be its D.C. debut. Moran presented the show in 2007 at George Washington University's Lisner Auditorium.
Comments
comments