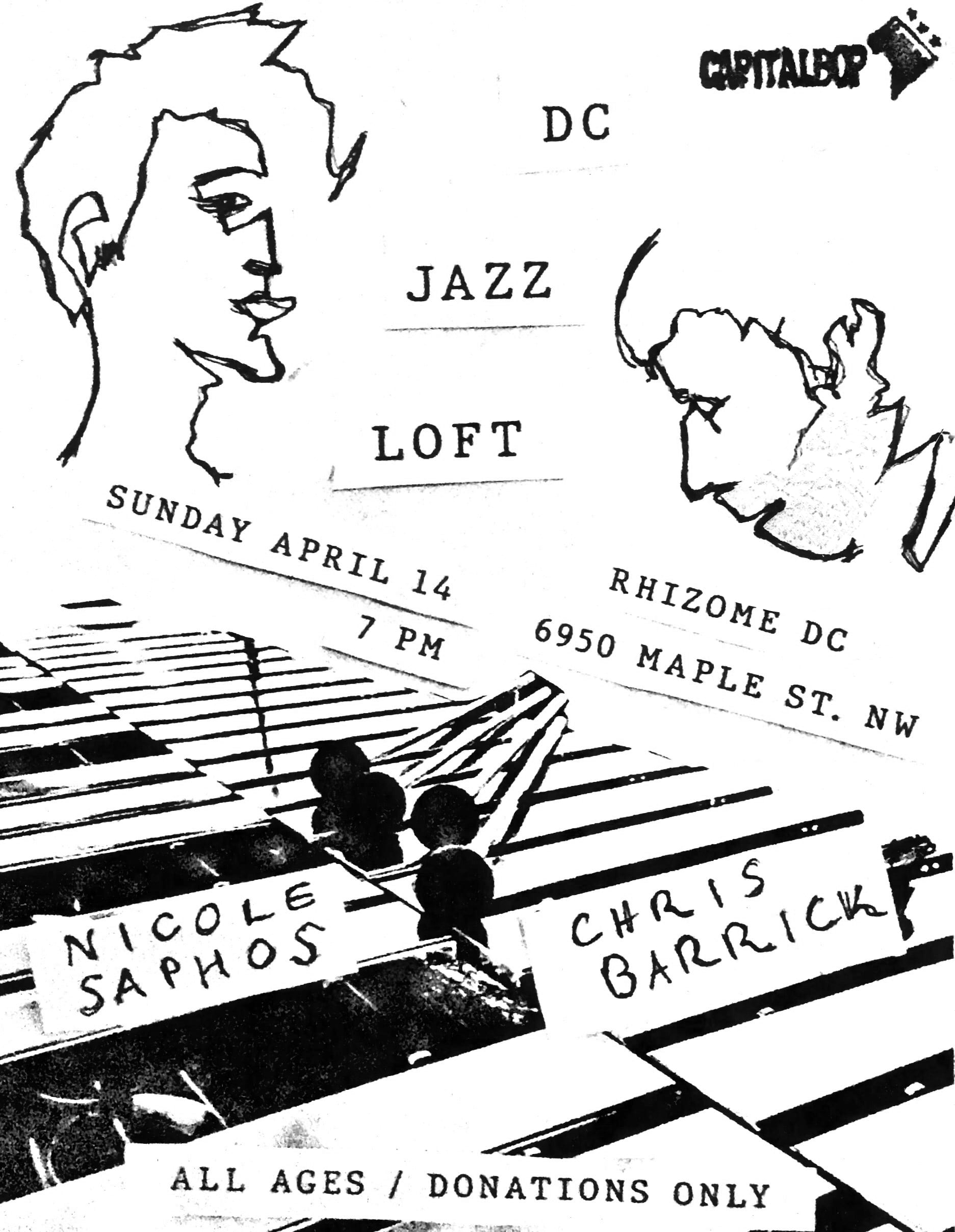 After a few incredible weeks of presenting some of our favorite artists from out of town, it's time to get back to our main, monthly thing: showcasing the innovations being wrought by musicians here in D.C., on home turf. This month's installment of the DC Jazz Loft features bassist/vocalist Nicole Saphos and vibraphonist Chris Barrick, two respected young musicians starting to make waves on the District's scene.
Saphos and Barrick both play their instruments with subtlety and precision, and Sunday's show at Rhizome DC will be a rare opportunity to hear every detail of those voices in an intimate, listener-friendly setting.
Longtime CapitalBop readers might remember Nicole Saphos from the appearance of her debut record, Tiptoe, on our stacked Best Albums of 2016 list. And those with an ear to the ground will recognize her signature blend of singer-songwriter lyricism and straight-ahead jazz chops from her regular gigs at Marx Cafe, Sotto and the Alex, among others. Her substantial original songbook reflects the influence of popular musicians like Regina Spektor, Norah Jones and Ingrid Michaelson, but her extensive experience in the D.C. and Philadelphia jazz scenes allows her to have a huge amount of flexibility with her writing — and on both electric and upright basses. Saphos's super-tight, longstanding trio of John Lee (guitar) and Ele Rubenstein (drums) can let loose in a major way.
Vibraphonist Chris Barrick is a recent re-arrival to D.C., and he's wasted no time getting back into the mix. Barrick excels both as a bandleader and a soloist, wielding a powerful skill-set of fearsome technical ability and tasteful restraint. The vibraphone is an instrument that doesn't get the attention it deserves in the District, and Barrick's presence on the scene has been a gift in that respect. There's nothing quite like walking into a show and hearing the shimmering tone of mallets on metal, particularly in the hands of a masterful percussionist. At this loft, Barrick brings a trio of T.J. Turqman (bass) and Ele Rubenstein (drums).
Like always, things get going at 7 p.m. at Rhizome DC, just steps from the Takoma Metro stop. There are no tickets, just donations collected at the door ($10 suggested) — 100 percent of which go to the performing artists. The event is all-ages. And all musicians who come out are encouraged to bring their instruments; the night will end in an open jam, and anything can happen at the loft.
In case you're new to the DC Jazz Loft's saga:
In 2010, CapitalBop founders Giovanni Russonello and Luke Stewart put on the first DC Jazz Loft at Red Door, an artist-run studio space tucked in an alley just north of Chinatown. As more artists joined in and audiences grew, the loft became not just a jazz show, but a reliable facet of the D.C. arts scene at large. Red Door was eventually demolished to make way for new construction (oh, D.C.) and the loft bounced around to other venues before landing at Union Arts in 2013, where it stayed for three years before again meeting its end at the hands of developers.
Part of the problem was that the CapitalBop team wasn't sure where to take the loft after that. We couldn't find a place that would allow us to maintain the spirit of insurgency and liberated expression that was so important to these shows. But now, D.C. again has such a place: Rhizome DC is a collectively run space in Takoma that has become a haven for creative artists of all stripes. Thanks to Rhizome, the DC Jazz Loft has a home again, and it's here to stay.
Comments
comments