It's hard to imagine a more beautiful day than this past Saturday. It's even tougher to remember a day more jam-packed with energizing and diverse D.C. jazz performers. Add more than a dozen wines and a horde of quality food trucks, and you're really talking.
All the elements came together at Saturday's New Vintage Jazz & Wine Fest, at the Half Street Fairgrounds. More than anything, the festival was simply a great gathering, a testament to jazz's powers of unification. This music is the sound of social interplay — communication and negotiation and joy. Its ability to rally all different people around a shared energetic current, an experience of delight and surprise, is its own kind of Dionysian force.
Approximately 2,000 people came out to the inaugural New Vintage Fest, presented by CapitalBop as well as the Chris4Life Colon Cancer Foundation, Petworth Jazz Project and Art Whino. With seven world-class bands performing, folks lounged in lawn chairs, lay out on blankets watching the artists live painting on either side of the stage, strolled the festival grounds in search of food truck feasts, sipped vino and chatted at picnic tables, and got up to twist along to the music — especially during the Funk Ark's soaring set of dance-demanding Afrobeat.
The music started out with the bassist Tarus Mateen leading a band featuring his two brothers (reunited for their first performance together in 17 years), cutting open hypnotic troughs of groove and letting his bass swell to fill them out. From there, the bassist Kris Funn performed with his sharp and funky trio, Corner Store; the bass clarinetist Todd Marcus presented his singular brand of innovative straight-ahead; Christie Dashiell sang beautifully, drawing in everything from a Lil' Wayne tune to original compositions; Donvonte McCoy led his go-go-inspired quintet through a genre-busting set; and Funk Ark held out an offer to the audience, one of participation and zest and momentary freedom.
Finally, as evening fell the bare lightbulbs strung above the audience glowed golden and warm against the sky's muted azure; Rafiq Bhatia's quartet took the stage to cast its own ember of immersive, experimental sounds across the Fairgrounds. The group blends the certainty of lush, pre-recorded textures with the potent bite of anticipation that comes with expert improvisation. The sounds were stirring, and powerfully rewarding.
Below is a gallery of photos taken by the photographers Dakota Fine, Alfredo Flores, John Sanders and Ronald Weinstock. Click on a shot to see it in large size.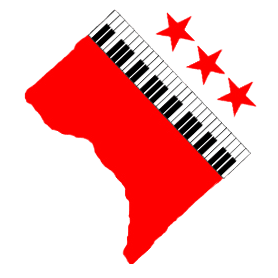 –
Lead photo by Alfredo Flores/CapitalBop
Comments
comments