by Giovanni Russonello
Editorial board
At Meeps this Saturday night, CapitalBop will present three of our absolute favorite musicians in a rare, stark showcase: as soloists. The lineup includes Jonah Parzen-Johnson, Anthony Pirog and Brian Settles, all of whom have impressed listeners in some format or another at past D.C. Jazz Lofts. They're guaranteed to offer three very different takes on the musical soliloquy. The show is just $10 and seating is limited, so we suggest grabbing tickets in advance.
Until relatively recently, it was uncommon to hear anyone other than a pianist play solo. But a lot can happen when a musician's left fully to his own devices: The tempo and song form become pliant as clay, he can explore tone in pixely detail, and the depth of repetition becomes entirely a matter of choice.


We're excited to be hosting this concert at the newly reopened Meeps, which has an exciting, totally reworked collection of vintage clothes — and a room full of costumes and paraphernalia (note to self: figure out what to be for Halloween by Saturday). With your ticket to the show, you'll get 15 percent off any garments you decide to buy on Saturday night.
And one more thing: After this show, we're going to be closing out the night with an after-party at Art All Night in Chinatown and downtown, which takes place all evening. We'll host an after-party from 1 a.m. to 3 a.m. at 915 F St. Admission is free, and the amazing Heidi Martin (fresh off a devastating performance at the October D.C. Jazz Loft) will be leading her Moon in Scorpio quartet.


Below is a list of the performers at the Art of the Soloist show at Meeps. Don't miss out!
Jonah Parzen-Johnson
Jonah Parzen-Johnson is a baritone saxophonist whose ruminative solo performances draw on free jazz and Appalachian folk influences. Earlier this year, he released a well-received album of solo work, Michiana, full of songs that lose track of time and stay with you long after you think their impact has vanished. He played a terrific set at the last D.C. Jazz Loft at Red Door, in January.
Anthony Pirog
Anthony Pirog ravishes in a solo format, typically by being more than a solo performer. Between his loops and his fleet, flowing guitar work, he's constantly multi-tasking. Pirog's music runs the gamut from post-bop to ambient soundscapes; on his own, he tends to yank unexpected sounds out of minimalist phrases, to incisive effect.
Brian Settles
The saxophonist Brian Settles is built of brooding tone and purling vigor. He toys with painfully truncated phrases, hammering and stretching them to a breaking point, then tossing them off with either silence or a harsh exclamation. His debut record, last year's Secret Handshake, is a paean to the avant-garde, with eight original pieces that broach the far-out and the deeply intimate. He was the first soloist to perform at the D.C. Jazz Loft, and here he returns with his tenor sax in hand.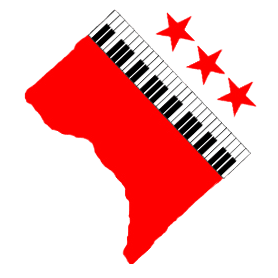 —
Flyer designed by Mike O'Brien.

Comments
comments