by John Cook
CapitalBop contributor
I chose to spend the first two nights of my condensed voyage through the 2013 DC Jazz Festival at the District's most cost-effective venue, if you're looking to expand your musical horizons: The Kennedy Center's Millennium Stage, which usually features jazz several times a month, part of its wide and eclectic range of nightly programming. It is the city's only 365-day-a-year free performance series.
One of the Millennium Stage's major strengths is that it provides a very large platform to a variety of lesser-known artists who, however much they may merit them would rarely have opportunities of that scale.  The size of the usual crowd there is not without some disadvantages; many of the attendees on any given night have probably ended up there somewhat randomly, and aren't always fully attentive to the particular performance (though that tends to be most problematic for unamplified classical programs). The cavernous and bustling open space of the center's Grand Foyer can present challenges, too (sonic as well as ambient), but this remains the only place in town that will – or has the financial support to – book many of the artists that play there. The generally strict limitation to a one-hour performance can be a bit irksome, but this seems the nature of the environment. That said, it is an economical way to dramatically widen one's musical horizons – and some of the performances there are magic.
The Millennium Stage's opening-night contribution to the DC Jazz Festival on Wednesday presented Lenny White's New Voices: a straight-ahead acoustic trio featuring some very young talents, in the 17-year-old pianist Beka Gochiashvili, from the Republic of Georgia, and 16-year old bassist Daryl Johns. White's spry proteges were both very skilled and seemingly well-traveled (Gochiashvili has done already done several concerts with White, including a local appearance at the Howard Theatre last year). The group quickly got comfortable and as the show progressed they opened up and took off. The results demonstrated that ultimately there is no substitute for learning on the bandstand, nor for the communication with the masters of the tradition that becomes available there. With roughly half the compositions his, Gochiashvili proved his ability to write convincing new material that reflected the traditions they explored yet also left room to be given more life through the improvisational exchanges between band members that propelled the performance to a higher level. White was obviously very pleased with being able to play with this band and the joy mutually radiating from the stage touched the audience as well. While most in attendance had come to hear White, they seemed uniformly impressed by his compatriots.
I was reminded of the ongoing internationalization of jazz, seeing a very young player of this caliber now rising from nearly the furthest part of the world from where this music originated – yet possessing the skill and feel to play and compose in a classic hard-bop mode. Gochiashvili did it all alongside someone who began his professional career in the heart of that repertoire and who has remained in the forefront of developments in jazz since.
Thursday night, Jacques Schwarz-Bart brought a very different personal vision of the way jazz can grow in other parts of the world. Multicultural himself (his father of French-Jewish abstraction, his mother Guadaloupean), Schwarz-Bart's band featured members from Haiti, France, Serbia and Iran playing the ritual music of Haiti in, as he put it, "the language of contemporary jazz." It was a heady mix that began with a contemporary feel before traversing a wide range of often improvised territory, in ways that ranged from highly lyrical to fiercely flowing. Schwarz-Bart showed great skill in guiding the music forward in pursuit of the sound and feel he envisioned.  The rhythmically and stylistically inventive performance was punctuated by sweeping improvisational statements, the foremost of which may have been an interlude where Schwarz-Bart extended to a bold series of statements in a conversational interlude with only the drummer and percussionist.
For me these two very enjoyable performances highlighted a number of aspects of the meaning, appeal, and vitality of jazz. They also spurred some conclusions about this thing that, despite many attempts to define or even question its existence, most of us still do call "jazz." Schwarz-Bart's direct framing of his effort as being in the "language" of jazz was exactly what I had been thinking about before the performance.
To me, jazz can be viewed as a language: a universal language that's not restricted to a single culture or place. Indeed, far from that, as the stylistic range, number of offerings, and varied backgrounds of the performers in the DC Jazz Festival's programming suggest. That vast range of styles (bop, Latin, fusion, contemporary, traditional, avant, free, etc.) might be thought of as dialects of the core language of jazz. Players all have their own accents and voices – and experiences – which further personalize the expression of jazz as it is played.
While unique in itself, jazz – or any other language – has its foundations in certain experiences.  Languages also grow with new words, expressions, phrases and devices (some original and some adopted). As with any human endeavor jazz includes elements in common with, borrowed from, or lent to many other mother tongues and experiences.  Common elements are transformed in jazz, so for example while many of the instruments came from other traditions they are played far differently in jazz than in contemporary classical or popular music. In the singular conceptions of musicians like Duke Ellington, the orchestra became capable of saying something entirely new. Much of the repertoire of another era of jazz (still considered standards today) was lifted directly from the popular music of the time, but when played by jazz musicians it became completely different experiences (a tradition a few still carry forward with current popular song).
The organic nature and openness of the language of jazz presents the prospect of more valid dialects and accents developing and keeping some part of the music fresh. Some of those grow, some fade, some are revived. Restlessly inventive players like Miles Davis have often left large segments of their audiences behind as they explored new contexts for playing what they felt.  That willingness to break new ground lays bare the subjective element in any full description; too great a reliance on elements in common with other music or too little reliance on the vocabulary of jazz will produce music outside listeners' conception of jazz as a whole.
The big tent of jazz leaves room for composition and orchestration as well as for virtuosity and free-form invention, though for any specific music to be successful there must be emotional resonance and a clear message. Perhaps jazz can be so diverse because it is fundamentally founded on variation and improvisation – strategies that reflect the nature and depth of experiences that informed its development.  A strength of the DC Jazz Festival is that while remaining resolutely "100 percent jazz" (well, almost) its organizing principle has grown wide enough to recognize that 100 percent ranges from Paquito D'Rivera to Ron Carter to John McLaughlin to Nicholas Payton and all points in between – or further, though the festival does tend to lean toward contemporary and traditional expressions.
Just as players must learn the devices to play, voice, and compose, so must audiences learn the language being used to communicate.  The complexity and depth inherent in jazz means that few new listeners will instantly understand its vocabulary, or beyond that its structures and dialects.  It takes listeners time to comprehend and understand and then follow the conversations.
Jazz played right is entirely a conversation built with monologues, dialogues, and larger discussions, debates, arguments, or what-have-you. The music is about personal expression and for that reason efforts that smack of rote imitation- or of the stuffiness of museum pieces under glass tend to fall flat (as repeating someone else's speech often will). Jazz must say something, yet the listener must also have (and/or develop) ears to hear.  Founded on expressing the full range of human emotion jazz is not always comfortable – and rarely is simple. Listening to jazz requires effort and participation, so this range of music does not necessarily speak to everyone, nor is it always immediately accessible to all.
So what is "jazz"?  Well, most of us think we know it when we hear it, which leaves little point to defining or putting boundaries around something so subjective (it's perhaps as fruitless as arguing over who in England should be the arbiter of English or whether English is an accurate or useful label for the totality of language people can call English). We all take something different away from each conversation, which is as it should be. It is also not realistic to expect everyone to be interested in every conversation, though many practitioners have something special to say or a way of saying things that is so compelling they are impossible to ignore once you hear them.
That "once you hear them" has been – and may remain – the challenge for jazz. How do we get more people exposed to these musical conversations in the first place? Yet the diversity, openness, and growing internationalization of the music provides more potential points at which listeners may recognize things that speak to them. Events, showcases and institutions have a very important role to play in helping those who can become engaged to develop the greater familiarity that opens their ears to the multitude of possibilities inherent in such vital music.
DC Jazz Festival programming will continue at the Millennium Stage for a few more days; the local salsa band Sin Miedo performed on Saturday, and on Wednesday another D.C.-area musician with a very different dialect will play: Kenny Rittenhouse, with his septet. And students of the music will present their interpretations of some aspects of the tradition on Tuesday, when the Berklee Jazz Sextet performs.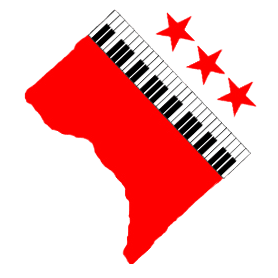 —
The Millenium Stage presents the Berklee Jazz Sextet on Tuesday, and the Kenny Rittenhouse Septet on Wednesday. Both shows are free and all-ages.
Comments
comments