Lena Seikaly
, one of the most exciting new vocalists (and composers) in the area, will lead a band. So will
Dan Roberts
, a fabulous young piano player who's headlined at the Atlas Performing Arts Center and been
praised
by
JazzTimes
for his funky eclecticism, and
Lenny Robinson
, a powerful drummer and bandleader who's been a loft favorite from our earliest days.

Doors at Union Arts open at 7, and the music will be going til late. Update: Come by 9, and we'll give you a free Belvedere vodka cocktail. We got it, why not share it? The loft is (otherwise) BYOB, and a donation of $15 for the musicians is suggested. When you get to Union Arts, enter through the back entrance (turn into the parking lot off of 4th Street NE). See you there!
LENA SEIKALY
A precocious, award-winning young vocalist, Lena Seikaly's wowed at pretty much every jazz venue in the D.C. area you can imagine, Kennedy Center and Strathmore included. This Sunday she's making her D.C. Jazz Loft debut. Seikaly plays jazz standards and her own originals with a confidently playful demeanor.
DAN ROBERTS TRIO
Dan Roberts is a fiercely interrogative pianist with a comic streak — he makes high-concept music, often pushing the limits of your expectations, but constantly engaging. He arranges and performs for the U.S. Army Blues Jazz Ensemble, among others, and his 2009 CD Can't Not sounds a little like Medeski, Martin & Wood trading concepts with Kneebody. Here he appears here with an expert trio, featuring a powerful rhythm section: Eliot Seppa on bass and David McDonald on drums.
LENNY ROBINSON
As a sideman, the powerfully swinging drummer Lenny Robinson is just about as sought-after as drummers get in this town. As a leader, Robinson has a strikingly deep range of sounds and ideas to offer. he likes stretched canvases and playing with wobbly tones, especially on the toms. His trio, Mad Curious, is one of the area's best (if not best known) musical mind-expanders. He's brought that band to the loft before, but here he breaks out of the format and leads a top-notch quartet.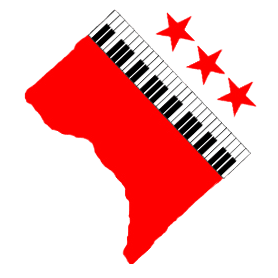 Comments
comments