Union Arts DC
. We held one of our shows during
this year's DC Jazz Festival
there, and the DIY vibe felt just right. Now it's going to be a regular thing — and we're kicking it off with one of our strongest lineups in recent memory. Come early, and stay late — you don't want to miss any of these three sets: one each from
Fred Foss
,
Mark Meadows
and
Third Wheel
(that is,
Janel & Anthony
joined by
Brad Linde
).

Along with our new home come some old policies. Namely, the loft is BYOB again — hurray! Feel free to bring what you like to drink, but make sure to supply your own cups if necessary. There will be seating, which is first come, first served. As usual, we strongly suggest a donation of $15 — all of which goes straight to the musicians — so please bring cash if you can. If you can't, come anyway. Below you'll find a map of Union Arts, which is just a 10-minute walk from the Red Line stop at NoMa, and previews of all three acts. See you Sunday!
FRED FOSS
Considering the originality and power of his playing on both sax and flute, Fred Foss is not nearly as well known as he should be. But he's D.C. jazz royalty, certifiably, having been mentored by the great Jackie McLean and assumed an elder's leadership role on the scene here today. He'll lead an intimate trio at the loft, putting his bold, broad alto sound front and center.
THIRD WHEEL
There are few sounds in this city that are as spookily gorgeous as Janel & Anthony's electro-acoustic panoramas. They make grainy, almost tangible harmonies that fold in and out of each other, swelling like breath. In Third Wheel, the cellist and guitarist are joined by Brad Linde, a first-call saxophonist who's fluent in a number of styles. This year he held a residency at the prestigious Banff Center; it'll be fun to hear him apply his ideas over Janel & Anthony's lush and fluid underpinning.
MARK MEADOWS
Then we've got Mark Meadows, a D.C.-via-Baltimore piano player and composer. His sense of jazz is assertive and modern, with original tunes that both swing and glide. A rich, percussive improviser, Meadows has played at CapitalBop shows before as a sideman for standouts like Todd Marcus and Akua Allrich. Now he steps out to helm his own group.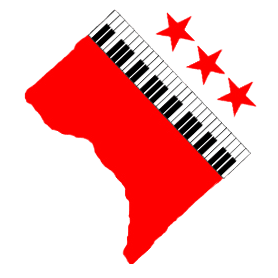 Comments
comments