UPDATE:
Our September Traveling Loft has come and gone. But our next big show is right around the corner.
CLICK TO JUMP DOWN to info on the fall Traveling Loft, on Sunday, Oct. 7, featuring the all-star Tiger Trio and pedal steel master Susan Alcorn!
---
This fall, CapitalBop is thrilled to present what might be our most packed concert season yet. Hot on the heels of the successful debut of our Spotlight Residency, we will present Traveling Loft shows in back-to-back months, both with world-class musicians up and down the bill. (And stay tuned for a few more show announcements coming down the line.)
Scroll on for info about the September Traveling Loft, at the Fridge DC in Eastern Market — or jump down to info about the October Traveling Loft, at the Abramson Family Auditorium downtown, featuring Myra Melford, Nicole Mitchell, Joëlle Léandre and Susan Alcorn.
---
SEPTEMBER TRAVELING LOFT: LAFAYETTE GILCHRIST + TARUS MATEEN
On Saturday, Sep. 22, we will present piano powerhouse Lafayette Gilchrist — whose partnerships range from David Murray to David Simon — in a special solo performance at the Fridge DC. Gilchrist, a District native and current Baltimore resident, is best known for his work with Murray, a living legend, and makes powerful music with his own groups: the large ensemble New Volcanoes, and the trio Inside Out. But his solo-piano chops are their own marvel. That much is clear on The View from Here, a solo disc he released to acclaim in 2014. And we got a little taste of it ourselves at the DC Jazz Festival that year, when CapitalBop hosted a three-piano cutting contest, with Gilchrist going toe-to-toe with Orrin Evans and Allyn Johnson.
We're thrilled to have Gilchrist back, alone, putting his latest ideas and moods on display on a concert grand at the Fridge's intimate gallery space. Here's Luke Stewart, our director of presenting, on what makes Gilchrist so special:
Lafayette Gilchrist was born and raised here in D.C., developing his musical interests and experiences during the culturally fertile era when go-go and jazz were in full swing. With live music everywhere, Gilchrist was able to have deep early experiences with music that have influenced him to this day. Now residing in Baltimore, he is a creative force in the Mid-Atlantic region. With a string of groups and collaborations, he is constantly building his vision through the consistent and steady stream of performance and composition. Recent solo performances have been covered by both WPFW-FM and NPR, and have achieved wide acclaim. A true son of D.C. city, he is sure to bring it on home for an intimate and special concert.
Gilchrist will participate in a pre-concert talk with Stewart and the audience at 7:30 p.m. Arrive early to be a part of the conversation!

Star bassist Tarus Mateen will open for Gilchrist, in a special duo with Brian Settles, the singular tenor saxophonist. They've got a synergistic rapport; both are veterans of the greater DMV scene, and well known internationally. They're also longtime friends and collaborators with Gilchrist. (Could a spontaneous collaboration take shape by the end of the night?)
CAPITALBOP'S SEPTEMBER
TRAVELING LOFT
Lafayette Gilchrist
+ Tarus Mateen & Brian Settles
Saturday, 9/22, 8 p.m.
Pre-concert talk at 7 p.m.
The Fridge DC | 516 8th St. SE, D.C. (back alley)
---
OCTOBER TRAVELING LOFT: TIGER TRIO + SUSAN ALCORN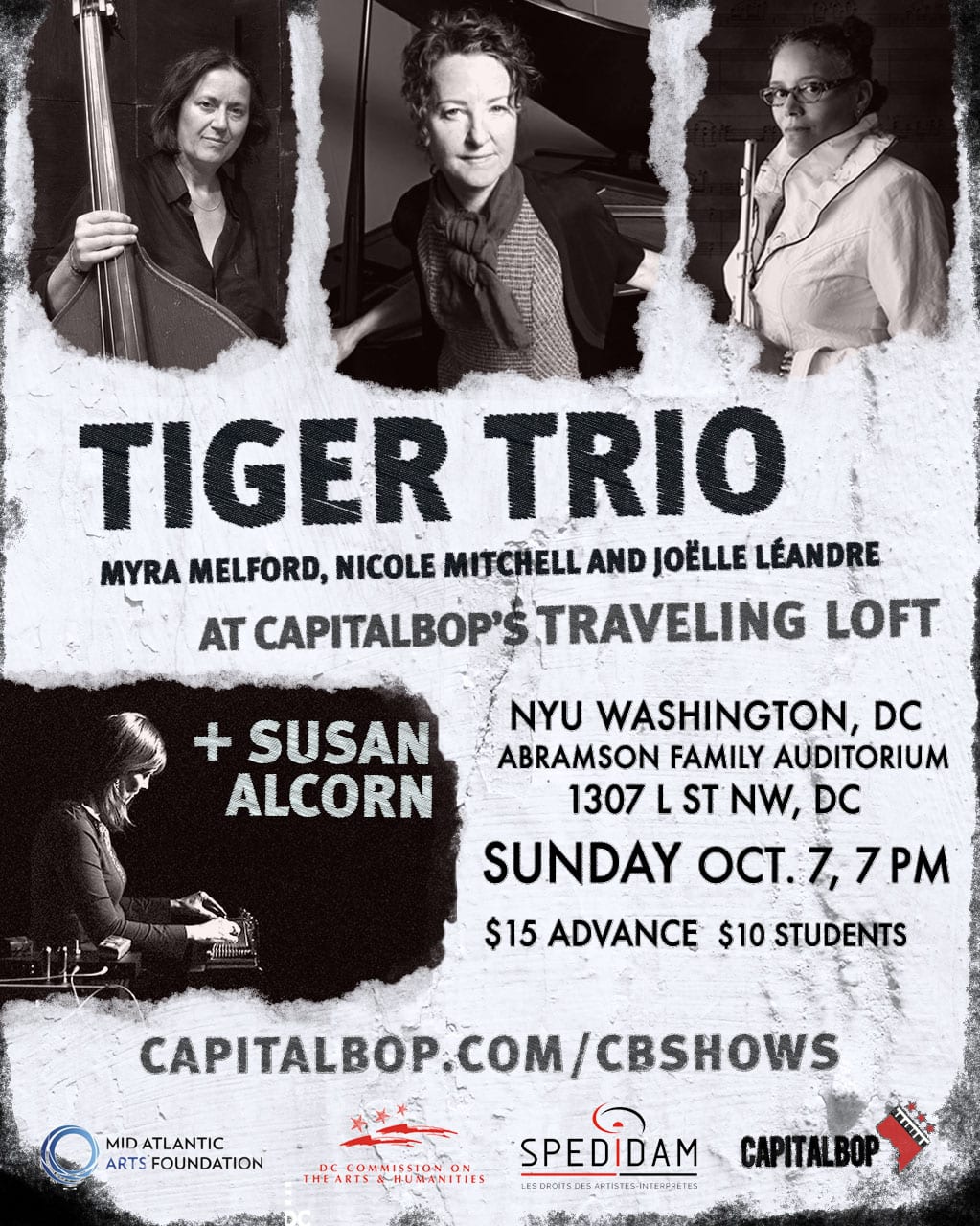 PLEASE NOTE: In our initial announcement, the performance start time for the Tiger Trio was listed as 8 p.m. The concert will instead start at 7 p.m.

On Sunday, Oct. 7, our fall Traveling Loft will feature Tiger Trio, an international all-star group of improvisers, at NYU in Washington's Abramson Family Auditorium. The trio features three musicians — Myra Melford on piano, Nicole Mitchell on flute and Joëlle Léandre on upright bass — who are all renowned players in the improvised music world. Together they come up with something even bigger and greater than the sum of it parts; veteran critic Ken Waxman says the trio makes "unique, affirmative music that demands no qualifier."

Here's our Luke Stewart again, on the trio's creative brilliance:
Myra Melford developed her creativity as a young musician in New York City through endless sessions and musical meetings with icons in jazz such as Henry Threadgill and Leroy Jenkins. Eventually she moved to the West Coast, where her creative vision had more room to develop and to shine. Leading her own groups with her own compositions, Melford has emerged as one of the leading voices on the piano, and one of the more exciting improvisers in jazz.
Nicole Mitchell has long been associated with Chicago as she developed through that city's famously fertile Creative Music community. From her membership in the Association for the Advancement of Creative Musicians to her leadership of several ambitious ensembles, she has created a body of work that continues to raise the bar for composers. Her sophisticated and heartfelt music has placed her among the finest in music.
Joelle Leandre is a French bassist and one of the most famous improvisers in Europe. Her solo performances are legendary for her instrumental skill and her uncanny sensitivity to musical energy, allowing her to deliver consistently singular experiences. With these three titans in Creative Music combining, Tiger Trio is an unmissable experience, a rare chance for the D.C. audience to experience a group of this kind.
We are especially excited to invite Susan Alcorn to open for the Tiger Trio. Alcorn, a Maryland native, is unquestionably one of the most important pedal steel players of her generation — particularly in improvised music, a field in which she has recently begun to gain more traction through her work in the Mary Halvorson Octet and as a leader. Alcorn's sonic contribution to the music, not just in melodic language but in texture and technique, is something to behold.

Here are Stewart's words:
Susan Alcorn has spent her career developing her own language and approach to the instrument, creating a sonic personality that is unmatched by any in the improvised music community. She has recently been the recipient of numerous prestigious awards for her influence both as an instrumentalist and as an improviser. She is a member of the Mary Halverson Octet and is a collaborator with many of the most respected names in jazz and Creative Music. Her solo performances, however, are some of the more legendary aspects of her career, each one elevating the room and space.
CAPITALBOP'S OCTOBER
TRAVELING LOFT
Tiger Trio
+ Susan Alcorn
Sunday, 10/7, 7 p.m.
NYU in DC Abramson Family Auditorium | 1307 L St. NW, D.C
This concert is supported in part by the Mid-Atlantic Arts Foundation, the D.C. Commission on the Arts and Humanities, and SPEDIDAM.

Comments
comments