by Giovanni Russonello
Editorial board
CapitalBop will be leading an interactive audience discussion and listening session with the energizing, experimental guitarist Joel Harrison before his show at the Atlas Performing Arts Center on Wednesday. The talk is free and open to the public, and it'll take place from 7 to 7:45 p.m., during happy hour (beer and wine are significantly marked down). The show then starts at 8; CapitalBop readers can grab an $8 discount on the ticket price, too, just by ordering in advance and using the digital code "BOP08."
During the discussion, Avant Music Editor Luke Stewart and I will moderate a talk with Harrison about the wide range of music that has influenced him (hint: It varies from Paul Motian to Dmitri Shostakovich to John McLaughlin). We'll watch archival video of music from those inspirations, and lead the audience in a question-and-answer session about how Harrison draws on them.
So who exactly is Joel Harrison? Well, he's been sweeping like a low-lying cloud across the greater jazz community since the 1990s. Some have felt his presence, and many others haven't taken stock of him yet. Even if you're familiar with Harrison's inexhaustibly imaginative work, it's impossible to know what his next project will rain down. What's for sure is his prickly, mercurial attack on the guitar, and the way his ensembles radiate and expand from it almost totally intermeshed. In Harrison's String Choir, one of many groups he leads, violins and cellos don't just add their usual tonal colors, they take on a percussive identity in line with a guitar's. (Read this excellent recent DownBeat profile on him.)
A D.C. native, Harrison, 55, eventually made his way to the Bay Area and, in the late 1990s, ultimately to New York City. These days, he performs alongside a handful of the most adventurous musicians in the city, from Oliver Lake to Uri Caine to Clarence Penn. He'll bring his String Choir to the Atlas Performing Arts Center this Wednesday, and it's a performance you don't want to miss. We'd love to see you out there and hear your questions for Joel. Below is a video preview of what you can expect on Wednesday.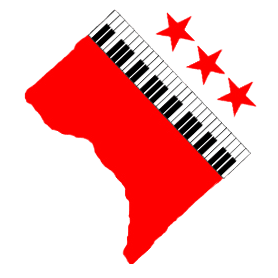 —
The pre-show discussion and listening session is free and open to the public, and it begins at 7 p.m. Joel Harrison's String Choir performs its concert at 8 p.m. More information is available here. Tickets cost $25, or $15 for students, and can be purchased here. An $8 discount is available to CapitalBop readers who enter the code "BOP08."
Comments
comments