In early spring, when the coronavirus pandemic's drastic impacts were still sinking in, many on the D.C. jazz scene held onto the faint hope that our city's musicians might return to the stages of Twins, Sotto and the Kennedy Center by the end of the year. 
Six months later, nearly 200,000 Americans have died from the coronavirus. Congress has been paralyzed all summer by partisan fights over whether to provide more relief as workers and small businesses struggle to stay afloat. Some D.C. council members have expressed support for an effort to provide relief to music venues, but Mayor Muriel Bowser said this week that without further federal assistance, her hands were tied.
Meanwhile, the pandemic-induced slowdown has already claimed a range of beloved venues. Sotto, a basement bar on 14th Street NW that regularly hosted jazz, closed in June. The D.C. nightlife mainstay Eighteenth Street Lounge, home for over a dozen years to late-night Friday and Saturday jazz sessions, will not reopen at its current location south of Dupont Circle.
And in the most devastating blow to the nightly life of D.C.'s jazz scene, the scrappy but iconic Twins Jazz shut down last month, robbing U Street of its last remaining bona fide jazz club.
The possibility of bringing jazz back to club stages like Twins now feels less like a question of "when," and more like one of "if." The venues that remain now face unprecedented financial challenges and no clear end to the shutdown in sight.
Many clubs were already fighting an uphill battle, promoting independent, local artists in one of the most expensive commercial rental markets in the country. And many helped finance their music through restaurant and bar businesses, both subject to razor-thin profit margins even in good times.
Music venues are among the last businesses slated to return under the city's phased reopening guidelines. And if safely distancing an audience would be a tough task for any performing arts venue, that's doubly true in jazz, where close quarters are often the norm, even prized. Many venue owners said that indoor concerts would and should not resume until the pandemic was over.
Some of those that do remain — particularly nonprofits with access to grant funding — have turned to live-streaming in order to keep the music going. But owners widely said that was hardly a sufficient solution.
"In the performing arts, so much of what we sell to people is the live performance and connection, the art of the body — there's a whole thing about connectivity. That is the benefit of live performance. Because otherwise, why not just on your couch and watch Netflix?" said Douglas Yeuell, executive director of the Atlas Performing Arts Center, located on H Street NE. "There's value in being out there and experiencing the visceral connections you have." But now, he said, "that could theoretically kill you."
Senators John Cornyn (R-Tex.) and Amy Klobuchar (D-Minn.) introduced national legislation in July that seeks to address the existential challenges facing independent music venues around the nation. The Save Our Stages Act would provide grants to independent venue operators, promoters and talent representatives to the tune of 45 percent of fiscal year 2019 operating costs or $12 million, whichever is less. But with a larger relief package tied up in Congress, the bill has gone nowhere.
Organizers are pushing the D.C. City Council to consider its own form of financial assistance for local venues. Pushed by the jazz musician and organizer Aaron Myers of the Capitol Hill Jazz Foundation and Chris Naoum of Listen Local First, the Music Venue Relief Act would provide financial payments based on venues' square footage. The bill would also dole out funding to offset the costs of mortgage, rent or property tax payments.
Profits Disappeared — Operating Costs Didn't
All the venue proprietors CapitalBop spoke to for this article reported having to cut down on staff in order to continue operating. Jojo's Restaurant and Bar on U Street NW — a key gathering place for both young lions and veterans on the scene, as well as a wide range of listeners — brought down its operating costs from about $48,000 per month to $8,000.
Ben Kilbour, the venue's owner, said that he was working with his bank to have his mortgage payments deferred; he kept on eight key staff — down from a peak of 16 on "busy nights" — who fulfill food orders and serve as delivery drivers.
The jazz venues Marx Café in Mt. Pleasant and Green Island Café in Adams Morgan have similar budgets and business structures to Jojo's, and have both struggled to stay solvent. Aris Dallas, the proprietor of Marx Café, said that the restaurant's business was down 90 percent at the peak of the economic shutdown. "I have a bad feeling about this," he said when interviewed in the spring, predicting that "for every small business that survives, five will close."
Blues Alley, which operates at a much higher cost, has been able to retain its senior staff, but has ceased daily operations since late March. The Atlas let go of all part-time staff due to lack of work, but has committed to keeping its full-time staff on payroll. The Kennedy Center laid off about 750 hourly and part-time workers, furloughed hundreds of other employees, and laid off 30 percent of its administrative staff — even after receiving $25 million in aid from the $2 trillion CARES Act. The national performing arts center earns 57 percent of its revenue in ticket sales, and has suspended all major performances through the end of the year. President Deborah Rutter told The Washington Post that the Kennedy Center expected coronavirus-related losses to exceed $90 million.
Seeking Financial Relief
Rhizome, the nonprofit community arts space in Takoma, was one of the few entities that CapitalBop spoke that had successfully obtained any government relief, having secured a Paycheck Protection Program small-business loan through the federal government. But "it's a relatively small amount," said Layne Garrett, Rhizome's program director. The organization runs on a mostly volunteer basis, with Garrett, who works part-time, serving as its only paid employee. (Disclosure: Rhizome is a partner organization to CapitalBop and hosts the monthly D.C. Jazz Loft.)
Most other venue proprietors that CapitalBop interviewed for this article had not yet received any government relief — either through a federal program like PPP or through one of the small-business micro-grants set up by the city — and many were still waiting to hear whether various loan or relief applications were approved. Venue owners in D.C. described finding themselves caught in a bureaucratic maze whenever seeking relief from either city or federal governments.
Harry Schnipper, who runs Blues Alley and chairs its nonprofit arm, the Blues Alley Jazz Society, said that he had received a microgrant from the D.C. government — though he described it as both "better late than never" and "too little too late."
While owners and managers navigated the bureaucracy of applying for government relief, workers and communities have tried to fill the gaps and support each other.
Rhizome hosts a schedule of live stream concerts broadcast from artists' homes and offers monthly memberships ranging from $5 to $50. Garrett said that memberships have actually gone up during the pandemic, a testament to the community's support. The waitstaff at Blues Alley and DJ's at Marx Café started GoFundMe campaigns to help employees who had been laid off. Westminster Presbyterian Church created a musicians' relief fund that raised over $25,000 through GoFundMe early in the pandemic.
And the Atlas, as a nonprofit organization with a multi-million-dollar budget and a sizable core staff, has been able to receive grant funding through various arts foundations and fundraising campaigns.
Jojo's sought to offer live music briefly in midsummer, featuring two and three-person combos led by area regulars. "Everybody said just start slow: Start with [a] two-piece, three-piece. That's enough space we could get to have at least six feet," said owner Ben Kilbour. But that plan was quickly scrapped amid concerns over whether it jibed with directives from the mayor's office disallowing official venues from reopening yet.
Green Island Café inherited the performances and jam sessions formerly housed at Columbia Station shortly before the pandemic hit. Mehari Woldemariam, the venue's owner, underscored the importance of reopening as soon as possible for the community.
"My main concern about jazz is … all the people playing music have no place to play," Woldemariam said. "You have to have a place to play to educate yourself like all the great musicians. That's my idea. It's not just about an income or a business: It has to motivate the young generation."
Engaging in the Digital Sphere
Many musicians have experimented with live-streaming their own performances from home, and some venues — like An Die Musik Live in Baltimore — have begun live-streaming concerts from their spaces as well. Some even started shortly after shutdown orders began. An Die Musik received special permission from the Maryland state government to hold an indoor gathering so it could stay open as a broadcast entity.
Robert van Leer, senior vice president of artistic planning at the Kennedy Center, said that while it's too early to know what the "rebalancing" will look like, the pandemic had likely permanently changed the importance of online interaction, especially streaming performances. "More and more of us are more and more aware of what is possible in the digital sphere and what isn't possible in the digital sphere," he said. "And, therefore, what is the role for live performance?"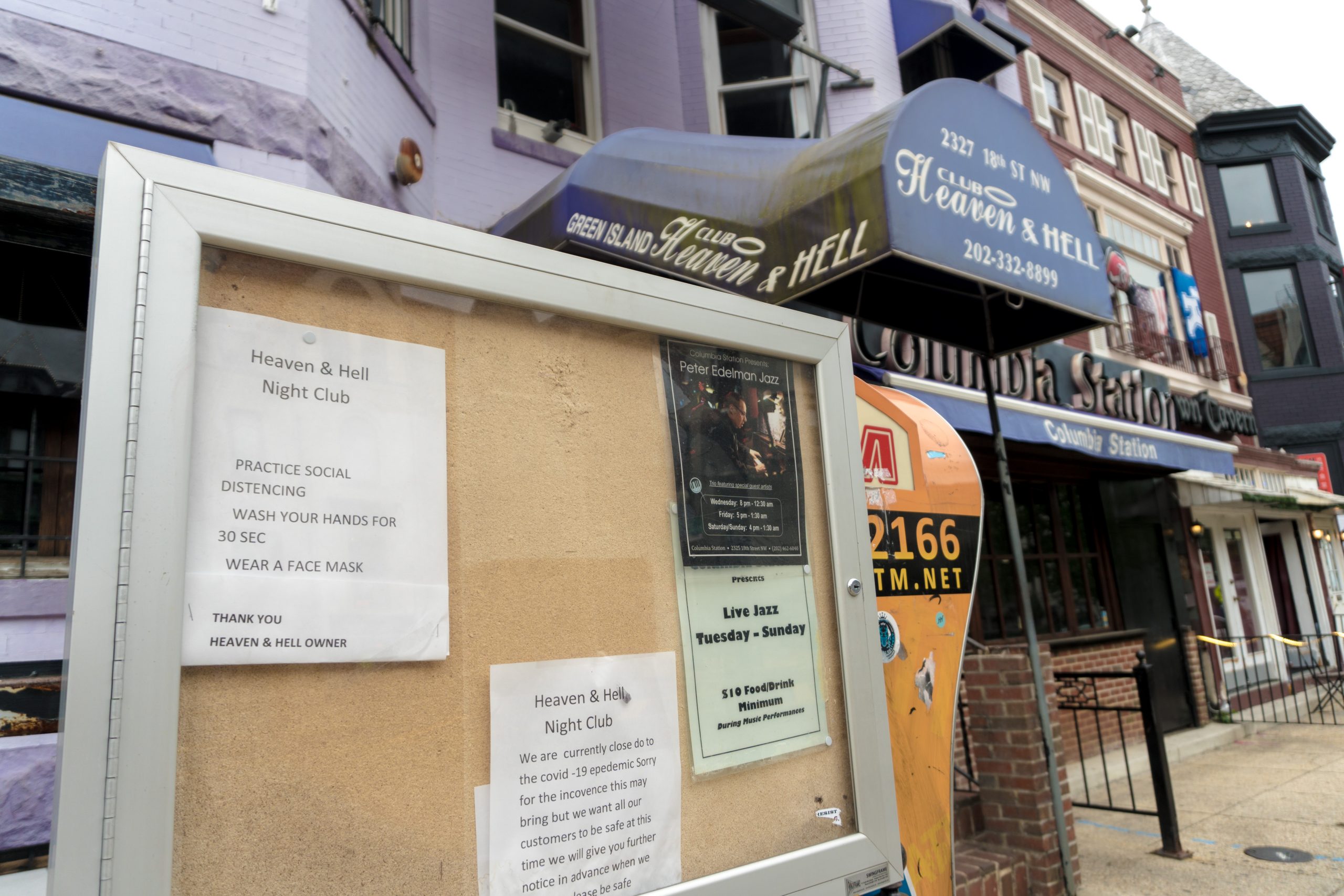 Blues Alley broadcast is first livestream on June 26, taking advantage of a GoPro camera setup the club had recently installed. The club is now offering streaming concerts two nights a week.
"I stole a page from the Smalls playbook in New York," Schnipper said of his decision to install the cameras. "What we have now is an opportunity for seniors, the elderly and the respiratorily disabled to potentially stream the live show from Blues Alley," even after the club reopens for in-person shows.
Strathmore Music Center in Montgomery County, Md. started offering streams from its Mansion venue in July, hosting small and socially-distanced groups to perform for the "Live from the Mansion" series. The series continued through this month.
Reverend Brian Hamilton, the co-pastor of Westminster Presbyterian Church — the home of "Jazz Night in D.C." — had long been planning on moving to live streams eventually, anticipating the need to go digital while the church undertakes a long-planned construction project in the coming years. The pandemic caused Westminster to accelerate those plans. "We're working on a livestream system as soon as it's safe to bring musicians back," Hamilton said. "We'll see if we can build a big audience and sustain that on a regular basis."
Hamilton hopes a multi-camera system will help make up for the lack of an audience. "Everybody we've broached this with at this point is really excited about it," Hamilton said. "Because some of these guys are just really desperate to get back to work."
He said the transition to streaming would also include a move from the church's regular $5 admission fee to a membership model. In addition, streams would be integrated into a new website that Jazz Night in D.C. is building, to include oral-history videos, written archival materials and other "historical stuff."
But even as he prepares for this new normal at Westminster, Hamilton said he misses the real thing. "It's such a highly organic kind of thing," he said, describing the church's tradition of Friday night concerts. "You never know what's going to happen. … It has an unusual chemistry to it — and that I really miss, the spontaneity of the whole thing."
Garrett, too, expressed a mix of excitement and discomfort with the shift to digital interaction. "All of the stuff that's happening online right now is important and great," he said. "And also, I don't want people to get used to this being the way that they experience music or life in general. We have to be careful not to let this normalize as a long-lasting replacement for gathering and experiencing moving expression together."

Comments
comments