The 4th Jazz and Freedom Festival
Sunday, Jan. 20, 2019
Doors 4 p.m. — Panel Discussion 4:30 — Music 5:45-10 — Jam 10 p.m.
the first floor // 600-C H St NE, Washington, DC 20002
Suggested donation $15 // All proceeds to the CHJF and artists

>> Jump to schedule >>
We're very excited to announce that the Jazz and Freedom Festival — our annual Martin Luther King Jr. Day Weekend celebration of live music, learning and activism — is back after a year's hiatus. On Sunday, Jan. 20, we'll present a full, evening-long event at
the first floor
on H Street, with four bands performing at a benefit for the
Capitol Hill Jazz Foundation (CHJF)
.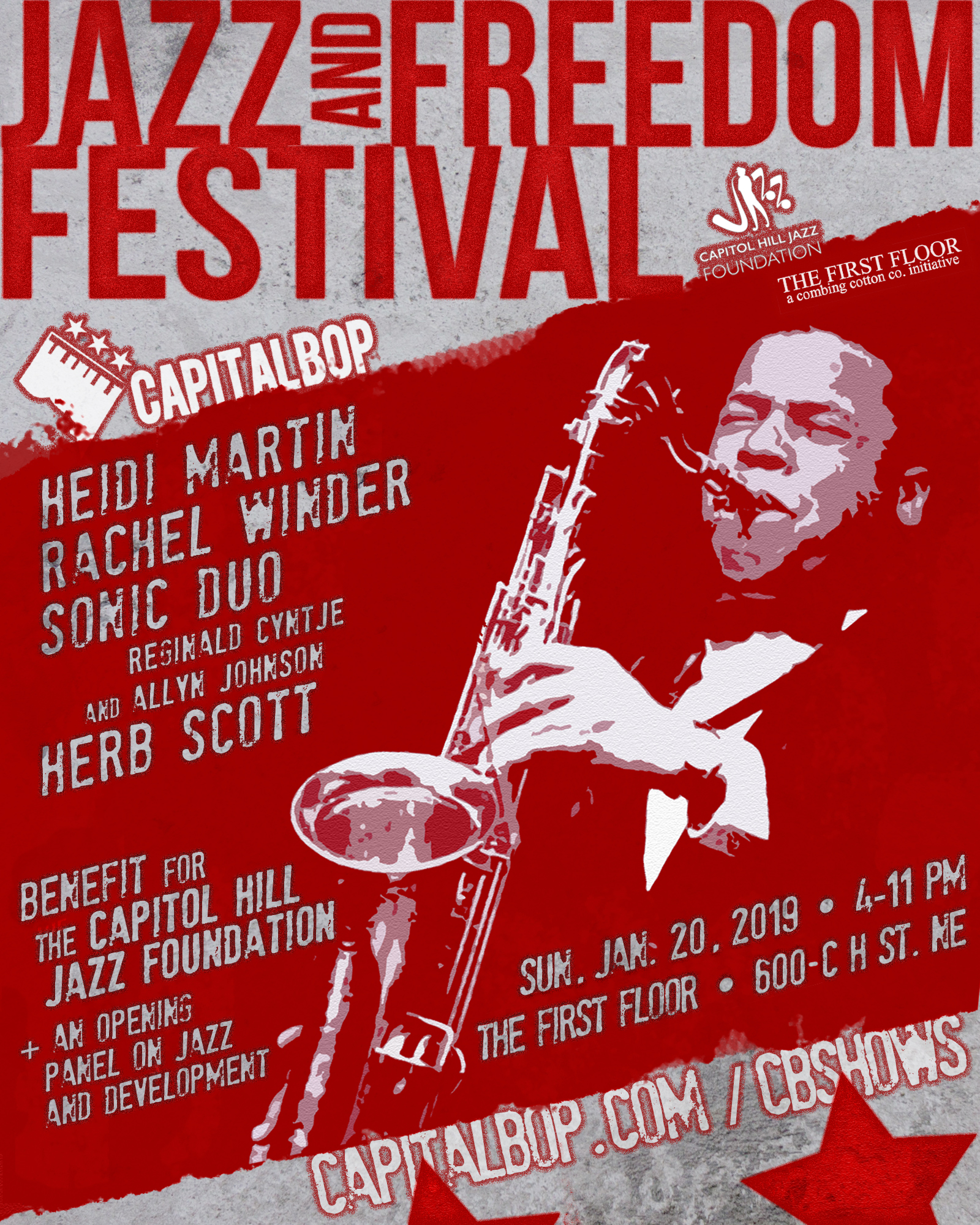 The musicians on the bill are all on D.C.'s cutting edge: Sonic Duo, featuring trombonist Reginald Cyntje and pianist Allyn Johnson; Heidi Martin, performing the Abbey Lincoln songbook; rising saxophonist Rachel Winder; and Herb Scott, alto saxophonist and founder of the CHJF.

The Jazz and Freedom Festival will run all evening, from 4 p.m. to 11 p.m., at the first floor, a community learning lab and antique boutique located in the Apollo on H Street. Jan. 20 is the night before Martin Luther King, Jr. Day. We suggest a $15 donation, which will be split entirely between the artists and the CHJF. A cash bar will be available.
D.C.'s jazz community faces an uncertain 2019. As the city continues to change, beloved watering holes are crushed underfoot by urban development. But this music is no stranger to struggle — and since its very beginnings in New Orleans's Congo Square and cities across the country, its torchbearers have been organizing to keep it, and its communities, strong. In 2019, we're carrying that tradition forward.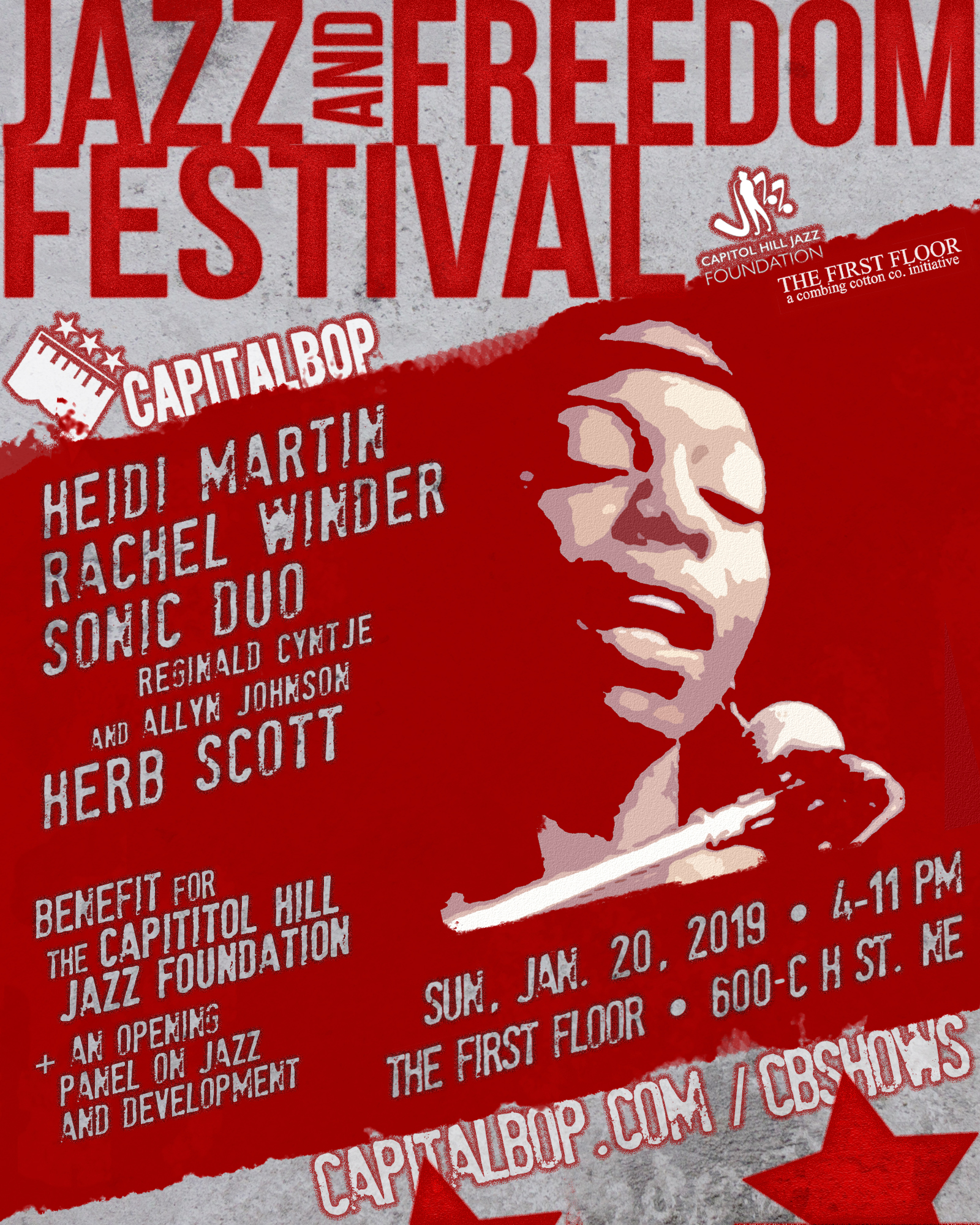 The Jazz and Freedom Festival is the brainchild of Shannon Gunn, a jazz trombonist and educator, who runs the nonprofit record label JTTB Records. She was inspired by a similar event at Michigan State University in which her professors performed pieces from Max Roach and Oscar Brown Jr.'s "Freedom Now Suite" as part of a Martin Luther King, Jr. Day celebration in 2003. She first approached CapitalBop to co-produce the festival in January 2015, at the now-closed Union Arts.
The festival has always been a benefit for a local activist organization we support: Empower DC in 2015, Black Lives Matter DMV in 2016 and WPFW-FM and 2017. We've decided to hold this year's festival in solidarity with the CHJF because it's a young nonprofit organization dedicated to supporting the D.C. jazz community through political advocacy and grassroots presenting. Come out on Jan. 20 to join together with us, and share in the music.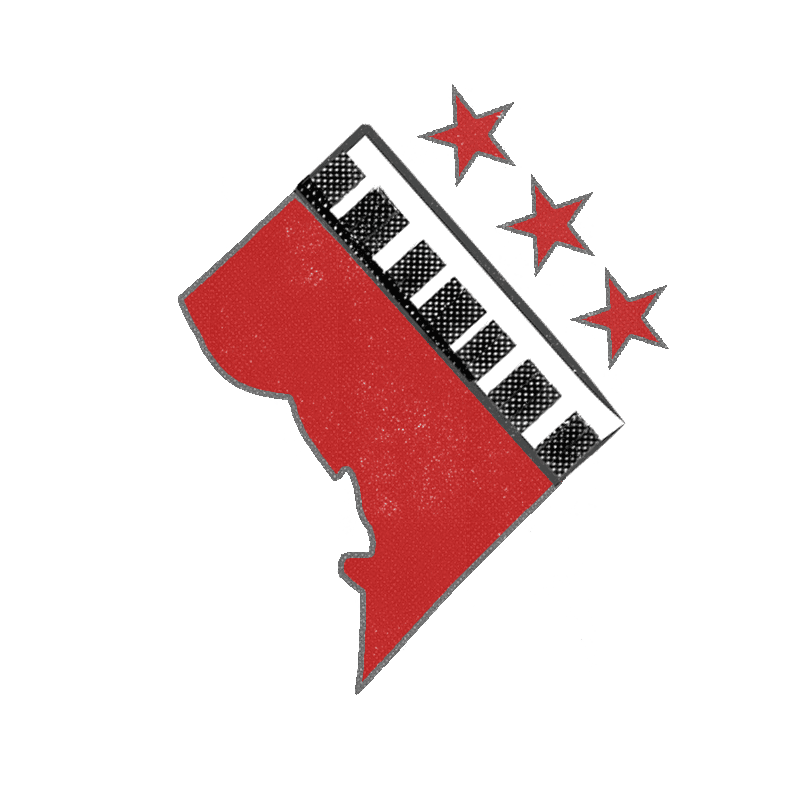 Want to give before you go? Donate to the artists and the CHJF in advance, online!
SCHEDULE
4:00 || 
Doors open
4:30 || 
Panel discussion with Herb Scott and Aaron Myers of the DCHJF and Desiree Venn Frederic of Combing Cotton Co; moderated by Gloria Nauden
5:45 || 
Heidi Martin's "ABBEY!" Envoicements
   WPFW's Rusty Hassan speaks
6:45 || 
Rachel Winder
   CapitalBop speaks
8:00 || 
Sonic Duo (featuring Reginald Cyntje and Allyn Johnson)
   Brief pause: raffle + call to action
9:15 || 
Herb Scott Band
10:00 || 
Open jam led by Herb Scott
Comments
comments
---
You May Like This
---