"Will I be able to play my instrument with other people in a venue? I don't know, and that's really scary," drummer Keith Butler Jr. told CapitalBop shortly after the Covid-19 pandemic began. Now, a year later, Butler's fears seem to have been largely realized.
Yes, a number of nonprofit venues that offer jazz programming remain: the Strathmore, the Kennedy Center, the Atlas Performing Arts Center. And some restaurants that offer live jazz will inevitably are taking first steps to bring music back into the fold. But among venues dedicated primarily to hosting live jazz, the number of physical spaces still standing after the pandemic has dwindled to nearly zero.
Nearly 14 months after the D.C. government's first lockdown orders went into effect, the city's jazz scene has been ravaged by the economic fallout of the coronavirus pandemic. Live-stream shows, as well as gig labor outside the music business, have helped keep musicians afloat, and arts institutions have done their best to survive by cutting costs and soliciting donations, but many jazz clubs in the city have closed permanently.
The remaining handful of small venues that regularly host jazz — namely Blues Alley, Rhizome DC, Takoma Station, Mr. Henry's, Westminster Presbyterian Church and Jojo Restaurant and Bar — are stepping forward gingerly as they navigate this new phase of the pandemic.
In a guidance update on May 10, Mayor Muriel Bowser announced that bars, restaurants and indoor entertainment venues would be allowed to reopen at 100 percent capacity on June 11. Spaces that routinely host live music can do so again under this order, as a spokesperson for the city's Office of Cable Television, Film, Music & Entertainment confirmed to CapitalBop via email.
However, just over one-third of D.C. residents are fully vaccinated, according to the city government's online vaccination data resource, suggesting that even as bars and restaurants reopen, the city is far from returning to business-as-usual. And a number of club proprietors say they're planning to take a step-by-step approach well into June — and possibly beyond.
Some clubs, such as Jojo, located on U Street, and Takoma Station have already begun to come back to life. Others plan to resume as soon as the next phase goes into effect, including Mr. Henry's, which has said it will bring back live performances starting June 16.
Still other club owners, such as Blues Alley's Harry Schnipper, have said that they are in no hurry to get audiences back in person. Schnipper said that he was hesitant to book any shows due to what he called the uncertainty coming from the D.C. government since last year, noting that the city could rescind the reopening orders if the virus flared back up.
In an interview with CapitalBop, Schnipper said he was now focused on building "Blues Alley's global profile" through its current streaming events, like its ongoing Monday night series of performances broadcast from the National Press Club, and special presentations like the Ella Fitzgerald Jazz Vocal Competition on April 24.
Tentative steps forward
It is still unclear how public-health concerns and government policy will impact the reality for club owners going forward.
Efforts to produce shows during the height of the pandemic were generally unsuccessful, even for proprietors who took measures to ensure Covid-safety compliance. In September, the new co-operative restaurant known as Ghostline DC attempted an outdoor music series — but only got as far as its first show..
The restaurant's owners had sought to prove that it was possible to responsibly present club-style concerts in a time of social distancing. But at that time the city was still under Phase 2 re-opening guidelines, meaning live entertainment of any kind was not allowed at a public establishment. In order to legally host entertainment, Ghostline would have needed to apply for and receive a special waiver from the District of Columbia Homeland Security and Emergency Management Agency (HSEMA).
Tracy Wilson, one of the co-owners of Ghostline, expressed her frustration at the whole process in a statement to CapitalBop, shortly after canceling the restaurant's music series. "Just imagine that you're trying to do the 'right thing,' and the right thing keeps changing," she said. "Even though we thought we were strictly adhering to the mass gathering restrictions — we used the D.C. contract tracing, keeping everyone outside in the open air, tables eight feet apart, musicians distanced from each other and from guests, just all of the things."
The restaurant has since changed its name, and is now known as Social Beast. It restarted weekly live-music offerings earlier this month, but has not yet begun charging for tickets. Trumpeter Thad Wilson, who books the music for Social Beast, said that it would begin charging admission again next month (he's also hoping to bring more avant-garde performers to the idyllic Glover Park patio). Ghostline approached the initial run of live music in the fall with great caution, conducting temperature checks and requiring medical questionnaires at the door, even for those who had purchased tickets. As it brings music back, Thad Wilson said in an interview, "whatever the D.C. government mandate is, that's what we're doing."
Jojo ran into similar hangups to Ghostline last July, when its owner, Ben Kilbour, briefly began hosting live music again. Kilbour told CapitalBop that a reporter from NBC4 Washington came into the club and explained the HSEMA situation, saying that both Blues Alley and the Hamilton had applied for and been denied waivers. Jojo then stopped hosting live music.
Jojo began hosting live music again in mid-April, every Thursday, Friday and Saturday. The duo of pianist Colin Chambers and trumpeter Joe Brotherton play half-inside and half-outside the club, playing to both sides of the audience. In anticipation of a reopening on June 11, Kilbour made significant investments into the club's space and overhauled its operating procedures to maintain a high standard of safety protocols.
Patrons are required to make reservations online and the bar will not accept walk-up guests. In addition, Kilbour used a $42,000 PPP grant from the federal government to install an air-filtration system to help disperse Covid-19 droplets indoors; he also enforces mask wearing, social distancing and temperature checks at the door. Kilbour told CapitalBop that he plans to add a questionnaire to the reservation system that will include a question about vaccination status. He said that he aims to scale up to 75 percent capacity for June 11. He envisions this operating procedure lasting until the city gets closer to complete vaccination coverage.
He is continuing to test the waters by expanding the Chambers-Brotherton duo into a trio; bassist Obasi Akoto joined the group on Thursday's gig. After parting ways with Jojo's previous talent buyer in 2019, Kilbour tells CapitalBop that the revered bassist and producer Michael Bowie has joined the team in that capacity.
Earlier this month, Takoma Station, one of the few old haunts still standing, began hosting Saturday jazz shows again, produced by Jazz Kitchen Productions and featuring top local players like Lionel Lyles and Elijah Jamal Balbed. The venue has been running these events at 25 percent capacity, and masks are required at all times unless seated at your own table.
Starting this Thursday, the Kennedy Center will host its Millenium Stage series outside, at The Reach, and will aim for a grand re-opening in September, to include a two-week residency in the new Studio K Jazz Club by pianist Robert Glasper.
Rhizome has been hosting outdoor concerts with increasing regularity during the spring, including a co-presentation of Joe Morris and Tomeika Reid last week with Transparent Productions that featured a 70-person audience. Garrett told CapitalBop that the Rhizome board is due to meet in a couple weeks to discuss its presenting infrastructure for the coming months, but sees no hurry to return indoors due to the increased crowd size outside.
Westminster Presbyterian Church is still confirming its reopening plans. The Rev. Brian E. Hamilton, the co-pastor of Westminster, told CapitalBop that the decision was partly up to the church's public health security team, which includes some members of the Centers for Disease Control and Prevention. He hopes to have a jazz show of some kind at the church, whether indoor or outdoor, in June. But he said reopening would be done on a "phased-in" basis, clarifying that he would wait until after the city's June 11 date.
Hamilton said that he would admit no more than 75 people into the sizable church, and masking would be required. Southwest Catering, which has long catered a fish fry in the basement, may choose not to resume operations until "after somebody declares the pandemic is over," he said. Westminster is also planning to begin live-streaming its shows when they resume.
Economic insecurities
Jazz venue owners have complained throughout the pandemic about their difficulties gaining access to local or federal assistance. Of the bars, clubs and other performance spaces that regularly host jazz and improvised music in D.C., only the Takoma DIY arts space Rhizome and the U Street haunt Jojo successfully snagged loans through the federal Paycheck Protection Program. Other venues tried securing microgrants through the D.C. government, but only Blues Alley reported any success on that front.
Blues Alley's leadership publicly flirted with the possibility of moving during the pandemic, as the building's ownership changed hands, but club owner Harry Schnipper confirmed to CapitalBop in an email last week that he had decided to keep Blues Alley in its current, historic location.
Rhizome, however, will soon be forced to relocate. Layne Garrett, the program director at Rhizome, said that his multi-use arts space was in the process of looking for a new facility as well. (Note: Rhizome is a CapitalBop partner organization and until the pandemic hosted the monthly DC Jazz Loft.)
"There's a contract on the property and apartment building going to be built," he told CapitalBop in an interview. "The house we occupy is going to move to the corner of the lot." Garrett added that the timeline on all of that is "vague."
Kilbour underlined that "the only reason" Jojo made it through the pandemic is because he owns the building that houses the three-story restaurant. This point of ownership comes up again and again when one looks at the physical erasure of D.C. jazz spaces over the past 10-plus years. From Cafe Nema and HR-57 to Bohemian Caverns and Marvin's, D.C. jazz clubs' lack of building ownership has often been a death knell. The pandemic exposed that at an even greater level.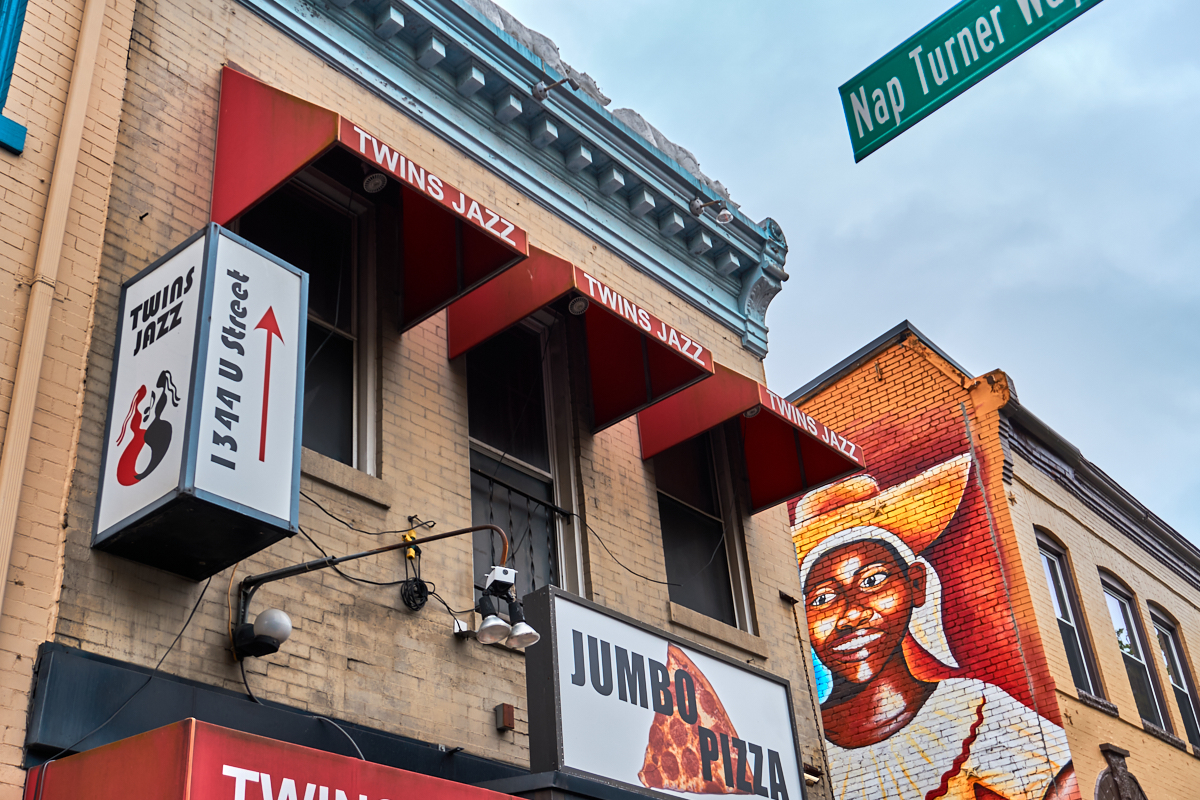 Covid casualties
Twins Jazz, which had been the last surviving full-time jazz club on U Street and a longtime incubator of up-and-coming DMV talent, closed its doors for good in August. Marvin DC and Sotto, both of which offered a smattering of regular jazz programming near the intersection of 14th and U Streets NW, closed their doors as well.
The beloved Brookland haunt Alice's Jazz and Cultural Society has closed, at least for the foreseeable future. Known for its inclusive spirit, AJACS had become one of the few dedicated homes for D.C.'s straight-ahead jazz practitioners and elders, and was popular in part for its supremely affordable cover charge. Its proprietor and co-owner DeAndrey Howard announced the club's closing in December.
In a phone interview with CapitalBop, Howard did not count out the club's return. One of the barriers to reopening is that the building needs structural work, Howard said.
At 67, Howard also said that his health had grown shakier over the past year, leading him to question whether he should continue operating AJACS. "It made more sense just to close this club down and spare myself," he said. "I just got tired." He said some members of the family that owns the club's property wanted to keep it running, and him running it. He added that he was considering using his own finances to repair the plumbing issues and leaks, and get the club back into working order.
As we step forward, it is hard to shake the profound sense of loss that the community has gone through over the last 14 months. Thad Wilson, Social Beast's talent buyer and a well-known D.C. bandleader in his own right, offered the optimistic suggestion that the music can never really die. "This stuff never goes away, it just moves," he said.
"When I was in New York, the avant-garde scene was Avenue C and the Lower East Side and then it moved to Brooklyn," he said. "If you were connected to that scene, you just had to figure out where the new spots were. It never disappeared. And that's just how I feel about this. It's not going anywhere, it's just moving. And for our wonderful audiences that really want to enjoy what they enjoy, stay connected to the folks they support — it will be somewhere."
Comments
comments