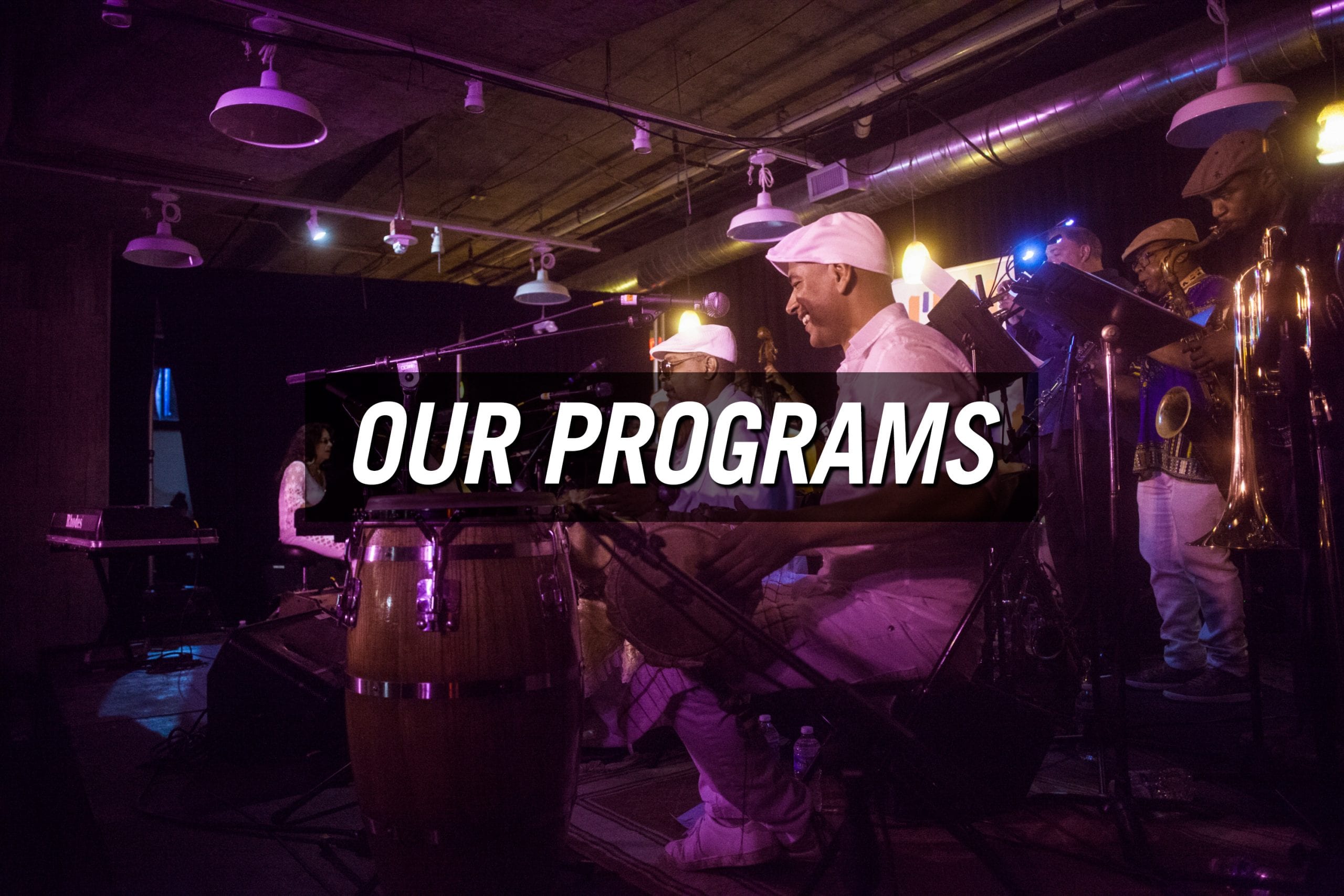 CapitalBop offers a variety of programs that enrich the city's vibrant jazz community, and build a diverse audience. Our work spans outside-the-box concert presentations, various music-education programs, and award-winning journalistic coverage of the D.C. jazz scene.
CapitalBop's award-winning local music journalism includes artist interviews, criticism, multimedia and more.
Our website offers high-quality journalism and multimedia coverage of the D.C. jazz scene, including the country's only comprehensive, editorially curated shows calendar for a citywide music scene. Every month, thousands of DMV residents use this resource to find live shows they can go hear. We also publish multiple articles a week on our website, including local news, artist interviews, feature profiles, criticism, festival guides and much more.
Our social media channels — on Facebook, Twitter and Instagram — are a great way to stay up-to-date on our latest articles, plus to catch other important headlines that we re-post. We send out one or two newsletters a week, featuring our newest articles plus "CB pick" recommendations from our calendar. Sign up for our newsletter here.

Monthly grassroots jazz presentations featuring everything from straight-ahead to avant-garde.
Since 2010, CapitalBop has presented the DC Jazz Loft, an intimate showcase of the District's best jazz talents that unites audiences of all stripes. Held every second Sunday of the month — these days at the house venue Rhizome DC — the loft showcases artists from across the improvised-music spectrum, from straight-ahead jazz to the avant-garde. You never know quite what to expect at the Loft, and that's a good thing; if you come with an open mind, you'll never leave disappointed.
The loft has had a variety of homes, almost always DIY spaces. These days, at Rhizome, neighbors and concert-goers gather together over a potluck meal, hang outside in between sets, and sit in rapt attention whenever a new group hits the bandstand. Take a look inside the loft with this photo album from our inaugural Rhizome show in December 2018.

A monthly artist residency featuring an educational concert/workshop in schools, two back-to-back nights at our pop-up jazz club on U Street, and pro-quality live videos.
Every month, CapitalBop engages a leading artist in the D.C. jazz community as our Spotlight Residency artist. The Spotlight includes two consecutive nights at a pop-up jazz club at Local 16, an Afghan bar/restaurant in the heart of D.C.'s historic U Street corridor, plus an educational show/workshop (currently on hiatus as we change educational partners).
Spotlight artists also benefit from CapitalBop's media playbook, as we produce professional-level videos for each residency artist. Every month also includes other media elements, including appearances on WPFW 89.3 FM's "Live @ 5" broadcast and a strong social media push on behalf of the artist. Browse our Spotlight Residency videos on CapitalBop's YouTube channel.

Quarterly concerts featuring internationally renowned touring artists on double-bills with D.C.-based bands.
CapitalBop's Traveling Loft brings some of the finest and most cutting-edge artists in jazz to the District, presenting them in pop-up venues of our own creation alongside D.C.-based talent. With this series, CapitalBop brings live jazz to all four quadrants of the city, in art galleries, artist-run DIY spaces, rock clubs, theaters and more. These shows have CapitalBop's signature, community-oriented vibe, and are designed to welcome listeners of all ages and stripes, with $10-to-20 ticket prices and no purchase minimum.
Over the years, the Traveling Loft (along with its sister series, CB Presents) has hosted luminaries like Carla Bley, Linda May Han Oh, Nicole Mitchell, Fred Frith, Ben Wendel, Igmar Thomas, Fay Victor, Michael Formanek, Jen Shyu, Angelica Sanchez, Amina Claudine Myers, Darius Jones, Myra Melford and Joelle Leandre. Check capitalbop.com/cbshows to find out what's coming next.

Blowout presentations every year featuring world-class touring artists in immersive, creative presentations.
The DC Jazz Festival has partnered with CapitalBop since our first year, relying on us for a unique creative vision and jolt of youthful energy. Every year we do something different, but the essence is the same every time: legendary as well as emerging musicians in off-the-beaten-path, DIY spaces that engage a diverse crowd. In 2019 at the DC JazzFest we launched present::futures — a one-night mega-festival dedicated to some of the most powerful young minds in contemporary improvised music.
Bandleaders presented at past DC JazzFest shows include Thundercat, Mary Halvorson, Oliver Lake, Makaya McCraven, Marquis Hill, Georgia Anne Muldrow, Justin Brown, Orrin Evans, Miles Okazaki, Jaimie Branch, Odean Pope, Jeff Parker, Peter Brötzmann, Marc Cary, Karriem Riggins, Michele Rosewoman, Braxton Cook, J.D. Allen, Darius Jones, Angel Bat Dawid and more. See CapitalBop's 2016 DC JazzFest shows featured on NPR Music's Jazz Night in America.
Annual community music festival and fundraiser for a cause based around social justice.
Each year on the weekend of the Rev. Dr. Martin Luther King, Jr.'s birthday, CapitalBop puts together a full-day experience organically drawing together activism and live jazz. The event is held as a benefit and consciousness-raiser, each year for a different D.C.-based group whose priorities align with jazz's longtime mission of anti-racist, anti-fascist struggle. To date, the festival has benefited Empower DC, WPFW 89.3 FM, Black Lives Matter DMV and the Capitol Hill Jazz Foundation.
In 2015, DMV-based trombonist, educator and activist Shannon Gunn approached CapitalBop with the idea to host a day-long celebration of jazz and activism inspired by a similar event at Michigan State University. The event was a success, and CapitalBop has continued to partner with Gunn ever since. See photos from the 2019 Jazz and Freedom Festival at The First Floor on H Street.
To accommodate the limitations of the Covid-19 pandemic, the 2021 Jazz and Freedom Festival took the form of a mini-documentary series honoring venues the District lost in 2020. The short films, still available on CapitalBop's YouTube channel, featured performances from D.C.-artists and interviews with people who were important to the venues being honored. Watch them now!

Regular events that put D.C. musicians in front of young students
Since CapitalBop's first years, we have used our concerts as opportunities for outreach: Artists have provided youth workshops, masterclasses, and audience talk-backs for every major presentation possible. Most of our feature presentations still include audience engagement or youth education events.
But in 2020, CapitalBop began our largest and most exciting educational collaboration to date: a series of monthly concerts and educational workshops that bring our Spotlight artists into D.C. public and charter schools. For this series, CapitalBop has partnered with The MusicianShip, an incredible D.C.-based arts education nonprofit.
During the Covid-19 pandemic, CapitalBop and The MusicianShip adapted to the moment, piloting a series of virtual youth programming featuring D.C. artists.
---